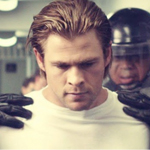 I didn't think it would happen in this generation, but they've produced a manly movie star. They had to borrow him from Australia, of course, but so what? Arnold and Van Damme and Mel Gibson and a bunch of those guys were imports too.
Chris Hemsworth has the kind of rugged persona and charisma that makes a man feel inadequate – he's 2014's People Magazine Sexiest Man Alive, and last week's Man Who Makes Me Feel Like I Better Do More Push-ups – but you respect him for it, you don't resent him. I don't know if he'll maintain all the muscles when he stops being an Avenger, but I bet he'll stay pleasantly macho. He'll slick back his hair and look good in an undershirt and sunglasses and he'll put his protective arms around tiny women but also respect their intelligence.
It's nice that one of the few manly marquee names of the modern age has now had the chance to become Mannly. In Michael Mann's BLACKHAT Hemsworth plays Mann's idea of a being more godly than Thor. He's a convict who splits his time between reading Focault paperbacks and doing handstand pushups. He's done time both for assault and for hacking. He knows how to use guns and build makeshift armor and beat up multiple attackers using restaurant furniture, but also how to write computer programs. He's hypersmart enough to glance at a screen full of code and instantly identify clues to its purpose and author, but also worldly enough to travel through multiple Asian countries and break into places looking for a mystery man. He can be counted on to sit with a laptop or phone and breach a highly secure database, but also can wing a plan to explode a truck on the roof of a building as a distraction to sneak in and physically steal a hard drive.
Hell, this guy puts on a radiation suit and goes into a melted nuclear power plant control room. One of the professionals collapses while he takes a fire ax to the wall and locates the drive they need. He is the SuperMann.
(By the way, that scene has a really cool piece of machinery: a portable metal vault with the correct port built into it so he just plugs the radioactive machinery into the bottom and closes it, they clean off the outside and he can plug into it through a USB plug. I wonder how much a product like that goes for? I'm figuring they don't sell that many of them.)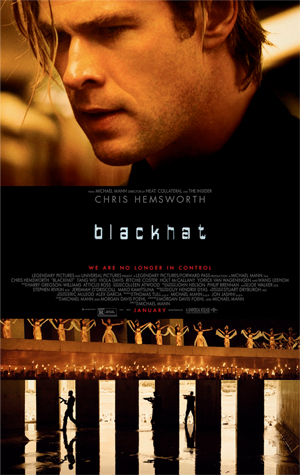 I wouldn't mind a more absurd version of this movie, but I think Mann strikes a great balance of the quasi-realistic and the pulpy. The use of computers seems (and reportedly is) much more based in reality than we usually get in movies, but it also uses classic action and thriller tropes. An anonymous malicious hacker (or "blackhat" apparently) causes a Chinese nuclear reactor to overheat and explode. That's one thing, but then he starts messing with the stock market! So China and the U.S. are both trying to figure out who this asshole is, and there's only one man who might be able to track him: the author of the malware he rewrote for the attack.
That's Nicholas Hathaway (Hemsworth) of course, who's in prison, and who takes the mission reluctantly, with demands, and with no claims of loyalty, like Snake Plissken. This is a guy who's introduced politely cooperating with guards, who respond by slamming him against a wall, dragging him out of the cell, spraying pepper spray right into his face and then slamming him chest first against the floor. He never complains or acts like a victim, and that helps make it seem like he's always in control.
He's in captivity though, and he has to work with a team. There are two FBI agents, Barrett (Viola Davis of the Jesse Stone series) and Jessup (Holt McCallany, HIJACKED, BULLET TO THE HEAD), there to keep him ankle-braceleted and computer-chaperoned. On behalf of the Chinese government there's military officer Dawai (Wang Leehom, LITTLE BIG SOLDIER, LUST, CAUTION), the old roommate and fellow hacker who convinced them to use Hathaway, and his sister Lien (Tang Wei, LUST, CAUTION), a private sector computer security expert.
So they examine the code and the security systems that were breached, consider suspects, search emails, try to contact the culprit. Their investigation takes them to Los Angeles, Hong Kong and Jakarta, facing fists, machine guns and bombs.
Mann of course is fascinated by the complex inter-team, inter-agency and international dilemmas they have to surmount while following this difficult trail. The two FBI agents sometimes disagree with each other or their bosses. They have to get permission for things, they don't always get what they want from the NSA or the SEC, they can't do certain things in front of a Chinese agent or a convicted computer criminal. The Chinese government has their own motives. Some team members have to sit out certain activities so as not to get blamed. Hathaway has to catch this guy in order to get his freedom, but of course there's also a sense of honor and competition in it that keeps him motivated instead of trying to escape. So he ends up having to elude government agencies while still trying to complete the assignment they gave him.
Ultimately it's about this group of could-be enemies trying to learn to trust and respect each other and be a team.
The target of their investigation stays in the shadows most of the time, which is smart. You don't know much about him until Hathaway figures it out. At first it seems like it's just some mean computer genius on his own like a serial killer, so it's kinda scary when you realize there's enough money involved that he has mercenaries working for him.
I swear I'm not just saying this because they're Chinese, but there's a nice hint of Hong Kong cinema melodrama in the relationships between Hathaway and the brother and sister. When Hathaway first sees Dawai they hug so long I had to consider if they were actually supposed to be lovers. When he inevitably starts sleeping with Lien he discusses it with Dawai, acknowledging that logically he should disapprove of the relationship because of the chance of Hathaway breaking her heart by going back to prison, but Dawai supports it because he has never seen his sister so happy. It's actually a tossup which one of these two Dawai loves more. He just has alot of love I guess. Brotherhood and sisterhood both going on in this movie.
Though Lien is herself an expert she's the only one they can stick with the job that involves playing dumb and using her sex appeal, like Gisele in FAST FIVE. She's good at it, but it's kinda unfair. Later the two men in her life get protective of her and try to push her out of the mission, against her wishes. But an intense turn of events (if you've seen the movie, that was a great scene, right?) prevents them from sending her home.
Apparently BLACKHAT is a huge financial flop, hated by critics and audiences alike, and already down to two shows a day in its third week of release. I honestly have no idea why. Admittedly it does seem too slow and heady to be a big crowdpleaser, but it's not as moody or arty as MIAMI VICE (which I also liked) and in my opinion is as exciting as any of the BOURNE movies. That's actually the type of movie it reminds me of the most with its hyper-intelligent yet asskicking and highly skilled hero, complex international terrorist scheme and detailed agency procedural.
I guess there's less action than in a BOURNE, but I think it's more successful with the "realistic" action approach. The shootouts, like the ones in MIAMI VICE, capture a believably intense chaos. The footchases are technically shakycam, but they seem to be using some kind of rig that only bounces up and down, not side to side, and stays right with the actor, so it's easy to see what's going on despite the messiness.
Mann still has his knack for visuals. He knows the beauty of a big city at night, whether it's up above looking down at the lights and shiny surfaces, or down inside it, in crowded streets during a celebration, or at the alley door of a busy kitchen. This time he also gets to explore the digital simulation of information travelling Tron-like through computer networks and chips. It's like his version of the x-ray camera moves through walls in PANIC ROOM or through engines in THE FAST AND THE FURIOUS. And he shoots from underneath the keyboard, from inside the monitor. Some good gimmicks without doing it too much. Not hyperactive.
The script is credited solely to Morgan Davis Foehl (additional editor, I NOW PRONOUNCE YOU CHUCK & LARRY), but there is some undeniable Mannliness in there. I've made fun of Mann before for his belief that the best way to get to the heart of a character is have them talk about what their dad did or liked. So Hathaway has a post-coital talk about his dad being a Detroit steel worker. Some more impressively Mannly backstory is the explanation for Hathaway's fighting skills: he describes his first prison bid for a bar fight gone bad as "leaving academia for gladiator school." Also he philosophizes about "I do the time, the time doesn't do me" because he keeps his mind and body exercised. The kind of thing that maybe should've been left to discussions with the actors and not put into the dialogue. But maybe not, because I like it.
Since he was a convict before he was a hacker he's sure to end this thing by prison rules. He doesn't get the guy arrested or shoot him or anything. He escapes custody, gets a forged passport, flies to Jakarta and steals millions of dollars from him just to lure him out to where he can shank him.
Hathaway holds his own against such iconic cinematic computer experts as the Hackers, Theo from DIE HARD, Justin Long or Timothy Olyphant from LIVE FREE OR DIE HARD and the little girl from JURASSIC PARK. He's a cool underworld version of a globe-trotting superspy. I'm totally down for more BLACKHAT adventures. Kickstarter that shit.