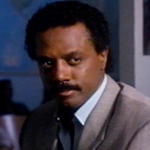 "Me and Priest go back to the golden age of hustlin."
Alot of people tend to forget that Superfly returned in 1990. And unlike, say, Batman in BATMAN RETURNS, he actually had a place to return from. He's still living overseas, now in Paris, when he hears his old partner Eddie has been killed, so he finally comes back to New York.
Oh shit, but I fell into the trap. "Superfly" was never his name, his name was Youngblood Priest and the title referred to the alleged quality of his illegal medicinal products. And it was two words anyway. Super Fly. Maybe "The Return of Superfly" means that Eddie's dope was not up to snuff and now has been replaced by superior product by this guy Hector (Carlos Carrasco, CROCODILE DUNDEE II, SPEED, PARKER), who's taking over.
Flying in, Priest gets stopped by customs and forced into helping The Man take down Hector. He does it for revenge and for personal ass-saving, but it's still kinda sad to see Priest subjugated like this after his militant turn in Part T.N.T. Maybe that's why Ron O'Neal didn't do it, they replaced him with soap opera actor Nathan Purdee (Santa Barbara, The Young and the Restless, One Life To Live). He has a pretty similar smoothness to O'Neal, so he's actually a pretty good choice for a replacement, but I think we can agree there shouldn't be a replacement. You'd think that not having O'Neal would be the one dealbreaker for making this movie.
And shit, even if they're gonna go through with it with a different guy, obviously this different guy should have the long, straight hair, right? What's up with the short hair? Fuck changing fashions. Priest would keep the long hair until he was bald. You know this.
Incidentally, Eddie is played by a different guy too, Rony Clanton (CLAUDINE, RAPPIN', JUICE). But that's fair because the original's Carl Lee died of an overdose an hour after filming his part in the James Toback movie EXPOSED (1983). It was still a smart idea to bring the character back. Where's Georgia, though?
This is not as arty as the other two and more of a b-action movie. There's more violence than in the other two combined. There are shootouts, murders, a little torture, he blows up a bunch of drug fronts and he uses karate twice. He has two different special ladies, one gets killed immediately.
So it's a different era, cast, style, feel and level of quality than the original, but it's not completely disconnected from it because the director is Sig Shore, whose name you may remember humbly and inconspicuously attached to the first one: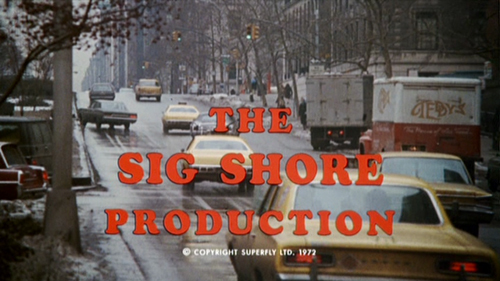 The writer, Anthony Wisdom, only did one other movie, but it was Fred Williamson's THE MESSENGER, so he checks out okay. I'm glad this is not made by somebody who had nothing to do with SUPER FLY or the blaxploitation genre, but this is the only chapter in the saga by a white director. O'Neal's Part T.N.T. seemed motivated by an actorly need to evolve the character of Priest, Shore's RETURN seems motivated by a producerly hope of exploiting new movements in black/youth culture. The kids, they like these rappers. These rappers, they like SUPER FLY.
Take for example the VHS cover (like T.N.T. it's still not on DVD), which shows the very 1990 image of the words "SUPER FLY" shaved into the back of a young man's hi-top fade. That was their idea of how to illustrate the concept of this character existing in this time. As a fan of ridiculous shit I wish this was something that literally happens in the movie, unfortunately it's some kind of, you know, metaphor or whatever. If it makes you feel better there is a part where a guy does freestyle bicycle tricks to distract some bad guys while Priest's friend puts a bomb under their car. So there is some dated 1990 shit in there for sure.
Oh yeah, and there's this line: "I'm sure you're gonna write a book. You're gonna go on The Arsenio Hall Show, Pat Sajak, Johnny Carson…"
I almost didn't catch it at first, I thought "Oh cool, an Arsenio reference, and this was when Johnny was still on" before I realized "oh shit, this was made during the 16 months when Pat Sajak had a late night talk show!" Good time capsule material there.
Anyway, it would be a pretty cool nostalgia thing for somebody to actually get the exact haircut from the cover. Please send me a picture if you do it, I will post it here, thanks.
This cover is actually worth examining. "He's hot as ice and twice as cool." I like that they're going for a blaxploitation style tagline all these years later, and it even has a bit of a rhyme in there. But what does "hot as ice" mean? Is that really a thing?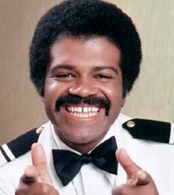 Also I really gotta question the wisdom of trying to reinvent "Superfly" for the age of hip hop by making him look less like the iconic Ron O'Neal character and more like Isaac from The Love Boat.
The theme song, "Superfly 1990," is produced by Lenny Kravitz, performed by Curtis Mayfield, featuring Ice-T. When Ice comes in it's a more awkward fit than it sounds like on paper, but it's forgivable in my opinion because it's clearly better than the terrible rappers featured on Mayfield's otherwise impressive final album New World Order.
This was shortly before a stage light fell on Mayfield and paralyzed him. Shore was wise enough to get him to do the soundtrack, including several new songs and a driving instrumental that repeats throughout most of the movie. Being 1990 we have to deal with synthesized basslines and a keyboard sound like the one in Prince's "Take Me With U," but we also get the pure '70sness of Curtis's soulful falsetto and alot of bongos and other percussion. It doesn't sound like classic Curtis, but it's pretty great by the standards of 1990s funky keyboard action movie scoring. There's also pretty good hip hop songs by the likes of King Tee, Def Jef and Eazy E. You know what, I just convinced myself to order this soundtrack too. And this one was even released on CD.
The upcoming actor Sam Jackson (also seen in DEF BY TEMPTATION, A SHOCK TO THE SYSTEM, BETSY'S WEDDING, MO BETTER BLUES, THE EXORCIST III and GOODFELLAS this same year) plays an old friend of Priest's, now manufacturing crack from a house in the suburbs. This was after he played Greek chorus DJ Mr. Senor Love Daddy in DO THE RIGHT THING, before he played crackhead Flipper Gator Purify in JUNGLE FEVER. I don't think that's why he was cast, but I do suspect there is some Spike Lee influence later in the movie, in the symbolic scene where the people of the neighborhood, including a Da Mayor-esque old man on a stoop, all come out of the their homes to converge on a gun-shooting drug dealer and tell him off. It's also not shy about showing alot of cops as brutal, racist assholes. It's trying to have the righteous cake of T.N.T. and the streetwise eating it of SUPER FLY, but unfortunately it's not doing as good a job of either.
Maybe O'Neal should've made THE RETURN OF SUPER FLY T.N.T., soundtrack by Osibisa featuring KRS-One.
This is clearly the weak, questionable-if-it-even-counts entry in the trilogy, and I don't like that it kind of voids the growth and possible redemption that Priest gained through his experiences in T.N.T. But I don't mean to entirely dismiss it as a piece of crappy entertainment. I know if it was O'Neal in the role it would feel more legit and I'd be alot easier on it. There are lots of cheesy action movie tropes that I always enjoy, for example the ol' "How do I know I can trust you?" / flips-him,-takes-his-rifle-from-him,-hands-it-back-to-him move. And the crazy explosives expert who helps him blow shit up and lets him browse his ridiculous library of guns and ammo to choose the right one for his needs.
There's some funny lines:
"You always shower with a gun?"
"I've seen PSYCHO five times."
And let's give Priest credit for a knowingly terrible pun he makes while they're touring all of Hector's drug fronts and blowing them up. His buddy thinks it's funny that one of the fronts is a health food store.
"Yeah. Guess it's not what it's all… cracked up to be, huh?"
He's got this look on his face like he knows it's a terrible joke but he doesn't care, and it makes it kind of funny and hard to hate. I guess that's kind of how I feel about the movie in the end.