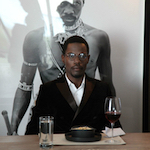 Here's something for a limited audience: Spike Lee, following his guerilla-style, filmed-in-three-weeks, released-in-41-theaters RED HOOK SUMMER, and his universally rejected OLDBOY remake, wanted to do a faithful remake of Bill Gunn's 1974 arthouse bloodsucker movie GANJA AND HESS. Even with a lower budget than RED HOOK SUMMER, he knew no studio was gonna give him money for something like that, so he raised the money on Kickstarter.
It's not something the average person is gonna need to see, but it's weird that it took me so long to see this particular Official Spike Lee Joint (as the credits label it). I love Spike Lee, and I think even the ones I don't like as much (BAMBOOZLED when it came out – haven't rewatched it though and could well be wrong) are interesting and worth analyzing. DO THE RIGHT THING is still my favorite, and around the time it came out I caught a double feature of SHE'S GOTTA HAVE IT and SCHOOL DAZE, and since then his only theatrical releases I've missed were SHE HATE ME (still haven't seen it), RED HOOK SUMMER (I'm not sure it played here) and this one. But yes, I saw GIRL 6, I saw MIRACLE AT ST. ANNA, I saw CHI-RAQ. (read the rest of this shit…)
VERN has a new action-horror novel out called WORM ON A HOOK! He has been reviewing movies since 1999 and is the author of the film criticism books Seagalogy: A Study of the Ass-Kicking Films of Steven Seagal and Yippee Ki-Yay Moviegoer!: Writings on Bruce Willis, Badass Cinema and Other Important Topics as well as the crime novel Niketown.