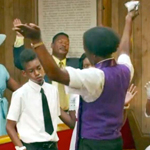 If I were to tell you I watched a movie with characters named Flik Royale, Chazz Morningstar, Blessing Rowe, Deacon Zee, Mother Darling and Bishop Enoch, what would that tell you? That's right – it was a Spike Lee movie.
(Later we find out that Flik is a nickname and Enoch is an assumed name. Gator Purify didn't have that luxury.)
RED HOOK SUMMER is the low budget indie movie Lee put out last year, kind of a return to his roots after a couple bigger studio movies, INSIDE MAN and MIRACLE AT ST. ANNA. Spike says it came about when he was talking to James McBride, author of the St. Anna novel, about what they saw as the dire state of black cinema. (I take that to mean "complaining about Tyler Perry movies.") He had recently bought a digital camera so he asked McBride to write something and they would make it. Together they came up with a story about a middle class Atlanta Kid, maybe 13-14, coming to stay with his estranged grandpa in the Red Hook housing projects of Brooklyn.

Flik Royale (first timer Jules Brown) is a quiet kid who likes to record everything on his iPad 2 (he always specifies the 2). He's also a skateboard kid (or at least he owns a skateboard – you only see him actually skate in a montage at the end) and he has a haircut referred to as a "fro-hawk," so he's kinda outside the usual movie stereotypes of what black kids are interested in. He stumbles glumly into not-the-greatest summer vacation situation.
He says he's vegan, but Grandpa (Clarke Peters) makes him eat eggs. He doesn't believe in God, but Grandpa is a Bishop and makes him go to church on Sundays and work there during the week. He never met his grandpa before this, and grandpa didn't even know that his dad died in Afghanistan. It's very telling and mysterious at the same time when, in the opening scene, Mom brings Flik to Grandpa's door, introduces them, but doesn't come inside.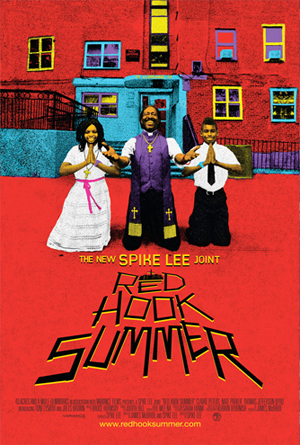 Peters is great playing a complex character. A whole lot of his screen time is in church, preaching and singing or outside of church talking to people about what's wrong with the kids today, what they're missing or have too much of, what needs to be done. It's all well-meaning and on the surface seems like Old Man Spike on a soapbox, or on a stoop like Da Mayor. But then you look at Flik and you know The Bishop's way off base. This is a good, smart kid. The biggest trouble he gets into is writing in wet cement or chasing his one Red Hook friend, Chazz Morningstar (Toni Lysaith – also a first timer) with a dead rat. (By the way, shouldn't have shown that thing in closeup. It looked like a cat toy!) The Bishop probly sees his iPad 2 as a crutch, a toy, an unnecessary wall between himself and other people. But Lee obviously sees it as a filmmaking tool. I bet every day on set he wished he'd had one of those at Flik's age.
Flik does have a certain distance, either from being brave or from being naive about the neighborhood. There are some drug dealers who hang out in the park, the ringleader being Box (Nate Parker from RED TAILS). The Bishop likes to remind Box that he's known him since he was a kid, and try to lecture him, but he also knows that he's a genuine threat, and warns Flik to stay away from him. Flik won't grow up to be like Box, if that's what he's worried about. The kid is not impressed. But he's not scared by him either, and just goes up to him and starts recording footage.
Grandpa can sell God to the kid later, first he's gotta learn to relate to him. Toward the end there's a new piece of information that calls the whole thing into question, and is arguably too much for the story, but before that it's a very sweet portrait of grandpa and grandson slowly learning to deal with each other.
Since the kids are first time actors they sometimes struggle with Lee's chunks of stylized speech. But it's a worthwhile trade-off for their natural, unpolished presence and their chemistry when she hides how much she likes him by calling him "STOOPID!!!" all the time. Brown has definitely mastered playing a teen looking unhappy and distant. Was it worth being in a movie for all the hours he had to play bored in church? Probly not as glamourous as being the THE BAD NEWS BEARS or something.
I don't know if any of you guys saw this but for about a week and a half here there was some suspense because Spike tweeted a twitter-tweet where he thanked people for supporting his career over the years and said he would have a big announcement on Monday. Then on Monday he said the announcement had been delayed for a week. Then this Monday he announced a Kickstarter for a new movie. But before that I saw two different articles, and there were probly more, worrying that he was gonna announce his retirement. It seemed like he could've been fed up because he's had a hell of a time getting movies made for such a high profile director. Even after his biggest hit ever, INSIDE MAN, he had project after project (including the sequel) fail to get the funding needed.
But low budget movies like this and the Kickstarter one are a good solution to that problem. I would say this is not one of his better movies, but it felt great to see that Spike Lee again, the one that makes these little New York City dramas with his unique perspective on humanity. It looks like Spike Lee World, colorful places you would never see in anybody else's movies. I thought The Li'l Peace of Heaven Baptist Church of Red Hook was an amazing little set with its cross-shaped ceiling lights, but apparently its an actual church belonging to McBride's family. (Or maybe that's just the exterior?)
It's also tied in to DO THE RIGHT THING because Lee has a brief cameo as "Mr. Mookie." He's delivering a pizza and still wearing the Sal's Famous uniform. I'm not against these movies taking place in the same world, but I wasn't prepared for how sad it made me to see Mookie still working at Sal's after all these years. It's optimistic in that it means Mookie and Sal worked things out after the events of that hot night in '89. He must be like a member of the family now. But he was not happy there. He shouldn't be still doing that in his 50s. Man, I hope he doesn't have to go home and get yelled at by Rosie Perez. She still looks good but it's not worth it.
A more subtle connection is a character saying "That's the truth, Ruth," which I took to mean that Mr. Senor Love Daddy is either still on the radio or fondly remembered and referenced by people in the neighborhood.
RED HOOK SUMMER definitely feels like that era of Spike Lee's jointography, but the one drawback is the digital photography. This camera looks much better than what he used on BAMBOOZLED and ORIGINAL KINGS OF COMEDY, but I thought it looked too smooth, at least on the blu-ray. I missed what it looked like when he shot on film. As a reminder there are a few little bits shot on Super-8 or something, something beautifully grainy. Oh well, I guess Spike Lee on not-the-best camera is better than Spike Lee sitting around developing bigger budget movies that never get made. And digital can look good now. He'll get a better camera eventually.
Thanks for not retiring, Spike.