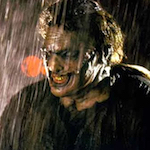 For those of you who missed it when it was a Patreon exclusive in June, here's my Vern's Appeals Process revisit to the 2003 remake of THE TEXAS CHAIN SAW MASSACRE. And if you're interested in something else to read I just put up a new Patreon exclusive (for now) where I do the same for Stephen Sommers' DEEP RISING.
INSPIRED BY A TRUE STORY
When I positively reviewed this year's sequel to THE TEXAS CHAIN SAW MASSACRE (1974), coherently titled TEXAS CHAINSAW MASSACRE (2022), I wasn't quite prepared for how controversial that would be. Not nearly as controversial as when I loved the 2013 EVIL DEAD remake directed by the producers/writers of this new CHAINSAW (I stand by that), but my appreciation for it really threw some people for a loop. What I came to understand was that people remembered how fiercely protective of Tobe Hooper's creation I was when I went scorched earth on Marcus Nispel's remake in my 2003 Ain't It Cool News review, which I proudly titled "Vern massacres THE TEXAS CHAINSAW MASSACRE." At least a few people wished I had come at this unpopular sequel with that same kind of righteous fury.
My perspective: of course I didn't. That was a long time ago, I've changed, circumstances have changed, the franchise has changed, this one is more my style than that one was, and even if none of those things were the case, I'd still have different expectations for the — what, fifth? — sequel than the first redo. But I had been thinking about the remake, because I'd been seeing people on Twitter – possibly a generation younger than me, who saw it at a different stage in their life and horror fandom – saying that it was a classic in its own right, and they couldn't believe there were people who disliked it. I ferociously disagreed with that assessment at the time, but like I said, I've changed, things have changed. And It's been so long. (read the rest of this shit…)