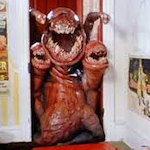 I haven't seen Joe Dante's PIRANHA in many, many years, but here I am reviewing the remake. No, not Alexandre Aja's Dimension Films version PIRANHA 3D (which I did review when it came out in 2010), but the 1995 Corman production directed by Scott P. Levy (MIDNIGHT TEASE, THE ALIEN WITHIN).
This thing was made for Showtime, and I never got Showtime, but the reason I remembered it existed was because I knew Punky Brewster herself, Soleil Moon Frye (KID 90) was in it. That was enough to lure me in. (Get it?) I guess she was in a couple horror movies (INVITATION TO HELL, PUMPKINHEAD II) but I'm actually kinda surprised they didn't resurrect her in the post-SCREAM era! Maybe they tried but she was happy just doing cartoon voices.
I have to admit I didn't remember the original enough to realize until reading the Wikipedia summary that this remake barely alters its script. Alex Simon (BLOODFIST VIII: TRAINED TO KILL) is credited as the writer, but it's so close original writers Richard Robinson and John Sayles get both "based on the screenplay by" and "story by" credits.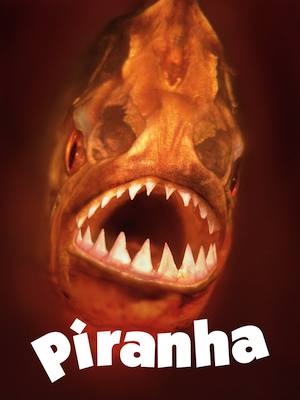 Without the surely better version fresh on my mind, though, it's a watchably competent if low rent TV movie in the spirit of ALLIGATOR II: THE MUTATION (but not as good). It starts with a nerd (Richard Israel, REVENGE OF THE NERDS III: THE NEXT GENERATION) and his giant-busted paramour (Lorissa McComas, THE BARE WENCH PROJECT) breaking into a remote, abandoned military test site and skinny-dipping in a pool. They never make it home, and the lady is niece of millionaire industrialist J.R. Randolph (Monte Markham, GUNS OF THE MAGNIFICENT SEVEN), who hires a top detective agency to find her and is casually sexist when the detective they assign is a woman.
She's Maggie McNamara (Alexandra Paul, CHRISTINE), who declares herself "two thirds bloodhound." Her first stop is a cabin along a river in an area she thinks the missing couple could've "shacked up." The owner of the cabin, Paul (William Katt, CYBORG 3: THE RECYCLER), is annoyed and unfriendly, but when she commands him to take her to the military place he mentions, he complies. I guess just like us he can sense that he's gonna be the love interest.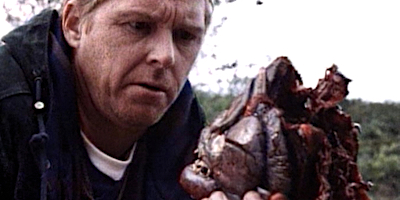 At the test site they drain the pool to look for bodies and are attacked by a seemingly crazed woman (Darleen Carr, THE BEGUILED), who then steals and crashes their Jeep. But it turns out she's scientist Dr. Leticia Baines, who knows they just released the genetically engineered piranhas of Operation Razorteeth into the river. In the original this was a male character played by Kevin McCarthy – why must 1995 push its woke agenda on us with this gender swapping. My childhood is ruined. I simply ask that I never be asked to identify with or be interested in characters that are a different gender or race from me and that people who are a different gender or race from me have to do it at all times. Antifa, open borders, etc.
Well, now Paul (the character played by Katt, not the actress playing Maggie) has more of a reason to be involved because his daughter is attending a camp along the river. They have to warn everybody, but since he lives off the grid he has no phone and the Jeep is crashed they have to take a raft that he built for his daughter when she was reading Huckleberry Finn. That detail is important because #1, it shows that he's kind of dorkier and a better dad than you'd assume, and #2 he proudly made it period accurate with rope and no nails, so it's vulnerable to the piranha.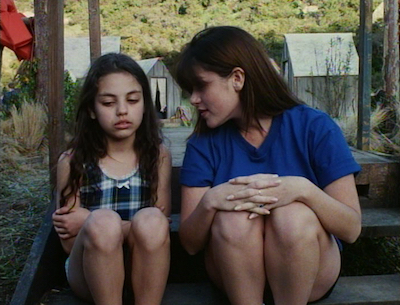 Frye plays Laura, a counselor at the aforementioned camp, who's very close with Paul's daughter Susie and trying to help her with her fear of water. Just a nice teen, not stunt casting where they get the wholesome kid from TV to play a bad girl. The big surprise is when you see the daughter, Susie, and realize she's played by tiny Mila Kunis (JUPITER ASCENDING) in her first movie role.
Of course there's a whole thing with a resort refusing to cancel their grand opening, leading to a bunch of people getting chewed up by fish. When Paul tries to shut down the grand opening, Randolph reveals that Paul used to be a lawyer, and became a recluse after a humiliating loss. "Then you lost that big case against the 'Save the Gay Feminist Cambodian Whale' group that shut down the smelting plant. Now I guess you figured on getting a little payback against us greedy corporate types who bent you up and ruined your life." So I guess he's saying he was defending the smelting plant against environmental groups but lost and that turned him into a good guy? I'm not sure.
There's a thing about a director (Leland Orser right before SEVEN!) doing a commercial and trying to get laid, and you get one of those lines writers put in b-movies to prove they're into other stuff besides b-movies: "Improvisation. Just like an Altman film." One of the guys on the crew is wearing a CARNOSAUR t-shirt, by the way.
There's a grim touch at the end that I'm pretty sure is not from the original (correct me if I'm wrong) – walking through a crowd looking for her dad, little Susie walks past Randolph, and we see that there is literally blood on his hands. Then he goes into his office and commits suicide. Damn!
The trouble with this remake is that you just don't see enough piranhas. No stop motion, only a little bit of puppetry, it's almost all POV, splashing, and blood, and according to Wikipedia all the FX work was footage recycled from the original. Seems like a waste to remake PIRANHA unless you're excited about making some piranhas! So there's not much reason for this one. But Paul and Katt's earnest screen presence at least makes it watchable.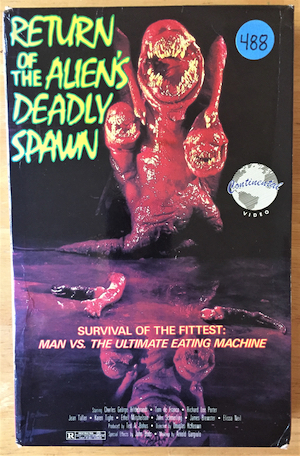 A monster movie that I bet has a lower budget ($25,000) yet delivers big time on the monsters is THE DEADLY SPAWN (1983). I can't believe I've never seen this before! I've honestly known about it since my early video rental days, back before Hollywood and Blockbuster, when we had to drive to the next town to Family Video. I remember being grossed out by this oversized box called RETURN OF THE ALIEN'S DEADLY SPAWN. Not because it was a scary monster… there was just something about that dark and wet photo and the ugly fonts and porno sized box that made it seem ridiculously seedy. I mean, the movie is indeed pretty gorey, but there's a hand-made and quirky quality to it that's actually quite charming.
It starts like a slasher-era version of THE BLOB. A meteor come down, a strange monster (seen silhouetted inside a tent) devours two campers that find it. The rest of the movie takes place almost entirely at a nearby house (first seen in an adorable model shot, for reasons that only become clear at the very end). Sam (James Brewster) and Barb (Elissa Neil) are a couple who get up ridiculously early for a day trip. There's a rain storm, and Sam discovers that the basement is flooded, and then gets eaten by a monster. I'm not a home owner but I think this is true, there are these parts of the country where you gotta be careful about leaky basements, and about deadly spawn infestations.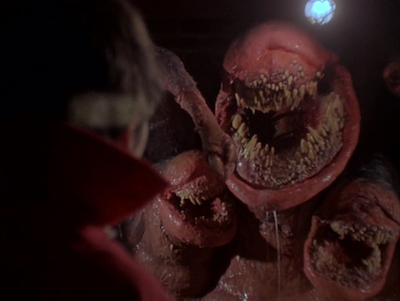 Barb goes looking for Sam and gets eaten too. There's a great gag where Sam's hand (with identifiable ring) rests on her shoulder but she turns around and it's just his forearm dangling out of a mouth that literally has like a hundred teeth in it, which proceed to bite off her face. The creature and gore effects in this are just incredible.
Then we meet this other couple Millie (Ethel Michelson) and Herb (John Schmerling). For a bit I thought they were neighbors but was grimly amused to realize this is the same house – these are an aunt and uncle staying with the family for a few days while in town for a conference. They expected Sam and Barb to be gone all day, so they have no idea they're currently being digested below the floorboards.
I like how much of the movie is about these regular looking middle aged people. But unsurprisingly there's also a younger generation represented. There's a little kid named Charles (Charles George Hildebrandt), who's that popular '80s archetype of the kid obsessed with horror movies and special effects, though he's not into Fangoria and STAR WARS like Tommy Jarvis in the following year's FRIDAY THE 13TH IV: THE FINAL CHAPTER – he reads Famous Monsters of Filmland and his posters are all original KING KONG, THE SPIDER, stuff like that. He says his favorite monsters are the mole people, Frankenstein and IT: THE THING FROM OUTER SPACE. He has the classic Shogun Warriors Godzilla toy and some monster masks that he likes to scare people with.
The movie's one and only weakness in my opinion is that it seems like it expects us to like Charles' science major brother Pete (Tom DeFranco), a Herbert-West-looking twit who lectures both his little brother and his own friend Frankie (Richard Lee Porter) about being into sci-fi. He says THE THING FROM ANOTHER WORLD is "junk" and "Whatever happened to the scientific method?"
The flooding in the basement messed up the wiring, so an electrician is called, but Aunt Millie is going to Grandma Bunny (Judith Mayes)'s vegetarian luncheon, so she leaves a note that the cellar door is open. That means this poor bastard goes straight to the alien's gullet. Little prankster Charles decides to sneak up on him in an ape mask and Doctor Strange-style collared cape, so he discovers the mother creature feeding the electrician to her babies and coughing up his own mother's head. But he notices they can't see, so he stays quiet – even while the deadly spawn peel the skin off his mom's face – and they don't eat him.
Meanwhile upstairs Pete's friends Frankie and Ellen (Jean Tafler) – who Pete is into and she sadly reciprocates right after making fun of him for having no imagination – have come over to study for a biology test, and they found a dead one of the toothy little tadpole creatures on the way there. So they dissect it.
Of course, things escalate for everyone, including Grandma and her friends. One of the babies crawls into the food processor, so "the green sauce" ends up not being vegetarian. There's a funny contrast between these friendly ladies in their Sunday best and pearls, who call everything "lovely" and collect ceramic animals, and the anarchic mayhem of the deadly spawn biting their feet, making them jump on the couches as Millie tries to stab the things with the fire poker. They are terrorized but luckily escape in a station wagon.
That doesn't go for all the likable characters, though. Ellen gets it bad! Their friend Kathy (Karen Tighe) shows up late for studying but in time to see the monster and deliver a perfect "WHAT THE FUCK WAS THAT!?" Charles is the hero of the piece, though, using his FX and prank know-how. There's a great sequence about getting the thing to bite a prop head full of flash powder, and then he has to grab a power cord and try to plug it in to ignite it.
Like NIGHT OF THE LIVING DEAD, the movie adds some scope by stepping outside of the primary location to show authorities and locals the next morning dealing with the invasion. They think they have it under control, but they don't.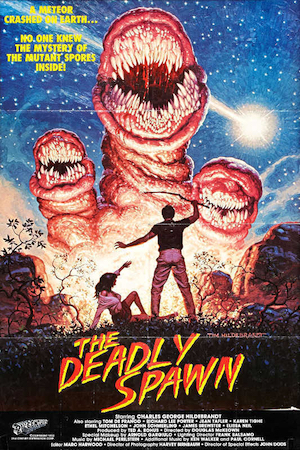 One reason this works and that it's rare among low budget movies is that this kid Charles George Hildebrandt is so good. He just gives a really natural performance, and seems like a normal kid, not the usual precocious little fuckers they have in movies. That he's mostly by himself and doesn't have many lines (and wears a cape for almost the whole movie) surely helps the performance, but also makes him seem more real – he's not talking to himself like so many movie characters. I wouldn't have been surprised if he went on to become a serious actor, but this is his only movie. He's the son of producer Tim Hildebrandt, who by the way is one of the Hildebrandt brothers, the twin fantasy painters who famously did the movie poster for STAR WARS. The house in the movie is Hildebrandt's, and of course he painted a poster for this movie too.
The concept reportedly came from producer Ted Bohus (FIEND, NIGHTBEAST), and then special effects supervisor John Dods (SPOOKIES, MY DEMON LOVER, BLACK ROSES) came up with the monster. That might make Dods the MVP here, but credit is definitely due to writer/director Douglas McKeown, who brings so much more life and personality to these characters than 99% of low budget movies with unknown actors. It reminds me of SQUIRM a little bit. McKeown had been a high school teacher whose students included magician David Copperfield and EXPENDABLES writer Richard Wenk, then he left to join the Jean Cocteau Repertory in New York, as an actor and many other things. He designed the sets and costumes for the world premiere of a Tennessee Williams play. And then he went and directed one and only movie, so why the fuck shouldn't it be THE DEADLY SPAWN? Isn't that what you would do?
Unfortunately it seems like the movie hasn't been properly archived or something, because the transfer on Shudder is very poor, which is reportedly also the case on the blu-ray, judging from reviews I've checked. The blu-ray does have a bunch of extras though, which I'm sure must be interesting. Bohus also wrote a whole hardcover book about the making of the film.
Side note: from what I've read it sounds like McKeown and Bohus are both gay, so if I'm not mistaken about that I hope their movie is being acknowledged in the recent projects about "queer horror."
DEADLY SPAWN really is a banger. I'm all for big budget versions of this kind of thing – I live for them – but by almost any standard this is a better movie than THE RELIC. And it seemed to do well in its own indie world, so it's too bad most of the people involved didn't do any other movies. One exception is 15 year old production assistant Tim Sullivan (also credited with "additional dialogue"), who went on to become a director (2001 MANIACS) and producer (SNOOP DOGG'S HOOD OF HORROR). But damn, I wish they'd all built off of this and we could've seen what the EVIL DEAD II, PHANTASM II or DAWN OF THE DEAD of DEADLY SPAWN would've been.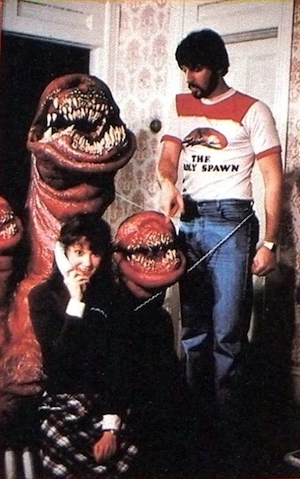 Yes, I am a DEADLY SPAWN fan now. Don't rat me out if I start acting like I always was. If Fright Rags or Cavity Colors or somebody ever re-creates the badass crew jersey in this photo you bet your ass I'm getting one. DEADLY SPAWN for life.
This entry was posted on Wednesday, October 26th, 2022 at 3:30 pm and is filed under
Horror
,
Monster
,
Reviews
,
Science Fiction and Space Shit
. You can follow any responses to this entry through the
RSS 2.0
feed. You can skip to the end and leave a response. Pinging is currently not allowed.