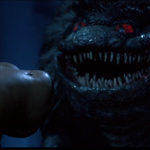 Recently I watched WARLOCK for the first time, and that was surprisingly good shit, so I figured maybe I should watch some other VHS era franchise-launcher with a two syllable title that I'd never bothered with for some reason. You know, like CRITTERS or something like that.
This one seems like a moosh-up of GREMLINS (mischievous, laughing small monsters portrayed by puppets infest a place and eat people, sometimes in comical ways), E.T. in: THE EXTRA-TERRESTRIAL (Dee Wallace Stone as mother of adolescent, bike-riding, alien-discovering protagonist) and I COME IN PEACE (weirdo long-haired humanoid space bounty hunters with powerful guns clandestinely hunt dangerous alien presence on Earth).
The title-istical Critters (called Crites by the non-Earthlings) are kind of like Tribbles with teeth, or evil Popples. They're furry round guys with stubby limbs who can roll up into balls and tumble like tumbleweeds, but they have long, needle-like teeth and also a row of poisonous projectile quills they use to put the kid's older sister into a catatonic state and drag her back to their ship. I'm not clear on what they plan to do with her there, but let me just say that I don't trust those little perverts. And I was gonna say "as far as I can throw 'em" but actually I feel like I could throw them pretty far. They are one of the most throwable villains of all major horror movies, in my opinion.
Their voices sound like gremlins too, except they're supposed to be speaking in an alien language, so it's subtitled for us. They do know the English phrase "uh oh," though. Maybe it's not English after all. Maybe we got it from ancient astronauts.
One thing they have over gremlins is that they grow. I guess that's why they eat so much, they need protein. We mostly just see them as little volleyball sized dudes, but there's a glimpse or two of a giant one.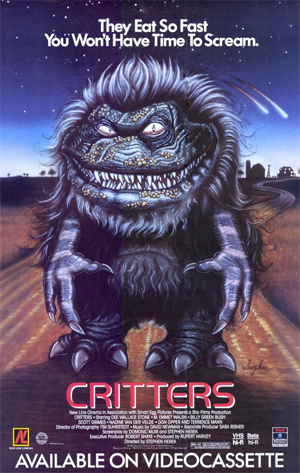 Eight of the little fuckers were being transported to that prison asteroid in sector 17 when they managed to escape to Earth, with two bounty hunters on their tail. To be clear though they don't literally have tails.
They crash down in a rural area near the Brown family's farm. The patriarch Jay (Billy Green Bush, JASON GOES TO HELL: THE FINAL FRIDAY) notices them first, but he gets partly eaten in the basement, so his young son Brad (Scott Grimes) has to step up and pretend to be a man, although his voice hasn't changed yet. I feel kind of bad for Dee Wallace that she just has to scream and be scared. It seems like as an adult woman she should rank higher than the little kid and be more responsible. Or at least the teenage daughter April (Nadine Van Der Velde, MUNCHIES) could be in charge. Her boyfriend Steve (THE PHANTOM himself, Billy Zane) doesn't get a chance, if you know what I mean.
Also in the mix is the recovering alcoholic farmhand and mechanic Charlie (Don Opper, BLACK MOON RISING) who looked enough like Simple Jack from TROPIC THUNDER that I kept forgetting he wasn't supposed to be mentally disabled. Instead he's that old cliche the lovable conspiracy nut whose paranoia turns out to be true this time, when his fillings actually are receiving transmissions from aliens. (Why was that filling thing such a popular joke in the '80s? Was there a significant number of people who believed in that?)
Brad has one of those '80s kid bedrooms they always showed in the movies then, decorated with things to show his interest in movies and sci-fi so that he either reflects the childhood of the director, or is mentally prepared to deal with aliens, or– I don't know. But this is kind of a b-movie version so instead of having STAR WARS action figures like in E.T. he just has a poster for the ALIEN rip-off MUTANT. And his cat is named Chewie.
Actually he does have an E.T. doll in his room. One of the Critters tries to talk to it and then bites its head off. Obviously we know what this means: the Crites were also senators in THE PHANTOM MENACE and they still have some political beef 'cause they tried to warn the E.T.s not to fall for the no confidence vote on Chancellor Valorum.
Of course this is a monster movie and the monsters are the most important part. The puppet effects are done by the Chiodo Brothers, whose later cult classic KILLER KLOWNS FROM OUTER SPACE follows a pretty similar storyline, but instead of bringing people to a UFO in the woods it's a glowing circus tent and they cover the bodies in a cocoon made of cotton candy and then drink their blood through Crazy Straws. Man, that was a pretty good movie from what I remember. I wonder if it holds up?
Also the Chiodos did the Large Marge animation in PEE-WEE'S BIG ADVENTURE and the part where Darkman's hand melts. So show some respect.
The bounty hunters are cool too. They have no faces (like The Blank in DICK TRACY), but they can transform to fit in on different planets.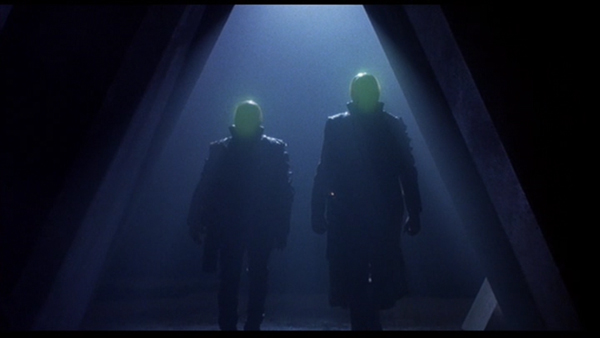 One of them uses MTV or Friday Night Videos or some shit as his reference, so he ends up with the face of some hair metal singer named Johnny Steele (Terrence Mann, A CHORUS LINE).
I thought this was only kind of good, but I can definitely see why it caught on. It's a good R-rated movie for young boys. The kid is the protagonist, but since it's a monster movie he has to "become a man" more than Elliott did in E.T. Grimes is very earnest and insists on stepping up when his dad is injured and poisoned. His dad even offers him the shotgun, but he turns it down. He has a whole character arc about being misunderstood and earning respect. He's seen as a fuck up because he likes playing around with firecrackers and slingshot, so of course he saves the day with those things. He gets in trouble for fighting with his sister, but he rescues her and says caring things to her. He must've been strutting around feeling awesome for months after all this went down.
Look how sincere this little guy looks: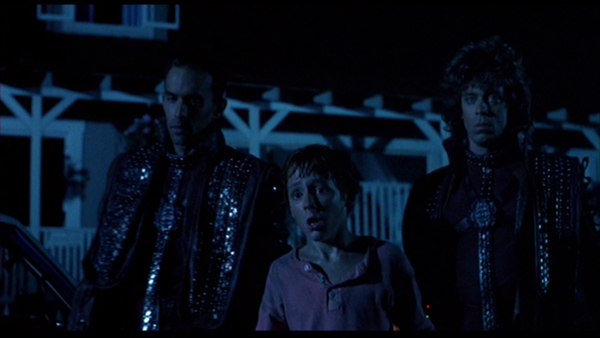 Right after watching this I watched an episode of the current season of Justified and realized that the completely grown up Grimes was on it. That was weird.
You can tell this is a low budget movie, but it feels very legit. For one thing, there is a hell of an explosion at the end. Good job on that. More importantly, I think the serious orchestral score by David Newman goes a long way. I expect a movie called CRITTERS to have some bullshit Yamaha circus music score, but this guy (doing his first feature before a long line of mostly cheesy studio comedies) acts like he thinks he's doing CLOSE ENCOUNTERS or something.
This was the first movie for director Stephen Herek. His next was BILL & TED'S EXCELLENT ADVENTURE. (He's also the guy who did THE MIGHTY DUCKS, MR. HOLLAND'S OPUS and the live action 101 DALMATIONS.) Writer Domonic Muir went on to pen such other li'l bastards as DOLL GRAVEYARD, THE GINGERDEAD MAN, EVIL BONG, DANGEROUS WORRY DOLLS, SKULL HEADS, PUPPET MASTER: AXIS OF EVIL, DEVILDOLLS and UNLUCKY CHARMS. If you need 'em small, give Muir a call.