CASH TRUCK (Le Convoyeur) is a 2004 French crime movie I never heard of until Guy Ritchie remade it as WRATH OF MAN. I'm glad he did because I liked that movie and also I liked this movie, which is very different.
Alexandre Demarre (Albert Dupontel, IRREVERSIBLE, writer/director of BYE BYE MORONS) is the new guy at a shitty money delivery service called Vigilante. They're the bottom of the barrel company in the city, so they mostly deal with smaller amounts of money, but in more dangerous neighborhoods. (Or at least that's what they tell him. One of the dangers he faces is a bunch of kids on a soccer field taunting him and throwing things at him.)
If you've seen WRATH OF MAN, this is an entirely different dynamic. Nobody is named "Boy Sweat" and there's none of the macho weightlifter bro-manship that's required when relocating the story to L.A., since it's endemic to American policing, soldiering and security guarding. Although charismatic Jacques (Jean Dujardin, before he was OSS 117, LUCKY LUKE and THE ARTIST) is one of the main people showing Alexandre the ropes, most of these characters are regular people who would fit just as well if it was an office comedy. And though the story is ultimately full of tragedy and violence, that's partly what it is.
Everyone is very cynical about the future of their jobs because the company is being "bought out by the Yanks" in a month. One guy is working on a petition for better training, because they only get to do target practice 6 times a year – and then when we see it, we learn that they only get to take one shot each! Alexandre does terribly and is teased about it.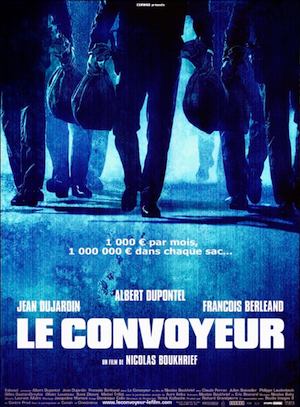 Though this is not just a guy at a new job, but a guy who's undercover for his own reasons and whose co-workers are suspicious that he could be a spy for the new owners, we can relate to the awkwardness of coming in as an outsider and trying to fit into a group of people who already know each other well. We learn the quirks of his different co-workers, he makes different connections and rivalries, and there seems to be maybe something kindling with his one female colleague Nicole (Claude Perron, who's in one other movie by this director, three by co-star Dupontel, two by Jean-Pierre Jeunet and one by Melvin Van Peebles). Some of them are welcoming to him, and most of the others he wins over by stopping an attempted robbery. It's messy, unglamorous and completely un-Stathamy, but he acquits himself.
Part of the appeal is that feeling of bonding between people who do a shitty job together, have the same complaints, but also an attachment to the job, and at least some amount of shared pride for what they do, or how they do it. I like how cynical they are as they still go to work while the company seems to be on its last legs. By the end Alexandre isn't the new guy anymore and the new new guy sits shirtless, tats and nipple rings on display, playing a handheld video game and refusing to do anything. Man, and you guys had problems with Alexandre?
What WRATH OF MAN takes from the movie is this premise: a new employee at an armored car company is secretly undercover to find a mole, because his son was killed as a bystander in a robbery of one of their cars and he wants to track down the thieves for revenge. But Ritchie translated that for Jason Statham – his character purposely messes up his testing and training a little, but in fact has a mythically badass background and Statham-worthy level of shooting and fighting skills. This is a totally different story because Alexandre has no experience in battle. He was some rich banker or something but his life was ruined, so he chose the Demon's Path. But it doesn't come naturally. He's very nervous about facing off with and shooting at these guys he's after.
Physically he just seems like a normal, kinda dorky guy, and he seems fairly mellow (if nervous) at work. But secretly he's like The Punisher or somebody. He's staying at a hotel right next to work, keeping the cleaning staff out because the walls are covered in photos and charts of his co-workers. This mission is all he lives for.
I don't know what it is about us Americans, but we seem to be much more rigid about our movies having to be one thing, one tone. You step out of bounds and people get confused, for some reason. Those people are holding us back. CASH TRUCK is not as philosophical or moving as RIDERS OF JUSTICE (my favorite movie I've seen this year so far), but I thought of that one while watching this because both are about a horrible tragedy, trying to get revenge, they have lots of grim bloodshed and sadness, but they also have alot of quirky characters and humor, and it absolutely works. There's no whiplash. Truthfully I love Hollywood movies, but there are some restrictive attitudes and tastes prevailing there and it's really exciting to find specific artists or entire cultures that don't have the same hang ups.
CASH TRUCK and WRATH OF MAN are a really good original/remake pairing because I watched them close together and it wasn't redundant at all. It's a good premise and they do two totally different, equally valid things with it. The opening scene is shot from inside an armored car, which had me wondering for a minute if the unique way Ritchie staged the robbery was just taken directly from this, but it was not. Neither is the crime novel type structure that eventually switches to the perspective of the thieves, showing us their view of earlier events, their background and their preparations for the big score. CASH TRUCK doesn't tell us anything about the gang, staying focused on Alexandre and also allowing us to get to know and like everybody at the company much more than in Ritchie's rendition.
The director is Nicolas Boukhrief (CORTEX, MADE IN FRANCE). He also co-wrote the Mathieu Kassovitz movie ASSASSIN(S) and was consulting producer on SILENT HILL. He co-wrote this one with Eric Besnard, who has directed movies written with Boukhrief (IN GOLD WE TRUST, DELICIOUS) in addition to writing BABYLON A.D. and many others. Some of their movies sound like they could be pretty good – let me know if you recommend any of them.
For those interested in seeing this, there are a few import DVDs available, but they don't appear to have English subtitles. The blu-ray linked below does have them, but it's region B, so North Americans will need a region free blu-ray player to view it.
Special thanks to Anne Billson for letting me know about the blu-ray, and to Scarecrow Video for adding it to the collection.