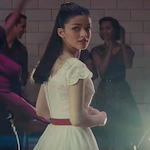 WEST SIDE STORY – it's very clear when you see it – is a film by Steven Fucking Spielberg. That's why I saw it. Usually when I write about a remake of a beloved classic I like to be somewhat knowledgeable about the source material, but this late in the game you've had plenty of time to read reviews from people who know the musical or the earlier Robert Wise movie forward and backward, can tell you all the things that Spielberg and screenwriter Tony Kushner (MUNICH, LINCOLN) added, cut, updated, etc., and the significance of those alterations. Or at least from someone who has seen the original. I have not. I would've, but Spielberg didn't direct it.
I don't really gravitate toward Broadway musical type stuff, but I do have a thing for great filmatism, so this thing knocked me out. As even I kind of knew, it's the story of two gangs, the Jets (white guys) and the Sharks (proud Puerto Ricans) stubbornly fighting over territory in a dilapidated Manhattan slum that (this part is new, I believe) is on the verge of redevelopment. In the opening, Janusz Kaminski (COOL AS ICE)'s camera hovers over what remains of the neighborhood, climbs up the side of a structure under construction, past a billboard advertising the fancy apartment building and entertainment center it will become (featuring the sort of upper class white people who will inhabit it), then hangs out a while next to the wrecking ball waiting to get the process started. Meanwhile, the percussion section (David Newman [CRITTERS, ROVER DANGERFIELD, CONEHEADS, THE SPIRIT] arranging Leonard Bernstein's music) playfully percolates like the build up to a heist sequence.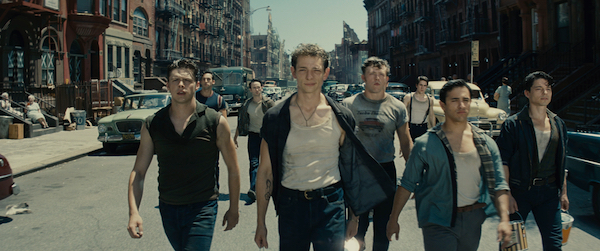 The Jets, led by weasely-voiced Riff (Mike Faist, WILDLING), emerge from a maintenance tunnel carrying paint buckets, marching through town to deface a weathered mural of the flag of Puerto Rico, instantly sparking a brawl with the locals that ends with one guy with a nail through his ear and the two sides split up and lectured by Lieutenant Schrank (Corey Stoll, LUCKY NUMBER SLEVIN), who knows them all by name.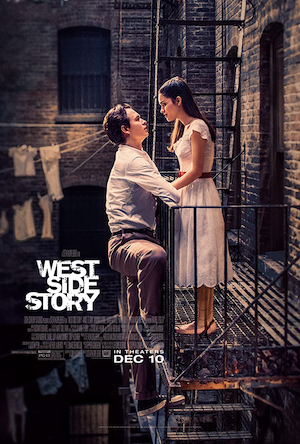 There's a telling detail here: Schrank makes the Puerto Ricans leave and then addresses the white people as "us" and "we." Riff points out that he's full of shit, because he first blamed the relocation on the city, then on Puerto Ricans. But that doesn't change the fact that this cop is going to treat these people different because of their race. Whether or not the Jets are racist themselves, they can benefit from this racism – that's how it works. I think Schrank's argument for not being racist would be that he's actually classist – he demeans the Jets and their parents for not being able to get out of the neighborhood. Of course, the reason he thinks they should've left the neighborhood was to get away from Puerto Ricans. So he's both classist and racist. Like many people.
It's a while before we meet Tony (Ansel Elgort, Tommy from the 2013 CARRIE remake), Riff's best friend who has retired from the Jets after doing some time for almost killing a kid in a brawl (see also: Dominic Toretto). He works at a little store for a nice Puerto Rican boss named Valentina (Rita Moreno, MARLOWE) and tries to stay out of all the stupid bullshit he used to get himself involved in. But somehow Riff convinces him to break his parole to go to a dance where the Jets are gonna challenge the Sharks to rumble at a later date.
That's where the love story begins, when Tony spots Maria (Rachel Zegler) across the dance floor, they have a conversation under the bleachers, sparks fly, and gang tensions intensify. Maria is the younger sister of Bernardo (David Alvarez), leader of the Sharks, who objects to her 1) being interested in a white boy 1b) especially one he considers a Jet and 2) rejecting his dorky friend Chino (Josh Andres Rivera) who she came to the dance with. Meanwhile, Riff feels betrayed that Tony is more concerned with a girl than the sacred honor of the Jets or whatever. And both Tony and Maria (who just met like four minutes ago, for christ's sake, just cool down everybody) want the freedom to talk and dance with whoever they want without this pressure from their dipshit friends and relatives who should be minding their own fucking business. (They really should've added a new song called "Mind Your Own Fucking Business" for best original song contention.)
The story is inspired by Romeo and Juliet (a famous play from olden times according to my research) so it doesn't matter how well they know each other, just that the squelching of their burning youthful passion by ignorant meddlers will have tragic consequences. A fire escape outside Maria's bedroom window serves as the balcony where Tony tracks her down later that night and gets her to agree to a date. One advantage he has over Romeo is he can climb the fire escapes all the way up and have a romantic moment separated only by iron bars. This would've been a good opportunity for some cool parkour, but it actually looks pretty dangerous as is.
Tony tries to stay above all the nonsense and just do his thing, but his admirable plan of going to the rumble to talk things out with Bernardo backfires. We see how the very presence of weapons (first knives, then a gun) escalates things and makes tragedy inevitable. Each act of understandable anger leads to worse violence. You get why Tony stabs Bernardo after Bernardo stabs Riff. You get why Chino takes Riff's gun after Tony stabs Bernardo and looks for Tony. Even the non-violent act of Bernardo's girlfriend Anita spitefully lying about Maria being dead to get back at Tony leads to more violence.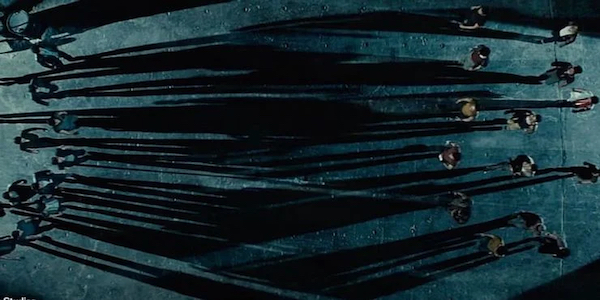 Anita is one of the best characters – Moreno won an Oscar in that role in the Wise version, and Ariana DeBose (THE PROM) has been deservingly nominated for this one. She pushes back on Bernardo's macho attitudes, advocates for Maria, and talks (well, sings and dances) with her friends about how much she loves living it up in New York and continental America, as opposed to his dream of making her return to Puerto Rico to have a bunch of kids. So it hurts so bad when she first loses Bernardo, then sees Maria hiding his killer in their own apartment. That snuffs out all the light that was in her before and she seems to shift to a more Bernardo-like attitude. Which makes me wonder if Bernardo was once idealistic too and something like this happened to him.
I have the advantage of all the context and everything so I get that Tony is not a total monster. Still, that "I Have Love" has gotta be one hell of a persuasive song to make Anita accept (if not approve of) Maria loving Tony and running away with him! Not that it fixes anything.
This is a sad story about how love doesn't always conquer all. Not if enough of these stubborn, possessive, competitive dudes are around puffing their chests out at each other. I think the detail that the neighborhood is being redeveloped is brilliant not just because it shows these are victims of the same system fighting each other, but because it underlines the pointlessness of it all. They're fighting over "territory" that very shortly will belong to rich people who will call security if they show up there. And there won't be any rumbling at the salt shed to get out of that one. They all know this. And they know some of the other flaws of their attitudes – they discuss them – but they still can't help getting wrapped up in the tribalism and letting things get out of control. It's all so stupid, and so true. People really do that.
And I think it's a good depiction of flawed people with points of view – you can usually understand where they're all coming from, sometimes they have a point, sometimes they're wrong, often they are bad for people they genuinely care about. Pretty dark for a movie that also makes you smile because everybody's dancing all over the place.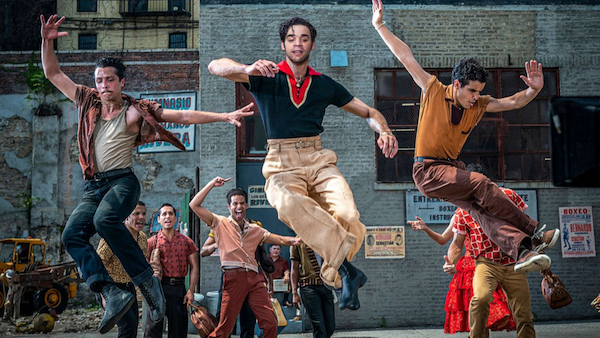 I mean, it's WEST SIDE STORY. Most people have an idea whether they consider that a good story or not. I thought it was a good story. But as predicted, it's the Steven Spielbergness that makes it soar. This is one of our great directors operating at the height of his filmatistic powers. He always wanted to do a musical, and man did he do a musical. I like watching people who can dance, and in this movie the camera can also dance.
The whole school dance sequence is just astounding, the way the camera floats through this gymnasium between all the couples and factions, all these different characters moving in and out of the frame with their own things going on, so many story and character threads communicated clearly and succinctly through visuals and brief dialogue. It might sound pretentious to say that some of their agendas are illustrated through their differing dance styles, but it's not some lofty metaphor that needs to be deciphered, it's story points that are right there on the surface.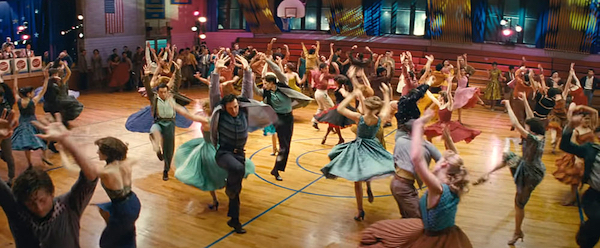 The last movie I said this about was DARK CITY, which would be a bizarre movie to compare this to, but I think this is another one that somebody could watch any time in the next couple decades and have a hard time guessing when it was made. Most of the cast are from Broadway (only three familiar faces in a giant cast, and one of those I wasn't sure about) so they're allowed to have very old timey looks. It's shot on film and doesn't have the digital sheen most of today's movies have. The camera moves seem state of the art, but for the long take entering the gym they used a Spydercam, which (as discussed in the SPIDER-MAN 2 review) has existed since the '90s.
Still, you'd have to say that on a technical level it's very modern. Maybe updating the themes a little and casting more actual Puerto Ricans would be a good enough reason to do a remake, but they did more than that. Still, it ends up feeling old fashioned in a positive way. You know that majestic feeling they're trying to convey when they make those montages of highlights from golden age classics for the Oscars and THAT'S ENTERTAINMENT and shit? Well, that's exactly the type of magic that WEST SIDE STORY is dripping all over the place – that quality of Hollywood's greatest craftsmen pooling all their skills and resources to put on an awe inspiring show. I wasn't even sure how they did it because it seems like this period neighborhood would have to be built on a giant soundstage in the old days, which means now you'd usually do it with a bunch of green screen, but it sure as hell looks like real daylight. (I've since read that they built the sets outdoors. I guess that's obvious, but you don't expect that these days.)
Anyway, I loved WEST SIDE STORY. I described my feelings about it pretty succinctly when I came out and said, "Steven Fucking Spielberg." But another description comes from an actor who was discovered when Spielberg saw his short film Multi-Facial and put him in SAVING PRIVATE RYAN. Like WEST SIDE STORY, his latest movie was filmed before the pandemic and then delayed until after vaccines became available. And when he welcomed us back to theaters he really captured the feeling of watching WEST SIDE STORY by the way he intoned these two beautiful words: