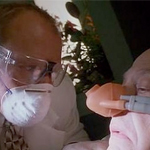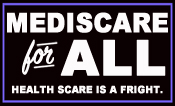 THE DENTIST is a unique little horror movie about a couple of days where a guy's life totally unravels. Dr. Alan Feinstone (Corbin Bernsen, TALES FROM THE HOOD) is an asshole from the word go – we see him berating his wife Brooke (Linda Hoffman, FACE/OFF) over a stain not coming out of one of his shirts, then forgiving her because she bought him expensive cuff links. When he catches her blowing the pool cleaner (Michael Stadvec, SOMETIMES THEY COME BACK… AGAIN, SOMETIMES THEY COME BACK… FOR MORE, SOMETIMES THEY COME BACK… TO APOLOGIZE BECAUSE THEY'VE REALLY CHANGED) he fantasizes about screaming at her and forcing her at gunpoint to bite down with her "perfect teeth." Instead he doesn't confront her and then completely loses his shit.
I like the messy, accidental piling up of events. There's almost a true crime feel to it. He tries to sneak up on the homewrecker and shoot him, ends up instead shooting a neighbor's dog that attacks him for trespassing. Ken Foree (FROM BEYOND) and Tony Noakes (BREAKAWAY) play the police detectives who circle around with the potential to catch him, but they're investigating the killing of a pet, not a person. They're investigating a weird, creepy thing, not knowing it's more serious than that. (read the rest of this shit…)
VERN has been reviewing movies since 1999 and is the author of the books SEAGALOGY: A STUDY OF THE ASS-KICKING FILMS OF STEVEN SEAGAL, YIPPEE KI-YAY MOVIEGOER!: WRITINGS ON BRUCE WILLIS, BADASS CINEMA AND OTHER IMPORTANT TOPICS and NIKETOWN: A NOVEL. His horror-action novel WORM ON A HOOK will arrive later this year.