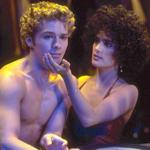 I'm a little behind schedule but ladies and gentleman, welcome to the final review in the Summer of '98 series.
August 28, 1998
54 is the second of summer '98's competing disco movies. I'm not sure if it's the DEEP IMPACT or the ARMAGEDDON, but it's the not as good and not as well reviewed one. Like LAST DAYS OF DISCO it's about a particular New York City disco in the later years, and there are conflicts between the management and staff that end with the place being raided by the IRS. But this one is in no way about yuppies, it's based on the history of a real place, the main characters are all employees of the club, and there's much more emphasis on the disco as a sanctuary for outcasts and misfits, so it would seem to have the potential to be BEAT STREET to LAST DAYS's BREAKIN'.
But only the potential. Nobody seemed to take it that way.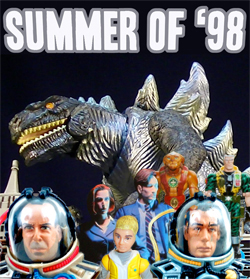 Shane (Ryan Phillippe, SETUP) is a macho goon from New Jersey whose dreaming eyes gaze across the water to New York City like Luke Skywalker looking to the stars. He's drawn to Studio 54 by newspaper columns about the celebrities who go there, so he perms his hair and drags his meathead buddies (including Mark Ruffalo, THE DENTIST) there with visions of Olivia Newton-John dancing in their heads, but only Shane (minus shirt) gets past the openly looks-based velvet rope elimination process.
For a second Shane seems like a Tony Manero, but he doesn't give a shit about dancing (as in LAST DAYS, dancing is an oddly small part of the disco story). There's a dramatic closeup of his foot hesitating to take its first step on the dance floor, but then he just goes into the crowd and yahoos for the band like he's cheering on a football game. The looks he gets cause him to observe his surrounding and copy the other people's moves. Then he quickly gets a job as a shirtless bus boy and doesn't have to dance anymore. (read the rest of this shit…)