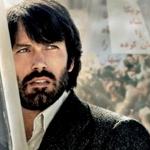 ARGO is based on an amazing true story, recently declassified and told in this great Wired article. During the Iran hostage crisis, it turns out, the CIA managed to rescue a group of stranded American workers using an unusual cover story: they were part of a Canadian film crew scouting exotic locations for a STAR WARS inspired sci-fi fantasy epic. John Chambers, the genius makeup artist behind the PLANET OF APES series (and played by John Goodman here), had done "some contract work" for the CIA according to the article (let's hope he gets a whole series of MISSION: IMPOSSIBLE style thrillers) and helped to set up real Hollywood producers and offices for the fake movie. The now-worshipped-by-nerds comic book artist Jack Kirby (seen only in a cameo here, played by DEATH WISH V's Michael Parks) provided the artwork that they used as pre-production set and costume designs.

This is Ben Affleck's third directorial work, and he stars as Tony Mendez, who comes up with the plan and heads the operation to rescue the six nerdy diplomats, played by Tate Donovan, Clea DuVall, Christopher Denham, Scoot McNairy, Kerry Bishe and Rory Cochrane in shaggy wigs and giant glasses. The visual seventiesness of the movie at first reminded me a bit of the "Sabotage" video, but that feeling went away pretty quick. Affleck's a good director.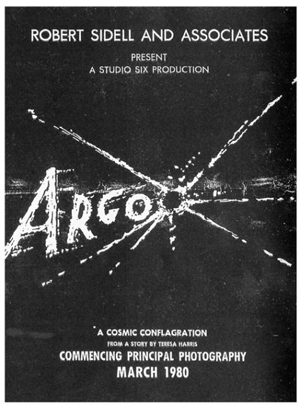 Mendez has all kinds of obstacles. He has to convince higher ups like Bryan Cranston and Philip Baker Hall that this is a good plan. He has to get all the pieces together. Pierce and a fictional producer played by Alan Arkin set up a seemingly legit production office, mainly so they can answer the phones if anybody calls the number on the business card to check out the story. They find a script and set designs and everything and create fake promotional materials. They gotta make it seem like they're really trying to make this movie. In one scene Adrienne Barbeau is seen wearing a space queen costume.
It's kind of light-hearted for a true story hostage crisis drama. Arkin and Goodman in particular have alot of jokey scenes. It's so interesting that they really did this, but in the middle it starts to really feel like it's spinning its wheels. Yes, this is cool that they did this, that's what I thought when I read the article, and when I saw the trailer, but now you gotta make a movie out of this. It feels like more of a premise than a story for a while.
Then the suspense thriller elements really kick in as Mendez has to get into the country and find them and convince them to go along with this and coach them to be able to pull it off and go through with various activities to create the cover story. And there is all kinds of turning of screws as they create suspicion and almost get tattled on and almost get spotted and the operation gets officially cancelled and when they get questioned and a guy calls the number on the business cards but Goodman and Arkin are held up by some other movie shooting and can't get to their office to answer the phone and holy shit they even get chased as the plane is taking off…
and it works as a thriller but I wasn't really able to let go of the knowledge that all the things that make it most tense are total bullshit. The real plan actually went very smoothly, without all these near misses. It was just nailbiting because holy shit, somebody could've found out, but they didn't. But that's not a movie. Maybe a documentary.
The dramatic license has made alot of non-Americans angry: Canadians who feel it portrays a largely Canadian operation as one the CIA just let them take credit for, Iranians who feel it portrays Iranians as one big angry mob except for one sympathetic housekeeper lady, etc. These are probly pretty legitimate complaints, but I'm more concerned about the standard-movie-thrills bias than the American one. I liked it better as an article.
So unfortunately I don' think this is the great movie I was hoping for from the collision of the director of THE TOWN, George Clooney's production company and a fascinating anecdote from American history. But Affleck and friends do bring two interesting angles to the story that I really liked.
1. Through actual photos and a voiceover by Jimmy Carter, the end credits frame this story as an example of how clever and brave intelligence agents and international cooperation were able to rescue hostages without killing anyone, without dropping bombs, without sending in troops, without starting a larger conflict. A reminder that being a sneaky ninja might be better than being The Death Star.
2. One of the dramatic angles for Affleck's character is how he did this great thing and nobody can know about it, not even his family. Of course the fictional movie they're pretending to make is a celebration of the sci-fi and fantasy mania in Hollywood and in our culture after STAR WARS. Mendez misses his son, who is portrayed as a sci-fi fan with a bedroom full of Star Wars toys, who gives his dad the Argo idea while watching PLANET OF THE APES on TV. And Affleck finds a really sweet way to show a connection between father and son when the kid's love for space robots and laser swords saves human lives.
This is kind of a quickie review by my standards. Honestly I saw it a while back and wasn't sure I was gonna write about it, but I figure it will be a best picture nominee on Thursday and I want to get my ducks in a row. In this case ducks are best picture nominees reviewed by me. This is not one of my favorite ducks of the year but it is a pretty good duck I suppose, I'm glad people are able to enjoy this duck.