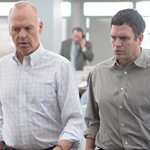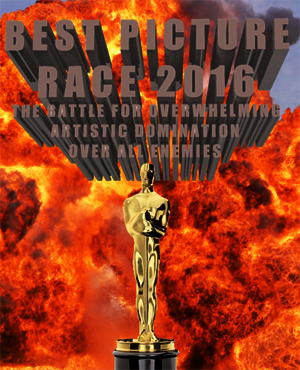 SPOTLIGHT is another one of the best picture nominees. I'd already seen it anyway. It doesn't seem to me like signs are pointing to it as a potential winner, but it definitely feels like your traditional perfectly-good-movie-that-wins-best-picture-and-makes-you-resent-it. Unlike BIRDMAN or ARGO it is not about actors or Hollywood, except in the sense that it allows actors to shine in a big cast with mouthfuls of dialogue. But the appeal is they get to portray professionalism, a courageous Fight Against the System, and a true story about a heavy topic: the massive cover-up of child sexual abuse among Catholic clergy.
It's an ALL THE PRESIDENT'S MEN type deal. The Boston Globe's "Spotlight" team of reporters who do long-term investigative journalism sort of stumble across this thing, an old story that no one paid much attention to that has bigger implications. They talk to victims, look at records, connect the dots, do the math, and start to suspect that the atrocity is much bigger than anyone realized. If it's 3% of priests, let's see, how many priests are in Boston? And 3% of that is… HOLY SHIT, that's too many molesters in my opinion.
They discover lawyers who were involved with settlements between the families and the church. The families were led to believe the church would punish the abusers and getting some money for the kid to live off of would be the best thing to do. Whoops. They just made them move and let them keep working.
I don't want this to sound like too much of a dis, but at times it definitely feels like a Law & Order episode or something: go knock on this guy's door, talk to his wife, find out the name of some other person, etc. In fact, co-writer Josh Singer was a producer and writer on Law & Order: Special Victims Unit. Check out this IMDb plot summary of one of the two episodes where he's credited as writer:
"After a young boy is hospitalized for blood loss following a rape, Stabler and Munch focus on a Hasidic order whose reluctance to cooperate may lead the investigation away from the real perpetrator."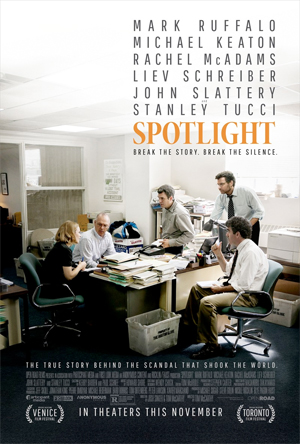 So this religion-interfering-with-justice-in-child-molestation-cases theme is not new to him. And also this makes me realize that the movie could've benefited from Ice-T being in the cast. I'm not gonna choose a specific actor who shouldn't have been in there, because they all did a good job with their roles, but I'm sure most of them know deep down that the best thing for the movie would've been to step aside for Ice. It's not always easy to do what you know is the right thing, is it?
Oh shit, and also director/co-writer Tom McCarthy – known for directing THE STATION AGENT, THE VISITOR, WIN WIN, but also THE COBBLER – started as an actor, and sure enough he was on an episode of SVU. Other procedurals he was on: New York Undercover, The Practice, Boston Public, regular Law & Order, and The Wire if you want to count that. So these guys are familiar with the format.
But the procedural element is compelling. Like cops they have to struggle with whether to go after the small guy they got dead to rights or keep investigating with the hope of bringing down a bigger fish. Also they gotta worry about another newspaper publishing one of these stories before they do and tipping off the powers that be.
It's good to see Michael Keaton (HERBIE: FULLY LOADED) working more, even if he's already done a newspaper movie before. Mark Ruffalo (THE DENTIST) is great as always, and gets the emotional outburst scene, hence the supporting actor nomination. Actually I think the most impressive performance is Liev Schreiber (HBO 24/7 narrator in CREED) as their new publisher. He's very buttoned down but pushes them to get deep into this story and supports them against so many opposing forces.
It's well put together. It works. And people love this movie. Does it do anything new with this format of an investigative procedural? Not anything that I'm perceptive enough to pick up on. But it's an effective story about a topic that it's hard not to be outraged by unless you just give up. I think there's a certain amount of "no shit" about it, that we have to watch them being shocked by something everybody knows about now. But it doesn't only apply to the Catholic priest molestation scandal. It speaks to the phenomenon of people doing small evils that add up to a big evil. The people at the church probly think they're doing right by Jesus by moving the priests around instead of busting them and damaging the church's reputation. They convince themselves maybe they won't do it again. They can face that easier than having to discredit their entire religious institution. And the lawyers like the one played by Billy Crudup (M:I III) figure they can't win the big fight, they might as well get settlements for the victims. Settling for settlements.
So, when power goes unquestioned and most people are too scared to say anything then horrible things can go on. When it happens it's the duty of journalists to seek the truth and reveal it, even though they will be accused of being anti-Catholic or anti-American or whatever is loosely applicable. This also shows the value of having a team like this, that invests months into their projects and thus requires a larger financial investment from their publishers. We're in an age where the bottom line has killed foreign news bureaus (not to mention Grantland, The Dissolve, many national film critics, and even the idea of writers getting paid for their work), so this is a reminder to the money people that there is nobility (and maybe even financial value) in supporting high quality work without instant pay-off.
So hopefully SPOTLIGHT will become SCARFACE to the media honchos and they'll all fight over who can have the most extravagant Spotlight team.