From the director that brought you BEATDOWN and the letters that brought you STEP UP comes SETUP, Bruce Willis's first DTV action movie. (I'm not gonna count ASSASSINATION OF A HIGH SCHOOL PRESIDENT). So I raise a glass to you, Bruce, on this historic occasion. They might've meant it to be a theatrical release, but if so they should've told that to the guy writing the script (Mike Behrman, GHOST RIDER: INSIDE THE ACTION). Doesn't seem like he was expecting that level of scrutiny.
The movie starts out with 50 Cent, Ryan Phillippe and some guy hanging out together. I will not give away which of these three actors gets shot during a diamond heist. Okay, it's the third guy. And then 50 keeps talking about how sad it is his friend died and I can't even remember what the guy looked like. He's like the missing dude in THE HANGOVER.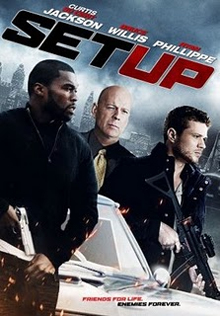 Anyway these three are old friends, they hang out on a roof together, this is where I go to think, you can see the whole city from here, etc. Then they go do the heist but one of them (SPOILER: Phillippe) shoots the other two and takes the loot. In other words he set them up. It was a SETUP! Or even a SET UP depending on your interpretation of the coloration of the letters on the logo, whether it represents two separate words or just an emphasis of certain letters in one compound word.
So the movie is about 50 going after Phillippe to get revenge. He doesn't know where he is so he robs a mob poker game to get the attention of the underworld. They're like Are you crazy, do you know whose money this is, etc.? and he says something like "Tell him an old friend is looking for him!" He's bold, he's confident… he's fucking stupid, this money belongs to Bruce Willis who has nothing to fucking do with Ryan Phillippe. So if you as a crime outsider thought that sounded like a terrible plan for going after the guy then yes, you were correct. Beginner's luck maybe but good guess everybody.
So mob boss Bruce should probly have some guys break all of 50's fingers and toes while making him watch them melt down all his jewelry and remold it into the shape of a giant crossed out dollar sign or two guys holding hands or whatever would upset 50 the most. Instead he's charitable, he sends 50 on a mission to retrieve $2 million that some Russians are about to dig up from a graveyard. If he brings back the money he's free and clear. Good deal, he gets to live, although he'll be no closer to getting revenge on his white friend from high school because, I cannot stress this enough, he had just a really, really terrible plan that has completely sidetracked him. He's lucky it's even turned out as well as it has. Then things go wrong between the graveyard and Bruce so now he has even more shit to dig his way out of.
Obviously I rented this for Bruce, and I'm happy to say that as far as his supporting player roles go this isn't bad. Since he's playing a crime boss it's fair to expect Cold Bruce, the Bruce we usually see these days where he doesn't talk much, mostly grimaces and stares people down. He's great at it but it's kind of a waste of his charisma that he used to be known for. To my surprise though it's Wiseass Bruce that we get here. Not full on David Addison mode – there's no sunglasses or singing of oldies – but he laughs and jokes around while dunking a guy in a tank of water to get information. There's a pretty good moment where we hear Bruce's muffled small talk about sports from the POV of the guy underwater. I mean he's not the protagonist so he's not in here enough to make the movie worthwhile but he does a good job, better than expected.
Since I didn't expect much there I was actually a little more excited about UFC Hall-of-Famer/lightly used Expendable Randy Couture's name on the credits. He plays Bruce's henchman. Don't get excited. He's kind of funny and gets to inject a little personality, but let's just say he doesn't last long. No real action scenes either, if that matters to you.
I actually thought 50 had some appeal in this. Some stiff line deliveries (and check out that thumbnail above – he still can't act even in a still photo) but I can see how he's kind of likable when he's smiling and stuff. It made me understand the 50nomenon a little more, I think. Still don't understand his mumbly style of rap or his open boasting about being a business man who doesn't care at all about hip hop as a culture or even as a craft, but I can see some charisma here. A little. And I like that he survives getting shot because the bullet hits one of those blinged out crosses he wears. It actually stays under his shirt the whole movie but I like that they worked that piece of his persona into the story, making it a true 50 Cent vehicle. It's like in DOUBLE TEAM how Dennis Rodman has a basketball themed parachute or in DISORDERLIES they eat a bunch of cakes.
Even better, I like that the bullet still goes into him – the cross just slows it down, it doesn't deflect it like in most movies. And who would Fiddy have to remove bullets from him? Why, his tattoo artist, of course.
(And yes, he does give him alcohol and then pulls the slug out and dumps it into a metal container with a dramatic clink. Alot of people don't know that the dramatic clink is actually the main thing that allows a wound to heal, that's why they have to do that.)
Weirdly it doesn't really try that hard to make 50 look tough except in a scene where he goes to visit Phillippe's dad (James Remar) in prison and tells him "I didn't come to ask for your help. I came to ask if there's anything you want me to tell your son before I kill him." Remar flips out but later gushes to his son about how 50 looked him in the eye when he said that.
So I liked that, but now I'm about all out of nice things to say, because SETUP is a bad movie. I say that as somebody who can appreciate this type of movie. I don't necessarily mind that it's not original at all, but the execution has to be better than this. It doesn't feel real at all. Putting an ugly tattoo on Ryan Phillipe's hand and having him sometimes slip into a Channing Tatum "I'm from the streets" accent off and on doesn't make me believe him as a threat (even if the real Channing Tatum's wife, the girl from STEP UP part 1, plays his sister). He's lucky though because all the other criminals are so bad at what they do he's able to last longer. 50 gets sidetracked with that indirect way of going after him. Then Couture fucks that up by convincing him to "celebrate" between getting the $2 million and delivering it, then fucks around with 50's friend's guns and misfires his own head off. Even if he hadn't had the gun accident I think The Natural would've probly met some other unpleasant end. He actually said out loud, "Who's gonna know I have $2 million in my car?" while leaving it parked at the apartment of some weed dealer he doesn't even know. It's almost like the character didn't want to be in the movie long and was trying to create opportunities to get out of it.
So 50 and Couture's characters are stupid, but so are these Russians. You'd think it would be hard to steal $2 million from Russian gangsters, but all 50 does is park in plain sight, not even a block's distance away, and watch them dig up the money. Then he gets out and points guns at them. Doesn't even have to be sneaky about it. How did they let him get the drop on them? They really had no plan, they thought they could just dig it up and not watch their backs? It boggles the mind.
He does the same thing following the STEP UP girl, just drives right behind her, parks and watches her go into a place, and come back out, and she never spots him. She must have some condition where she can't see over her shoulder. Or maybe it was supposed to be he's a ghost and Bruce can talk to him but everybody else that talks to him is also a ghost. I don't know, but it goes so well you have to wonder why he even waits for her to leave, he probly should've just walked in the front door and took a look around while she was there, I'm sure she wouldn't notice him or would figure he's supposed to be there.
What 50 should've done in my opinion, and hear me out on this, he should've brought Bruce the $2 million and said "here is your $2 million, I'm sorry that Randy Couture got shot." Instead he disappears for a couple days and then comes to Bruce and lies and claims that he didn't get the money. This is part of his master plan to play Bruce and his gang against Ryan Phillippe, but what I'm saying is that it is not necessary. It's Ryan Phillippe. I think you can handle him, even if the hand-tattoo is intimidating, and get your share of the diamond money.
Instead 50 plays Bruce and gets away with it because Bruce's character is just as dumb as everybody else. One mistake he makes is he just lets 50 disappear for like 3 days and thinks "Huh, wonder what happened to my money? Oh well." Another mistake is that when 50 does show up he believes what he tells him. He's weirdly trusting and loyal and he will live to regret it. Well, he will regret it.
Even the dead guy's widow is dumb, she doesn't slap 50 at the funeral when he says "I'll make it better." She should know that means "I'll give you a bunch of stolen mob money which is of equal value to the life of your husband." This creepily detached materialism also fits the 50 Cent persona, but I'm not sure that was a conscious artistic choice. It's supposed to be normal I think.
Movies have a way of making you root for someone who in reality wouldn't deserve your support. We root for bank robbers all the time. Just recently I rooted for the driver in DRIVE even though he's a total psychopath. So it's embarrassing for this movie to let me turn on the protagonist. By the end I disagreed with what he was doing. Sure, kill Phillippe, get back your money from the diamond heist. I get that. But he drags Bruce into it. He lies to Bruce and steals his money. Bruce's only crime – well, his only crime against 50 – is to trust 50 and be good to his word. He is clearly the more honorable of the two crooks, and of course the most likable, but you're supposed to be okay with him getting fucked over by this asshole.
I want to like scenes with Bruce making conversation about random things like his prayer habits or his feelings about the death of newspapers, but when you drop one of those into such a lazy, amateur hour crime story it doesn't have much power. I already don't believe in the characters or the situations, so why am I gonna give a shit what one character has to say about his ritual of reading the box scores with breakfast? It seems at best self-conscious, at worst pathetically fake Tarantino.
So the battle was probly lost from the script stage, but some of the crappier elements of the movie reek of postproduction producer suggestions. There's alot of awkward first person narration, like a scene where he watches Randy Couture's dead body get ground into hamburger while explaining to us that it made him think about such and such. It's all supposed to bring the story together but mostly seems useless. Filmatically the movie is pretty restrained, not a bunch of Avid farts or anything, but there are some annoying digital zoom-ins, a dead giveaway that somebody in the editing room felt the movie was boring as shit and that nothing they'd actually shot was gonna change that but hey maybe the idiots who would watch this garbage would be hypnotized by me pushing this button here that makes it zoom in. Let's try that.
But way worse than that is the freeze frames and text as each of the characters is introduced, with generic terms like "THE MOB BOSS" or "THE MUSCLE" or whatever. You see, it's playing with archetypes. It seems like these are just empty cliche characters without much substance or personality, but that's because it's a tribute to the literary tradition of the– you know, it's like the, I don't know. Film noir or– you know… what's that, 'meta,' do they say? You know what I'm saying.
In every single case I pictured the movie without those titles, with just the characters showing up and you gotta figure out from their conversations who they are, like in a movie. In every single case it would clearly work better that way. Man, you guys gotta stop doing that. I don't know what makes you think that's gonna add style to your movie.
Not that it was gonna work without that shit though. I'm just guessing here but this seems like 50 Cent (who is one of the producers) came up with the basic idea of it and the screenwriter had to halfway flesh it out and everybody was more like "Is this what you want, 50?" and trying to make him happy than trying to figure out the actual good  way to make it into a professional movie for people to watch. So competence and paychecks are about all anybody's getting out of this, except for Bruce. He does pretty good, so good job Bruce.