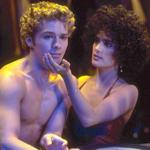 I'm a little behind schedule but ladies and gentleman, welcome to the final review in the Summer of '98 series.
August 28, 1998
54 is the second of summer '98's competing disco movies. I'm not sure if it's the DEEP IMPACT or the ARMAGEDDON, but it's the not as good and not as well reviewed one. Like LAST DAYS OF DISCO it's about a particular New York City disco in the later years, and there are conflicts between the management and staff that end with the place being raided by the IRS. But this one is in no way about yuppies, it's based on the history of a real place, the main characters are all employees of the club, and there's much more emphasis on the disco as a sanctuary for outcasts and misfits, so it would seem to have the potential to be BEAT STREET to LAST DAYS's BREAKIN'.
But only the potential. Nobody seemed to take it that way.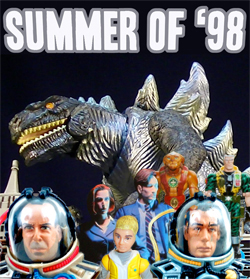 Shane (Ryan Phillippe, SETUP) is a macho goon from New Jersey whose dreaming eyes gaze across the water to New York City like Luke Skywalker looking to the stars. He's drawn to Studio 54 by newspaper columns about the celebrities who go there, so he perms his hair and drags his meathead buddies (including Mark Ruffalo, THE DENTIST) there with visions of Olivia Newton-John dancing in their heads, but only Shane (minus shirt) gets past the openly looks-based velvet rope elimination process.
For a second Shane seems like a Tony Manero, but he doesn't give a shit about dancing (as in LAST DAYS, dancing is an oddly small part of the disco story). There's a dramatic closeup of his foot hesitating to take its first step on the dance floor, but then he just goes into the crowd and yahoos for the band like he's cheering on a football game. The looks he gets cause him to observe his surrounding and copy the other people's moves. Then he quickly gets a job as a shirtless bus boy and doesn't have to dance anymore.
Greg (Breckin Meyer, FREDDY'S DEAD: THE FINAL NIGHTMARE, also had a small part in CAN'T HARDLY WAIT that summer) plays a co-worker who shows Shane the ropes and lets him stay at the apartment he shares with his wife, the coat check girl and aspiring singer Anita (Salma Hayek, WILD WILD WEST). They sort of become his family, though there's tension with him maybe moving in on Anita and on the promotion that Greg wants.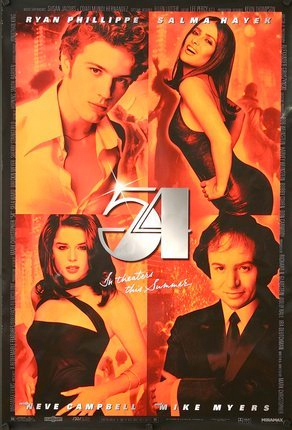 Mike Myers (INGLOURIOUS BASTERDS) plays the real life Studio 54 ringleader Steve Rubell, a role heavily hyped as Myers' big attempt at dramatic acting. I gotta say, he's good. I was impressed. Like Jim Carrey in THE TRUMAN SHOW earlier in the summer, it's a "serious" role not entirely removed from his shtick. I'm sure he loved doing the accent and the goofy laugh and wearing the fake nose or whatever he has. But he gets to be mean and gross without a punchline, and his eyes look convincingly tired and hazy for the whole movie. A representative scene is the one where Shane and Anita have sex in a bathroom stall and through the crack in the door you can see Rubell standing there watching. It made me laugh and also gave me the heebie jeebies.
It doesn't try to explain him too much. You never really know what the fuck that guy is thinking. I like the true detail that in an interview he makes a joke about "what the IRS doesn't know can't hurt 'em" and this causes the IRS to look into him. It reminded me of Frank Lucas in AMERICAN GANGSTER getting the attention of the police because of the one time he decided to show off and wear a fur coat to a boxing match.
But Rubell is not the center of the story, Shane is. I like how it's a rise and fall kind of story but not of a gangster or a musician or a painter, or of anything specific. He's just trying to make it as… any job he can have at Studio 54. A bus boy, a shirtless bartender, a model, whatever. Anita is trying to make it as a singer, Julie (Neve Campbell, last seen in WILD THINGS) is trying to get into movies instead of just soaps, but Shane is just some dude who looks like Pygar from BARBARELLA and wants people to like him I guess. I don't know if this is the intent, but the story perfectly reflects the superficiality of the character. It's too dumb to know there's more to life.
The central idea of the story is pretty much "wow, we really got away with murder back then, it's too bad it all fell apart but maybe we pushed it too far and anyway it couldn't last forever." Which is both a very basic entry level point to make about disco and kind of the same thing that the superior summer '98 movie FEAR AND LOATHING IN LAS VEGAS is about.
54 has more weirdos with wings than LAST DAYS OF DISCO, and a lovable coke-snorting golden girl named Disco Dottie (Ellen Albertini Dow, the rappin' granny from THE WEDDING SINGER), but it's still a very white and straight experience, unlike the music. Rubell tries to give a blowjob to Greg (while claiming not to be gay) but otherwise everything is pretty much hetero. That seemed to me untrue to the subject matter, and it turns out it's also untrue to the intentions of the filmmakers. Miramax recruited writer/director Mark Christopher on the strength of his gay-themed shorts The Dead Boys' Club (1992) and Alkali, Iowa (1995 – included in the 1987 anthology film BOYS LIFE 2), but after he made 54 they wanted him to cut out a kiss between Shane and Greg and other bisexual moments. The director's cut not only adds 44 minutes but removes 30 minutes of studio-mandated reshoots. According to Phillippe, "I've never seen this kind of editing and reshooting on another film I've done. The characters were fundamentally changed in a way that wasn't true to the original script. Not even close."
That quote comes from a Vulture article that says Miramax loved the original cut until it tested badly, and Disney pressured them "to tone down the film's gay content and drug use, and make the characters more likable." They assigned someone to edit it and writers to create new scenes, including (not surprisingly) the overly explanatory voiceover.
I knew the reputation of the director's cut but chose the theatrical for Summer of '98 historical accuracy (though the Blu-Ray, it turns out, is 8 minutes longer than what was originally released). A few weeks later I decided I should see the director's original intention. It didn't seem like as extreme a difference as I'd read, for example I didn't notice what was different about the Julie character, reportedly beefed up after the success of SCREAM. But I guess I just wasn't remembering the theatrical very well because according to a featurette all but three scenes were entirely re-edited to match a pre-reshoots work print. Some changes are obvious because they had to take the footage from a VHS bootleg, others are seamless. I did notice that Shane has sex with a few dudes and kisses Greg, so Shane/Greg/Anita are a more complicated love triangle than previously known.
An odd change: in the theatrical cut, Shane's tension with his father (Skipp Sudduth, MONEY TRAIN) starts when he makes a joke about the Korean War. It's clear that he's being insensitive to what his dad has gone through to provide for him, and that makes him seem like a deadbeat. In the director's cut of the same scene it's the dad's fault – he's bothered by Shane's excitement for the black singers in the club. The theatrical is more dramatically interesting, I think, but the director's cut version is an appropriate theme for a history of disco.
I believe one of the only scenes that they kept exactly the same is one that could've used some improvement. It's an emotional climax where Disco Dottie collapses on the dance floor and then dies in the arms of Shane, who has a special connection with her because of a chance encounter in the outside world. I like how the music comes back on, everybody goes back to dancing and Rubell coldly tells Shane to go back to work. But the whole way it's staged makes it hard to swallow. Everyone stands watching silently. Nobody even gets upset, let alone makes a move to help, as Shane spots what's happening, gets out from behind the bar and runs over.
There's definitely less narration throughout the director's version, and Phillippe recorded what's there at the beginning 17 years after the fact. Both versions have a montage of news footage to show us the '70s problems people needed an escape from (gas prices, hostage crisis, Son of Sam), but I believe the theatrical cut ended with an unsupportable claim, something like "all were connected by one man, Steve Rubell."
The studio's version is trying to have more focus on Rubell, and that's very fitting coming from Miramax. Watching it in 2018 I can't help but notice how much the sleazy things that happen to the characters are basically the Harvey Weinstein way. I'm sure the executive producer turned accused serial rapist sees himself the way Rubell is portrayed in a few scenes as kind of a lovable rascal who uses his unorthodox recklessness to throw a huge party for the people he likes. But he's actually more like the Rubell who makes Greg carry a garbage bag full of cash to his apartment and then pours the money on a bed and rolls around in it and then talks about giving him a promotion but not before giving him a blowjob.
This is a theme throughout the movie – the willingness of desperate people to degrade themselves with unwanted sex in exchange for promises of career advancement. Shane gives in to the idea, though Rubell doesn't make him go through with it. Anita, at times, seems willing to do it. Julia dates a producer, angering Shane, and says she has to do it for her career. I'm surprised the guy isn't a Weinstein lookalike.
The studio version even gives Rubell a happier ending. In the director's cut we last see him being perp walked (the only footage from the reshoots that they used, according to the commentary track), but in the theatrical version there's a whole epilogue where he returns to the club after his prison sentence to throw a reunion party. I'm a sucker for this sort of thing where the characters come back in a later time period with different hairstyles and they're so happy to see each other that any conflicts have been forgotten. The scene also underlines one of the movie's strengths: the way it shows the familial bond that's formed from being in the trenches together in an unusual job.
But at the same time it feels like utter bullshit, and not just because a couple of fictional bartenders are treated as some of the highest ranking VIPs in the history of an actual, legendary institution. The real problem is that it ends on the implication that Rubell being able to bring people together for a party like no other makes up for all the ways he manipulated and exploited and betrayed them. Yeah, you keep telling yourself that, Harvey.
54 only topped its budget by a few million, got universally poor reviews and of course two nominations from those assholes The Razzies (one for Phillippe and, inexplicably, one for Albertini Dow). But somehow in the twenty-teens a bootleg of the workprint got enough of a following that Christopher was able to get backing to rebuild it from (mostly) original elements. It screened at the Berlin International Film Festival and suddenly, seventeen years later Indiewire was calling it a "new gay cult classic." Fingers crossed that SNAKE EYES gets the same treatment.
I'm much more fond of LAST DAYS OF DISCO. But 54 is worth seeing.