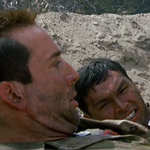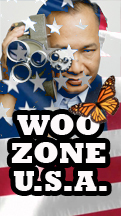 WINDTALKERS is an American John Woo picture that I kinda hated at the time. I can prove it: here's my review. But I watched it again and although I don't really disagree with anything I said in that review, now I think it's okay. Maybe this is because I watched the director's cut, which is longer and more violent, like a real John Woo movie. Maybe it's because I came to it with different hopes and expectations, having already not liked it. Or maybe it's because I've grown and changed as a person and movie watcher since the last time. I suspect it's a combination of all three.
This is Woo's WWII movie, which makes sense because it's about male bonding through violence, but also the evil of endless violence, and also a pretty invisible minority (the Navajo) reaching across cultural lines to achieve a common goal, much like Woo making movies in Hollywood.
Nicolas Cage, five years after his triumphant turn as Castor Troy/Sean-Archer-wearing-Castor-Troy's-face in FACE/OFF, plays the less exciting but also conflicted protagonist Joe Ender, a marine who gets a medal for getting blown up but blames himself for not listening to his men's cries to let them retreat. They all died because he stuck to his orders. After some time healing up and cheating on tests at the veteran's hospital he jumps at the first chance to get back into combat, which turns out to be protecting Ben Yahzee (Adam Beach, FLAGS OF OUR FATHERS), a rookie who has been recruited because he speaks Navajo. A batch of "code talkers" communicate over the radio not only in this rare language, but using code words. For example, the Navajo word for "tortoise" means "tank." A Japanese radio interceptor can't even tell what language it is, says it sounds like they're underwater. It's an unbreakable code. Unless one of these guys get captured. And they kinda seem like they might.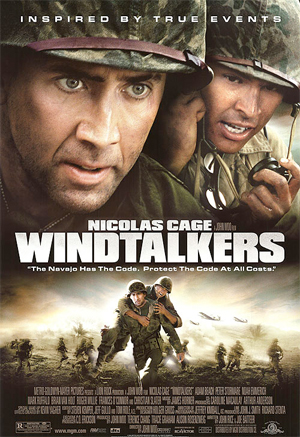 Along with Ben you got his old friend Charlie (Roger Willie, ADAPTATION), protected by    Ox (Christian Slater, BROKEN ARROW). Neither seem up for a fight. They're nervous just being around the other soldiers, many of whom throw racist shit at them. In particular there's Chick (Noah Emmerich, COP LAND), a redneck who talks about Custer and shit. At one point he jumps Ben when he's cleaning himself and claims "I thought he was a nip" because his uniform was off. Double racism! (This is a clever scene too because it sets up a later one where Ben decides to put on a Japanese uniform to infiltrate their camp.)
But Ender is not just a bodyguard. He's not even mainly a bodyguard. He actually has secret orders to kill Ben if he's gonna be captured. They can't have that tortoise stuff tortured out of him. Here he is again, ready to follow orders at the expense of someone who is increasingly his friend.
Cage does low-grade mega, constantly stressed out, dramatically popping pills (a Cage favorite), and even having a few bouts of inappropriate laughter (when they're getting shelled by their own side and don't have a radio to tell them to stop, when he's telling the story of giving away his first medal). Beach comes off as a regular, nice guy. So Joe's bond with Ben is more of a "this is a nice enough guy with a family and stuff, he doesn't deserve to die" than a "this man is my brother, we are of the same blood, we are one" type thing. Maybe that's why Joe's willing to die for him. He doesn't feel the need to have more time to hang out with him.
The friendship between Ox and Charlie is a little better. Ox is the only white guy that seems to notice how the Navajo are being treated and make an effort to invite them into card games and stuff. He hears Charlie playing his flute and decides to jam with him on his harmonica. Two distinct sounds styles coming together to form a new sound, one that can only exist from cultures coming together.
At least in the director's cut this is definitely the most violence in an American John Woo movie. It's a whole fucking lot of shooting, stabbing, exploding, running, screaming, burning, shooting some more, blowing up some more, repeat, repeat, repeat, and repeat two more times. The war scenes – like in Woo's other anti-war films, BULLET IN THE HEAD and (arguably) HEROES SHED NO TEARS – are chaotic and feverish, soldiers trudging and killing through endless stretches of dirt and trees and oil barrels and shit. They're a little heightened, because there are alot of somersaults, and more using bayonets like swords than your usual white boy Americans want to do in a war movie. But also machine guns and pistols and the shit that you'd expect.
Actually, I think it's a weakness of the script that so much of this is about shooting and burning people when the basis of the story is this code. There are a couple scenes about trying to get radios for the code talkers to use, but it could use a little more emphasis on their task, since that's the one part of the story that stands out from every other WWII movie ever made.
Otherwise it doesn't really seem stylistically Woo-ish too often, but there's actually one motif tying it to BROKEN ARROW and BLACKJACK. The shot that introduces Cage starts on a butterfly! People make fun of Woo for using doves alot, but those guys are amateurs, they have no idea that he also uses butterflies alot.
In this one it flies along the water, much like the butterfly in BROKEN ARROW.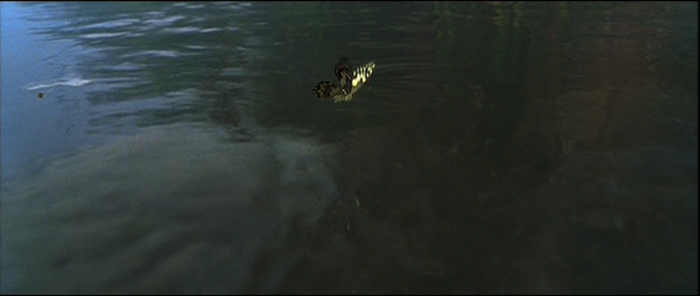 But then it comes to some blood in the water and immediately darts away, never to be seen again.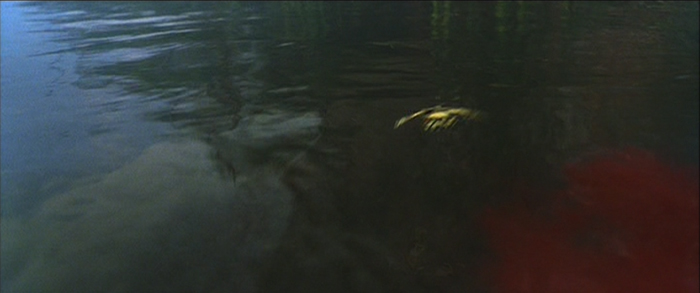 There goes the innocence, I suppose. The blood turns out to be coming from a dead American soldier laying in the water, and the camera pans up to Nicolas Cage above him, firing a machine gun at somebody.
I retain my original dislike of the score by James Horner. He seems to often go for majestic and patriotic while the imagery is going for human misery and nightmarish mayhem, and not in a way that seems like deliberate juxtaposition. To me it plays more like he and Woo never got to meet to discuss the movie or make corrections. The music is often distractingly overblown and at odds with what's underneath, confusing the mood and interfering with the momentum of the action.
Despite what the music seems to think, this is a movie that barely even hints at the purpose of The Good War. As much as the movie respects and sides with the soldiers in their plight, it is very much not a celebration of war. When Joe's nurse girlfriend (Francis O'Connor, A.I.) mentions in a letter that she hears the war is going well and may be close to an end, you realize that these guys are never privy to the bigger picture. To them they're not fighting toward a specific strategic goal, they're just killing, killing, killing until they're told to stop.
And nobody enjoys it. Woo is very fond of showing the soldiers looking regretful after killing. The codetalkers try to avoid even getting involved in the fighting for a while. At one point Joe finishes off a guy for Ben and it seems like a very thoughtful favor to not make him do it. But even Joe at one point is so nervous about making a mistake again that he pukes.
There's a guy in their squad named Harrigan (Brian Van Holt, BULLET TO THE HEAD) who uses a blowtorch. In one scene he sprays a Japanese gun station with flames, and two guys run out on fire, flailing and screaming in agony. In HARD BOILED this would be an awesome moment, but here Woo plays it as horrendous. We get to both Harrigan and Ben looking horrified by what they've just done.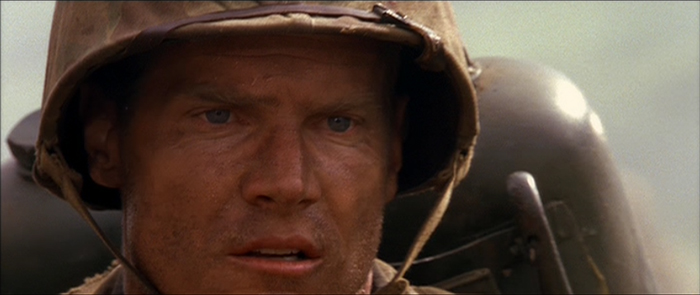 Poor Harrigan gets maybe the Woo-iest death. He sees a little girl crying in a village so he kneels down, talks nice to her, gives her a chocolate bar. This sweetness is abruptly interrupted by a gorey, meaty shot to his shoulder as a Japanese squad comes over the hill. He picks up the girl and Tequila/Jack Devlins her out of the way, then puts her down and tells her to run, but she just stands there crying. All he can do is throw a Hershey bar to Mark Ruffalo, get her to chase it like a dog chasing a tennis ball. Then he turns to use his torch on the enemies, but a bullet hits the tank on his back, and this happens: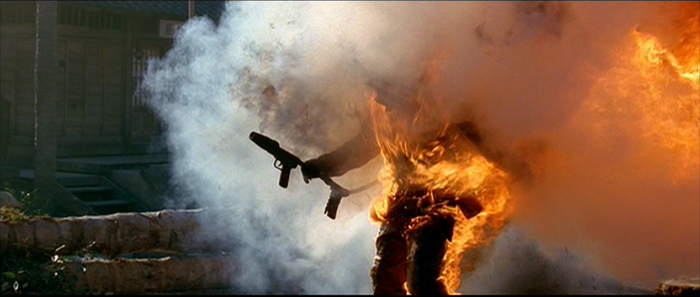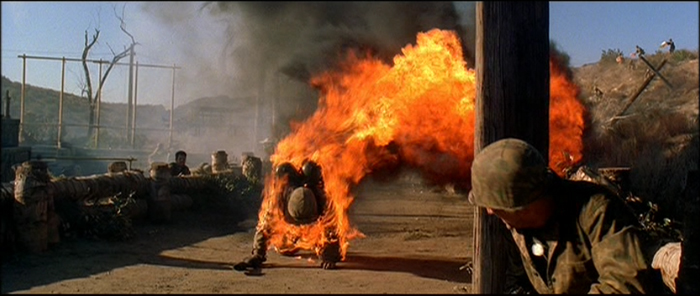 And he stumbles and crawls around on fire and screaming (like those two Japanese soldiers he felt bad about killing earlier) until Joe comes over and shoots him.
Man, that poor girl is never gonna eat a candy bar again.
At its heart this is a movie about characters, particularly Joe and his learning to value friendship and humanity over what he's supposed to do. And also it's about the white dudes in general learning through experience that these Navajo boys are good people.
But more than anything I think it served to give Woo practice mounting giant battle scenes in a period setting. Six years later he fluttered away from Hollywood to do one of his best movies, the epic two-parter RED CLIFF. So far he hasn't been back.