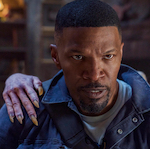 DAY SHIFT was a highly anticipated Netflix production that I watched right before leaving for my vacation-turned-sick-leave. I know plenty of other people enjoyed and discussed it upon release a couple weeks ago, now they're mostly done with it and have moved on to other topics, but here I am to remind everyone that it still exists on a server somewhere and can be accessed at the click of a button if somebody remembers to. Which I recommend.
It's a heartily enjoyable horror-action comedy that's kind of like John Carpenter's VAMPIRES but in L.A., and with more of a ZOMBIELAND sense of humor. I guess you could say it takes kind of a MEN IN BLACK approach to the profession of vampire hunting, but I can take it more seriously than that because it's pretty raunchy and gory and especially delivers on outstanding action sequences.
And that was the main thing I was looking for, because this is the directorial debut of stunt legend J.J. Perry. I first became aware of him as the fight choreographer of UNDISPUTED II, followed by THE TOURNAMENT, WARRIOR, and HAYWIRE. But he'd been around since the '80s, a true blue veteran of the type of movies I love most. He played fighter J.J. Tucker in BLOODSPORT III and Cyrax, Scorpion and Noob Saibot in MORTAL KOMBAT: ANNIHILATION. He did stunts in all the BEST OF THE BEST sequels, DRIVE, BLADE, and a bunch of Seagal movies (THE GLIMMER MAN, TODAY YOU DIE, BLACK DAWN, URBAN JUSTICE, PISTOL WHIPPED). He was the stunt coordinator and second unit director on productions ranging from ROAD HOUSE 2 to BLOOD AND BONE to FATE OF THE FURIOUS and F9. And there's more justice in the world than I previously thought because now he's directing a $100 million production starring an Academy Award winner! And Snoop Dogg.
The central joke is that vampires are real and hunting them is an unglamorous, pain-in-the-ass, working class (but secret) profession. Bud Jablonski (Jamie Foxx, STEALTH) struggles to pay the bills, exterminating bloodsucker hives and selling the fangs of his kills for less than the going market rate because he got kicked out of the union. I love that his cover is as a pool cleaner, because he seems to identify vampires by seeing that their pools are unused. His ex-wife Jocelyn (Meagan Good, HOUSE PARTY 4: DOWN TO THE LAST MINUTE) and daughter Paige (Zion Broadnax) don't know his secret, think he's a total fuckup, and are going to sell the house and move to Florida unless he can come up with a bunch of money for school and dental bills over the weekend. So he's gonna have to call in some favors and then get real lucky with his hunting.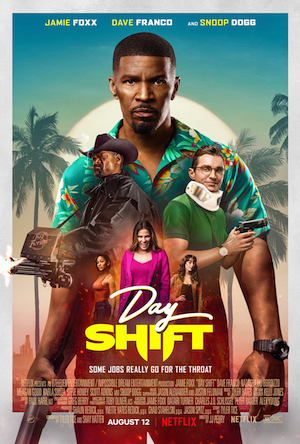 As "Big" John Elliott, Snoop provides exactly what you want from a Snoop Dogg acting performance: looking cool (in this case in a cowboy outfit), sounding cool with a few one-liners, and piercing the screen with his specific brand of charisma. As a bonus, he massacres vamps with a PREDATOR style helicopter gun. Come to think of it, Snoop is sort of the same style of movie star that Jesse "The Body" Ventura was. You don't hire him to disappear into a role, you hire him to be what he already is, but in a movie context.
Related: the soundtrack is mostly a West Coast mix tape, including "California Love," "Check Yo Self," some Paris, some Nipsey Hussle, a new Snoop song somehow featuring Nate Dogg, and a very effective use of "Body Count's in the House" (the end credits song from UNIVERSAL SOLDIER). They do violate regional purity to use "Shimmy Shimmy Ya," but I'm not gonna complain about that anthem being used as they slo-mo strut into one of the best action sequences. I loved it.
Anyway, Big John is Bud's highly respected friend and o.g. (Snoop is actually younger than Foxx, but just go with it) who helps him get a provisional union gig during the more difficult day shift. The boss, Ralph (Eric Lange, AM1200, WIND RIVER) hates him, and assigns desk jockey Seth (Dave Franco, 6 UNDERGROUND) to shadow him. Predictable bickering, comedy and bonding ensues. This character being a scaredy cat wimp who repeatedly pees his pants is the hackiest and likely least durable aspect of the movie, but I find Franco really funny and he makes alot of it work. I mean yeah, maybe it's obvious to make jokes about TWILIGHT in a modern vampire comedy, but "Why do you know the names to all the specific TWILIGHT films?" makes me laugh. And as much as I like VAMPIRES, I would rather hang out with the slayers who like TWILIGHT than the ones who call each other colorful homophobic slurs all day and night.
Meanwhile, VIP vampire Audrey (Karla Souza, JACOB'S LADDER remake) and her men come after Bud for slaying one of her loved ones. Like the villain of LETHAL WEAPON 3 she's a real estate developer who punishes one of her minions by burying him in cement where a house is about to be built, but it's way more cold-blooded here because he's undead! She wears nice dresses and heels and has a bodyguard named Klaus (Oliver Masucci), who wears a suit and tie and has a cartoonish white streak in his hair. I like that the bad guys always look like they're dressed up for an opera or charity auction. Audrey is an effective villain, though lightly sketched compared to, say, BLADE's Deacon Frost.
Bud isn't a particularly original character, but it's a good movie star performance from Foxx, looking incredible in Hawaiian shirts and Adidas Superstars, leaning mostly into legit action star physicality, though frequently tapping into his comedy background. I can think of plenty of other A-listers who couldn't have done it as well.
As the details of the world and characters of DAY SHIFT fade in my memory, what sticks is the cleverly constructed mayhem, combining that great 87Eleven action style (choreographer: Felix Betancourt, THE GRAY MAN) with some good gory vampire gags. I think I spotted the Texas switch that allows Franco to seemingly do a bunch of acrobatics in one shot. Vampires can fight (and be mutilated) in bizarre ways aided by makeup FX and some inspired tricks involving reverse footage of contortionists (an idea Perry says he's been pitching to productions for years – I'm glad he got to keep it for himself!) They bend over backwards, run up walls, hold knives between their toes, projectile vomit blood as a combat technique. Makes for some interesting fights.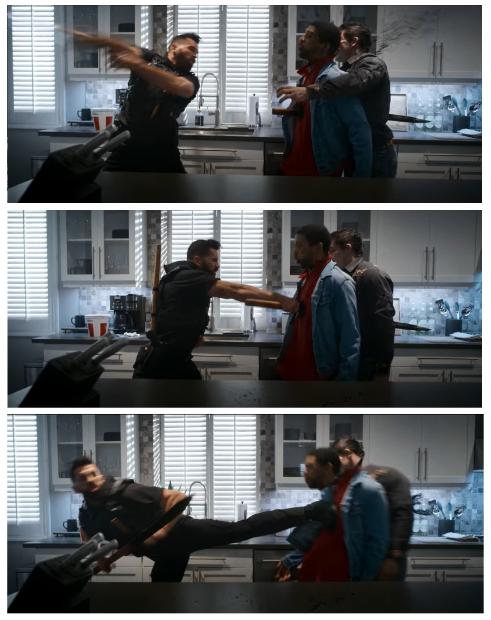 Perry was also wise enough to bring in his old pal Scott Adkins for a scene-stealing guest appearance. He and Steve Howey (D.O.A.: DEAD OR ALIVE) play the Nazarian Brothers, asshole Armenian vampire hunters who work out of a stereo repair van and call everybody "bro." We get to see Adkins kick a vampire's head off, as well as gorily impale two of them and then power kick them in the same shot.
There are tons of super-powered hits and kicks through walls, drops through ceilings, gratuitous somersaults, flying head scissors, acrobatic sword-slicing by Natasha Liu Bordizzo (CROUCHING TIGER, HIDDEN DRAGON: SWORD OF DESTINY), plus bloody decapitations, ripping off arms and using them as weapons, and an A+ vampires-don't-have-reflections gimmick. The good shit.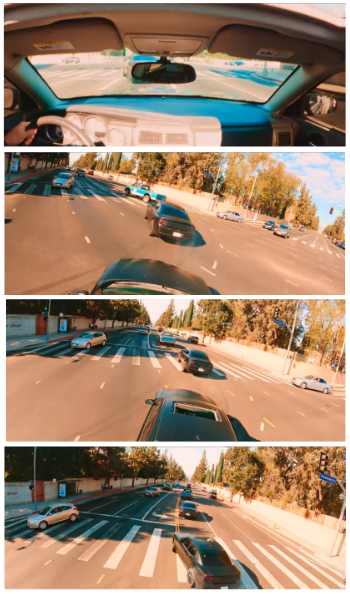 Oh, and also a really well shot truck-car-motorcycles street chase with some great jumps, wheelies, crashes and an incredible (drone? crane?) shot where the camera starts out inside a car, then lifts out through the sunroof and watches the car skid out from above. Some CARTER type shit. We're used to show-offy digital camera moves – in fact, many of those were pioneered in another vampire action classic, BLADE II – but I'm digging this new era where they figure out how to do some of that stuff for real. (Director of photography: Toby Oliver, WOLF CREEK 2, GET OUT, HAPPY DEATH DAY.)
Let me give you a very different example of the type of elbow grease involved in this one. They have a pretty funny, very catchy end credits dubstep theme song with Foxx sing/rapping, samples of Dave Franco dialogue, the works. The movie was made specifically for a streaming service that tries to bump you out of the credits to watch something else, but they still went through the trouble to make that song, because they knew it would be funny. And because they care. Not everybody bothers. Life is hard. People are busy.
The script is credited to first timer Tyler Tice (I think he wrote it as a spec script) and up-and-comer Shay Hatten (JOHN WICK CHAPTER 3: PARABELLUM, ARMY OF THE DEAD). I enjoy their take on the vampire world (lots of little details about different vampire types and stuff), and references to an unseen higher-up villain suggest the possibility of further world building in sequels or, as many have already demanded, a Nazarian Brothers spin-off. I'd be excited for either of those things but mostly I just want to see Perry direct whatever he wants to, hopefully with as many flying kicks and motorcycle flips as humanly possible.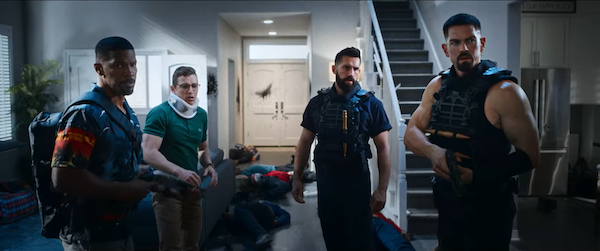 p.s. There's a part where Seth refers to himself and Bud as "Crockett and Tubbs." I didn't even clock that it was a corny in-joke the first time because my mind went right to the original Philip Michael Thomas Tubbs and not the cinematic version played by Foxx. So it works!
This entry was posted on Friday, September 2nd, 2022 at 1:26 pm and is filed under
Action
,
Comedy/Laffs
,
Horror
,
Reviews
. You can follow any responses to this entry through the
RSS 2.0
feed. You can skip to the end and leave a response. Pinging is currently not allowed.