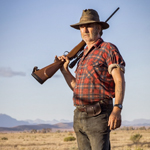 Man, I waited so long for WOLF CREEK 2 that I gave up on it happening like three different times. Back in 2005 director Greg Mclean said "You call that a debut? This is a debut!" with his deeply Australian outback slasher. It was kinda controversial at the time. I remember a Seattle Times critic walked out. Ebert was really offended by it. All my buddies except the two I saw it with said it sucked. It was labelled a new low in "torture porn" by non-horror fans who still review every new horror movie or worse, "nu-horror" by horror fans who hate most new horror movies. But I thought it was really well done, masterful tension and outstanding (sometimes darkly humorous) villain performance by John Jarrat (DARK AGE), very effective use of wide open nature as a source of terror, plus a little bit of precious George Miller blood pumping through the veins of the chase scenes. One over-explanatory scene and an abrupt ending couldn't kill it for me.
Mclean's followup was ROGUE, a really good giant croc movie somewhat buried in the U.S. when it came straight to video from Dimension Extreme. But then financing problems, the death of a close collaborator and who knows what else kept slowing down the return to the giant crater where a guy stalks people. So I'm happy to report that even with all that anticipation this is a very good sequel. It's a smart escalation, more action packed, faster paced, cleverly structured. The only big repeated error is another "That's it, huh?" ending.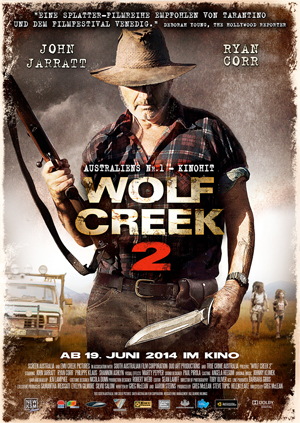 At the beginning I had some worries. For one thing, John Jarratt did not want to return, so he is replaced by Jason Bateman as Mick Taylor's cousin Rick Taylor. Ha ha, just kidding, that is a comedy joke in reference to a different wolfquel. Email me I will explain it. Anyway the movie opens with a little story about what happens when Mick (yes, it's still John Jarratt) gets pulled over on the highway. These asshole cops know he wasn't even really speeding but they're bored and they want to fuck with some dumb redneck. And we, the audience get to laugh and say "You dumb bastards, you're gonna not live to regret this." Great scene, it's satisfying to watch them kick a hornet's nest and find out there's like six more hornet's nests inside, but here's the problem I'm having: do I really want to be satisfied by a WOLF CREEK movie?
I worried Mclean was making a little too good on his vow to turn Mick into the Australian Freddy Krueger. And then when some backpackers seem to run into Mick real fast – surely in response to complaints that the first one took too long to get to that point – there seems to be a danger of it just being a guy going around doing funny "kills" on lightly sketched characters.
Never fear. It quickly becomes another tense series of chase sequences. Not only on foot at night in the outback, but also in vehicles, on the sun-drenched highways. There was a little of that in the first one and alot in the second one. He still has his pickup, he also has a semi now. By the third one I bet he'll have a double decker tour bus. It keeps getting crazier. In one beautifully executed sequence the chase collides with (small spoiler) a very real looking herd of kangaroos.
Mclean is pretty funny about making an Australian movie to terrify the foreigners. Mick's victims are backpackers, not just for the convenience of the authorities assuming they're lost when they go missing, but because Mick fucking hates tourists. They tend to be hippie-ish world travelers who know how to be self reliant, but they're still intimidated by his Australian manliness, his lifestyle of guns, trucks, hard drinking and not getting lost in the wild. In one great sequence he actually quizzes a victim about Australian history. So bone up if you plant to visit the area. And what better way for an Australian serial killer to taunt a foreigner than to make a BABE reference while attacking him?
The scariest line is when he tells a woman they're going to spend "a few months" together. (spoiler) When her escape attempt goes horribly sour it's almost a relief. You gotta look on the bright side of that one.
Mick's sadistic sense of humor makes it more fun and more scary. He's like those asshole aliens in MARS ATTACKS!, he just loves fucking with people. This one is cleverly structured to involve a series of characters who become loose ends he has to tie off. If somebody tries to help the person he's chasing then he has to kill that person too. But there's no desperation to handle them efficiently. I think he likes letting it get a little out of hand, to give himself a challenge. He'll let people get ahead of him just so he gets to chase them. I love the moment where he lets the guy run off and then (small spoiler) sees that there's a horse tied up nearby. He looks at it and just starts laughing. I'm gonna enjoy this.
I can't really overstate how good Jarratt is in this role. He's just so convincingly despicable. I like that he's not necessarily a monstrous specimen of supreme manhood, he doesn't look very built or Tyler Mane tall or anything. But he's very self assured, and kinda slobby but with his messy pompadour-ish hair, like he thinks he's real cool. He has such an air of superiority, and most people are very aware of not being as handy and outdoorsy as he is, so it's a good take on that urban/rural class tension theme I love from TEXAS CHAIN SAW MASSACRE. I can see myself like his victim here trying to pretend to be his buddy to try to get away. It's like a tense undercover job.
And it doesn't hurt that Jarratt leading performances are a precious commodity, at least in movies that make it over to the U.S. If he lived in L.A. he'd have started going to horror conventions, hooking up with people and making ten DTV movies a year like Sid Haig, Bill Moseley and Danny Trejo after HOUSE OF 1,000 CORPSES and MACHETE. I guess Jarratt's done quite a few things since WOLF CREEK, but I've only seen him in ROGUE and in that scene near the end of DJANGO UNCHAINED where he had the real Australian accent and Tarantino had the fake one.
At one point Mick says that "the first law of the outback" is "never stop." That sounds like "keep moving, it's too dangerous around here," but in practice in the movie it's also a Randian philosophy of selfishness. The protagonists all believe in stopping to help people. There's a pair of German hitchhikers who can't understand why so many cars will roar past them and not stop. There's the Brit in his car who does stop to try to help someone who's been attacked. Later he's appalled when he's in her position and no one will do the same for him. There's another set of characters who aren't in a vehicle so they don't technically stop, but offering their help doesn't end up being rewarding for them in my opinion. The outback is a harsh place. You do the right thing, you get punished. Even if you escape back to civilization your life will be ruined.
I'd still stop for somebody though, if I had a car. I would not survive one of these movies.
I guess the WOLF CREEKs will always be kinda disreputable, but who gives a shit? Reputability is overrated. This is a highly skilled director working in a classic genre, with a unique horror setting and a great actor playing an unusually good villain. If this is the ROAD WARRIOR of the series I sure hope he gets to make the BEYOND THUNDERDOME.