MORTAL KOMBAT ANNIHILATION is an asinine sequel by any standards, but as long as you don't hold the MORTAL KOMBAT legacy too close to your heart it's pretty fuckin funny.
In the first one it seemed like they tried hard to mold the vibe of the game into a new type of martial arts movie for the early digital era. In this one I really thought the video game creators must've got a big head and forced every bullshit video game concept they could think of onto the poor bastards who had to try to turn it into a passable story. Watching it I couldn't help but imagine some poor screenwriter sitting in an office nervously saying, Well, I wonder if we shouldn't work out something different for the scene where Sonya Blade finds her partner in a lab where he just got surgery to replace his arms with giant robot arms, and for some reason he's locked in so he has to break his way out but then an evil robot dude jumps out and they fight him and the robot has a tattoo and when he dies the tattoo turns into a little dragon that flies and then warps into another dimension… I mean I'm not sure if that scene is quite working exactly how–
DO YOU KNOW WHO I AM? I'M THE CREATOR OF GOD DAMN MORTAL KOMBAT. YOU DON'T TELL ME ABOUT STORYTELLING. I THINK I KNOW A FEW THINGS ABOUT TIMELESS STORYTELLING. I MEAN, WHO DO YOU THINK YOU ARE TALKING TO ME LIKE THAT? GOD DAMN IT, YOU RUINED MY LUNCH BREAK. GET THIS PIECE OF SHIT OUT OF MY FACE. FUCK YOU.
And he's probly a pointer like Shang Tsung, so he points and his security guys drag the screenwriter out of the office. And then he yells after them, FINISH HIM! And the security guy goes What? And he says, I said 'FINISH HIM!' And the guy goes, "Okay. We'll, uh… we'll finish him out there, I guess."
Well, that's obviously what you would guess would be the screenwriting process judging by the finished result, but after checking IMDb I'm not prepared to blame it entirely on the video game people. The credited screenwriters are: story by Lawrence Kasanoff, Joshua Wexler and John Tobias (video game guy), screenplay by Brent V. Friedman (HOLLYWOOD HOT TUBS 2, PREHYSTERIA 2-3) and Bryce Zabel (M.A.N.T.I.S.). Kasanoff and Wexler are the producers, not the video game guys, and I will say nothing about them other than to point you to the movie they wrote and directed, FOODFIGHT!, which sounds very much in the spirit of LAUNDRY: THE MOVIE. I'm sure Charlie Sheen is good as the voice of Dex Dogtective, though. That's good casting.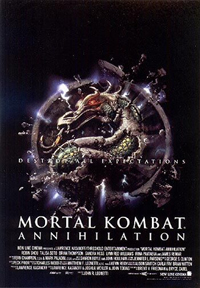 Anyway, the sequel picks up right from the end of part 1. Our heroes, Player 1, 2 and 3, have saved the day by winning the tournament, but in an interdimensional act of poor sportsmanship the Emperor of Outworld is refusing to honor the results and invading earth, turning God's natural beauty into shitty CGI. Right at the beginning a bunch of evil fighters come out and pose on top of a little hill, all of them looking more ridiculous than anybody even in part 1. The protagonists all return except Sonya Blade is played by a slightly more acceptable actress, Johnny Cage is a different actor but dies immediately (SPOILER) and Christopher Lambert as Rayden morphed into James Remar from THE WARRIORS.
The villain is Brian Thompson (COBRA), who stands around in armor saying evil shit like a one episode villain on Hercules: The Legendary Journeys. And I just looked it up and Brian Thompson did play a character called "Goth the Barbarian" on one episode of Hercules, so that's probly a pretty accurate description. Liu Kang and Kitana go on a journey that finds them teaming up with Scorpion and encountering some of the worst CGI ever in a theatrically released motion picture (portals, lava, etc.) They learn to use Outworld's version of rapid transit, which is basically a human-sized hamster ball rolling through a waterslide.
Rayden has to give up his immortality in order to help the humans with their kombat. And I don't mean this as a negative at all, but until I saw his mortal sleeveless shirt and haircut I never realized the thunder god was gay. But good for him being out and proud. I wonder if his sexual orientation has something to do with his falling out with his dad, the emperor? If so the Emperor not only cheats at Mortal Kombat, he's also a homophobe and a terrible father.
I guess in a sequel you want to give the heroes new powers, so in this one Liu Kang learns how to unleash his "animality," which means he turns into a really stupid CGI dragon at the end. Unfortunately it doesn't help him much in his fight with the Emperor, because it just give the Emperor the idea of turning into a bigger stupid CGI dragon with more heads. Oh well, at least now they figured out a reason for the Mortal Kombat symbol to be a dragon. I guess.
There's alot of crazy shit that happens in this movie, pretty much none of it makes half a lick of sense. But there's one scene in particular that I think sums up the amount of thought and care that they chose not to even think about putting into this story. Liu Kang is travelling by himself when a woman appears out of nowhere and starts kissing him. He's into it, but stops and says, "It almost seems too good to be true" and then remembers that he loves Kitana (not something that was really made clear before) so he tells her "my heart belongs to another." Cue the electric guitars, and the two start stick fighting.
Oh shit! She was evil all along, trying to sedduce him!
But after they fight for a bit she tells him no, actually she's not evil, this whole encounter was actually a test, and he passed. Phew.
But then at the end she turns out to be a bad guy after all.
So she goes good, evil, good, evil. Which might be a code to cheat in the game. Not sure.
Part 1 comes way closer to being a legitimate movie, but if you see these just as bad movies that are good for a laugh you probly oughta watch this one, following the BATMAN AND ROBIN precedent.
trivia:
1. the guy playing Scorpion in this one is J.J. Perry, martial arts director for BLOOD AND BONE, second unit director for UNDISPUTED II, THE SHEPHERD: BORDER PATROL and THE TOURNAMENT.
2. Two of Robin Shou's stunt doubles were Ray "Darth Maul" Park and the one and only Tony Jaa.
3: There's actually a novelization of this movie. Somebody read that script and figured out how to make it into a novel.
(programming note: this will be my last video game related review for now, although I'll probly watch a couple other ones you guys recommended later on.)
This entry was posted on Thursday, July 15th, 2010 at 2:06 am and is filed under
Action
,
Fantasy/Swords
,
Martial Arts
,
Reviews
. You can follow any responses to this entry through the
RSS 2.0
feed. You can skip to the end and leave a response. Pinging is currently not allowed.