It seems to me like Sylvester Stallone has been talking up this retired super hero movie SAMARITAN (not to be confused with THE SAMARITAN) for ridiculously long. That's because, I'm reading now, it was intended for a theatrical release in November of 2020. A pandemic happened, it got delayed, Amazon bought MGM, now it's finally out, but released straight to Amazon Prime. I can see why they'd do that – it doesn't have the scope people expect from theatrical movies, but it's also not a serious indie movie, or a cheapie where he shot all his stuff over a weekend and green-screened him in with the other actors. I think it's a mid-budget movie! Like they used to make!
In my opinion SAMARITAN doesn't go the distance to completely working, but honestly it's much better than the bullshit I always pictured. Off brand super heroes aren't all that appealing to me, and Stallone playing one kinda seemed like a concession. He's keenly aware that super heroes have replaced his style of action hero in the popular imagination, so playing one sounded like a sad "Okay, kids, I guess this is what you want then" surrender. What I didn't really consider is that Stallone already played super heroes in JUDGE DREDD and DEMOLITION MAN. It turns out SAMARITAN is sort of like that type of movie for the Old Man Stallone era – scaled down, grittier, with some melancholy to it. And, admittedly, without the satirical elements that have helped those survive in our memories. But it's more interesting than I expected.
The opening had me worried, though, because I didn't know it was gonna be in the point of view of a 13-year-old boy. Sam Cleary (Javon "Wanna" Walton, Euphoria) narrates the legend of this super powered individual called Samaritan who wore a metal mask and protected Granite City from his evil twin brother Nemesis. They were equally matched until Nemesis forged a metal hammer infused with all his hatred and rage (not sure how that works) which was the only thing that could hurt them. They battled at a burning power plant and were both (it is said) killed in an explosion.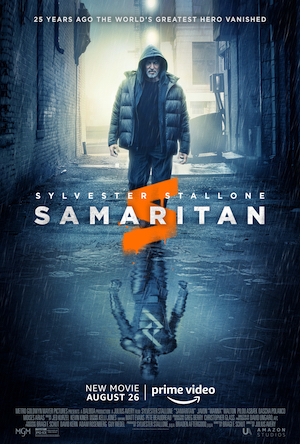 One problem I had is that the Samaritan and Nemesis names and costumes are not cool – they act as references to super hero cliches instead of as actual characters. So it's awkward that the people of the city are still so obsessed with them. Sam idolizes Samaritan, fills a notebook with drawings of him, tags his symbol over graffiti of the Nemesis symbol. Most implausibly, local crime lord Cyrus (Pilou Asbæk, LUCY, BEN-HUR, THE GREAT WALL, GHOST IN THE SHELL), a grown up adult man, is a known Nemesis superfan and has his symbol tattooed on his chest and his face. What a fuckin dork.
Otherwise, though, I like the world this takes place in. Despite the quasi-comic-book name, there's an authentic look to Granite City's decrepit apartment buildings, housing projects and tent cities, and (this is subtly important, I think) its graffiti. It doesn't feel as hopelessly out of touch as many comic book takes on urban living. I'm sure some will find streetwise white kid Sam annoying, but I was relieved how much he wasn't like the little bully magnets in movies like LAST ACTION HERO or WARRIORS OF VIRTUE. His mom (Dascha Polanco, THE IRISHMAN) is a hardworking nurse who's always on the verge of eviction, and needs to borrow money from him for bus fare, so through necessity and/or peer pressure he ends up involved in petty crimes like stealing copper wire or distracting a clerk so older kids can steal Lotto tickets. He calls a guy a bitch, he gets jumped multiple times, he takes his licks.
There's a hierarchy to his criminal associates, going from normal to larger-than-life. He's taunted by a bigger kid named Jace (Abraham Clinkscales, "Oakland Kid," BLACK PANTHER) but seems to sort of almost be friends with him. Jace doesn't want to deal with an older, more obnoxious gang member named Reza, played by Moisés Arias (THE KING OF STATEN ISLAND). I first knew Arias as the weird Italian kid Biaggio in THE KINGS OF SUMMER, so it has been fun seeing him grow into playing shitbags like the one in THE LAND or this guy with face tattoos and blue braids who gets the shit deservingly beat out of him by Sylvester Stallone. He was born for it. I say that respectfully.
Reza is an arrogant little shit who might only be allowed in the gang because his cousin Farshad (former NFL defensive end Jared Odrick) is a giant bruiser. And Farshad seems to be one of the main henchmen for Cyrus, who Sam says is "out of his mind" and admits he's afraid of. Cyrus also has a right hand woman named Sil (Sophia Tatum, "Racer Chick," F9) who seems like a character who would've been played by Samantha Mathis, Milla Jovovich or Sofia Boutella at various points in time. She doesn't get enough to do, but she looks cool.
Cyrus is a type of character I enjoy, because he's in this somewhat reality based city, but he has a braided goatee and shaves the sides of his bleach blond mullet to reveal a tattoo of a snake. You want to see that kind of flair on a street tough. I don't think he entirely works, though; there's a disconnect between the charismatic manipulator who takes the time to personally pressure this little kid to commit crimes for him and the wannabe super villain who steals the Nemesis mask and hammer from an evidence locker to stand on top of cars making Bane-style evil speeches. Also I couldn't really follow his villainous plan (something about starting a revolution by blowing up power plants).
On the other hand this is kind of a dystopian near-future or alternate reality where the bad guys have the ROBOCOP arcade game in their garage hideout, so that's interesting. Also I like their fleet of matte black cars.
What really works about the movie is Stallone as Joe Smith, a lonely old grump who lives in the building across from Sam and becomes his prime Samaritan suspect after exhibiting super strength in rescuing him from a beat down. (I can't help but think the movie would be less corny if Sam didn't think much about Samaritan until after this incident, but oh well.) Of course it's not CREED by a long shot, but it similarly takes advantage of our cinematic relationship with Stallone, moving us by making him a grouchy, reluctant uncle figure to this kid, at first trying to get rid of him ("I see you up there, a-hole!" he yells when he sees him watching the street from his apartment window) but starting to feel sorry for him, agreeing to teach him some things, eventually having to rescue him from Cyrus when he's identified as an acquaintance and weak spot.
Joe works as a garbageman, but that must not be enough to pay for his little apartment, because he also dumpster dives for broken electronics, repairs them and sells them to a pawn shop. I respect working class/low income action heroes. Joe doesn't have the luxury of a Batcave or Batmobile. The bad guys figure out where he lives and spray his apartment with machine guns – there goes the security deposit. He gets around by riding the bus. When shit gets serious he drives into action with a garbage truck from work.
There's a goofy foot chase where the kid puts way too much faith in knocking things over behind him as obstacles, but Joe's action scenes are solid (the great J.J. Perry was 2nd unit director/stunt coordinator). It's fun to see Stallone with the power to punch people through walls and across rooms, though we've all seen better. One moment I appreciate in the climax is when he does a walking-away-from-an-explosion one-liner pun ("Have a blast"). It struck me that it's an Arnold line, but Arnold would've said it glibly, having fun. Stallone says it as if irritated he has to deal with all these assholes. That works for him.
I've seen SAMARITAN called a '90s comic book movie, one of those things generally said as an insult but that works as a selling point to an on-the-record enthusiast of the era like myself. Other than the characters having analog 4 x 3 TVs it doesn't feel like a throwback stylistically, but in other ways it resembles one of those adaptations of a Dark Horse Comic you never heard of. Or – this is gonna sound terrible – you could argue it's kind of doing what STEEL tried to do, just significantly less cheesy. There were also moments it reminded me, believe it or not, of THE CROW. I mean, not nearly as stylish, and no industrial tunes, gothic towers or gargoyles, but there's a bit of that urban hellscape atmosphere with all the rainy nights and fiery riots and stuff. It's just a taste, but I appreciated it.
Here's something old school: there's not a single thing in here that seems like they're trying to set up a cinematic universe, or even a sequel, as many of the '90s movies would've. Amazon is one of the few streaming services that lets you watch the credits (they already sell you headphones and underwear, they don't have to trick you into watching their shows all day) and I was impressed not to see some "I'll be back!" shit at the end.
An element that seems old in the negative sense is when Sam goes to tell his theory to Albert Casler (Martin Starr, DEAD SNOW 2: RED VS. DEAD), a local book store owner and obsessive researcher who wrote a book called Samaritan Lives? It seems like the type of scene you were supposed to have in the days when they thought the audience had to be sold on the reality of super heroes, and the exposition the scene provides isn't very important at all.
I noticed Shameik Moore (The Get Down, SPIDER-MAN: INTO THE SPIDER-VERSE) in the credits but not in the movie. I think he might be only glimpsed as an unexplained guy in the flashbacks, but he's credited with the same last name as the pawn shop owner (Henry G. Sanders, KILLER OF SHEEP, JOHNNIE MAE GIBSON: FBI, CHILD'S PLAY 3), so I'm assuming there's some backstory cut out there. But I appreciate that it's not too complicated. It has the confidence to be a pretty small time, intimate battle. The climax is a fight at the power plant. Not even a bridge or tower. Not an infinity war, just a scuffle.
It would definitely be a better movie if there was more to the villain and what he was trying to do. But there's something that makes up for some of that weakness that requires a
SPECIAL SPOILER ZONE:

There's a big reveal near the end that I'm gonna go ahead and spoil here because it's pretty much the meat of the movie, so skip to the last paragraph if you don't want to know. The twist is that while Sam and Cyrus both assume Joe is Samaritan, he's actually Nemesis. I figured this out pretty early on, first thinking "Wouldn't it be more interesting if he was Nemesis?," then thinking "Actually I'm pretty sure he is Nemesis," and finally "He better be Nemesis or it's gonna be disappointing." So while this was easy to see coming, it was the right choice, because it's the more interesting one, and it gives the movie its meaning. The washed-up ex super heroes who have to find the eye of the tiger again (THE INCREDIBLES, HANCOCK, WATCHMEN, etc.) are a pretty standard trope now. It's much more interesting to see a super villain who won but then just quietly lived a humble, lonely life of regret. That's pretty original.
The corniest aspects of the movie are following this super hero tradition of The Good Guy and The Bad Guy, but in the end the movie acknowledges that that's all bullshit. It argues that there's no such thing – there's just Guys and they will all do Good things and Bad things and it's up to each of them to try to stick to the Good things. It's a theme that plays throughout – Cyrus hates Samaritan because he sees him as "just another cop to protect the rich while the rest of us went hungry." I think his idolization of Nemesis could've been handled much better, like it was a legitimate point of view, but unfortunately he's just making openly evil speeches and blowing things up. Still, we do hear from Sil how much Cyrus did for her and the rest of the gang. He is capable of good things.
The theme is handled better through Sam, who despite his Samaritan worship finds a need to commit crimes. When he's caught stealing from Joe, his mom is mad but swears to Joe that he's "a good kid" and trying to do better. It's not simple. Even after he's befriended this neighbor he thinks is his super hero idol he also acts as a lookout for Cyrus. He does what he thinks he needs to do.
It's kind of cool that all of these characters (besides Joe) are so fixated on Samaritan and Nemesis and their final battle, but all of them seem to have misinterpreted what happened and what their heroes were all about. When Cyrus, whose entire philosophy supposedly comes from Nemesis, suddenly realizes that the guy he's fighting is Nemesis, he's not willing to rethink anything. He just continues with what he was doing. Yep, that's what people tend to do. The super hero mythology seems like the dumbest part of the movie, and then suddenly it becomes the most complex part.
END OF SPOILER ZONE.

The screenplay is by Bragi F. Schut, a writer from Threshold and Ninjago (a Lego ninja cartoon), whose big screen work includes SEASON OF THE WITCH and ESCAPE ROOM. He's also the guy whose Dracula script THE LAST VOYAGE OF THE DEMETER has been in development for twenty years but has now actually been filmed by André Øvredal. SAMARITAN is not based on a comic book, but in 2014 a company called Mythos Comics made two issues adapted from the script, which they've been forbidden from reprinting since MGM bought the movie. I'm not clear if it was just done as a promotional gimmick to sell the movie, like COWBOYS & ALIENS, but it makes me think maybe I need to make a Worm On a Hook comic book.
SAMARITAN is the third film from director Julius Avery, following the pretty good OVERLORD (2018). So I guess I'll probly watch the next one. Except now that I'm looking it up on IMDb I see that it's an exorcism movie, which I tend to like even less than an off brand super hero movies. Well, we'll see, I guess.
This entry was posted on Thursday, September 1st, 2022 at 10:55 am and is filed under
Action
,
Comic strips/Super heroes
,
Reviews
. You can follow any responses to this entry through the
RSS 2.0
feed. You can skip to the end and leave a response. Pinging is currently not allowed.