GET OUT is a crazy, racially themed horror-thriller written and directed by Jordan Peele of the comedy duo Key & Peele. And you know how sensitive I am about this, so I'll just say right here that I consider this a horror movie that's funny, not a horror-comedy. That's how I prefer it. There are some big laughs, but they come out of the characters and situations, not at the expense of taking them seriously.
Chris (Daniel Kaluuya, SICARIO) is a young photographer who's going on a trip with Rose (Allison Williams from Girls), his girlfriend of five months, to meet her parents. One thing he's nervous about: she hasn't told them he's black. She swears it won't be a big deal. Swears it.
Peele knows how to make us cringe, especially through the behavior of Rose's dad, Dean (Bradley Whitford, ROBOCOP 3, A PERFECT WORLD), who tries to show he's down by repeatedly calling Chris "my man" and saying "thang" and admitting "I know how it looks" that he has black servants. Then there's her psychiatrist mother Missy (Catherine Keener, SURVIVAL QUEST, JACKASS PRESENTS BAD GRANDPA), who tries to hypnotize Chris to stop smoking, and her sketchy brother Jeremy (Caleb Landry Jones, THE LAST EXORCISM, X-MEN: FIRST CLASS), who talks to Chris about MMA and tries to put him in a headlock. And there's the strange behavior from groundskeeper Walter (Marcus Henderson, DJANGO UNCHAINED, WHIPLASH) and housekeeper Georgina (Betty Gabriel, THE PURGE: ELECTION YEAR) and the big party where all the old white people show up in black SUVs and ask Chris clueless, uncomfortable questions that he's very good at taking in good humor. This whole trip is a grueling gauntlet of trying-to-be-polite-and-not-offended. He knows he's just trying to make it through the weekend and survive this trip but at first he doesn't realize how literal that is.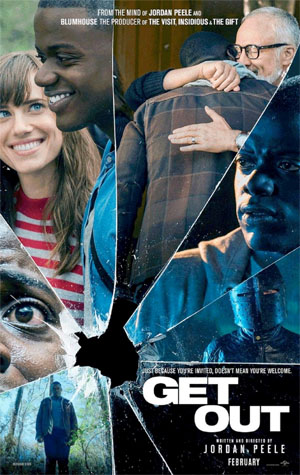 My friend david j. moore compared GET OUT to THE WICKER MAN, which is fitting. It's an outsider being shown around a strange community while having a sinking feeling that everybody's looking at him like that for a reason he's not gonna like. But instead of pagan cultists it's just rich white people. The way we know it really is something for him to worry about and not just paranoia is the one other black guest to the party, Logan (played by LaKeith Stanfield, Junior from MILES AHEAD and Snoop Dogg in STRAIGHT OUTTA COMPTON). We saw him acting totally different earlier in the movie when he was abducted on a dark suburban street.
That's a very specific fear I can't remember seeing tapped in a horror movie. There's the TEXAS CHAIN SAW MASSACRE/DELIVERANCE/WOLF CREEK fear of rural weirdos who will tie you up or have their way with you or make hot dogs out of you. And there's the CANDYMAN/DEATH WISH/JUDGMENT NIGHT/TRAINING DAY/various-comedies-especially-in-the-'80s fear of "the inner city" or "the hood," where white or middle class people will immediately be swarmed by muggers, rapists and gang members if they accidentally get off at the wrong subway stop. But I think this is the first time I've seen one that addresses the very reasonable fear of white suburbs where the locals might have guns and assume the worst of a black man they don't recognize in their neighborhood. It obviously brings to mind the murder of Trayvon Martin, but it also made me think of a notorious incident in Seattle when a popular young theater actor was shot to death for knocking on the wrong door for a Halloween party. This is just as real of a concern as having to know how to not provoke police officers, but I think it's been less addressed in movies.
So GET OUT's SCREAM style cold open is this normal guy (who we already love if we watch Atlanta on FX) walking down tree-lined sidewalks in a quiet residential neighborhood, just trying to follow directions to somebody's house when a car with tinted windows drives by slowly, turns around, pulls up next to him. And I'm not gonna pretend I understand what that feels like, but Peele does as best you can with a movie to put even the white members of the audience in his shoes and see the terror of it.
When the fear of police violence comes up it's in an unusual way. After Rose runs over a deer, an officer asks for Chris's license even though he's just a passenger. He's willing to do it, but Rose bluntly calls bullshit and challenges the officer. She's correct, but it's some spectacular white privilege to start a confrontation with a cop on her boyfriend's behalf. He's the one who's most at risk here if her implications of racism are correct.
But most of the horror here is less visceral and literal than that. It's more of a cultist/body snatcher type of vibe. Hypnotism, brainwashing and mad science mixed with social discomfort and racial tension. The pieces and questions are put into place; Chris's only lifeline to the outside is his friend and dogsitter Rod (comedian Lil Rel Howery), but somebody keeps unplugging his phone while it charges, making it harder to call him. He has to figure out what exactly is going on here, if Walter and Georgina are a threat or if they need help, and who he can trust. If anybody.
I don't know how genuine this is, but supposedly there are people calling the movie racist against white people. I assume it's mostly coming from the fringe looneys who I used to think we should just ignore and not give a platform to, but now they actually run the government so you can't really stop them from having a platform. Anyway I think it's an interesting aspect of the movie worth discussing.
They're actually not as far off base as usual. It is a movie that intentionally plays off of a fear of white people, including allegedly non-racist liberals, and portrays us as monsters jealous of and conspiring to subjugate African-Americans. It makes a joke of the characters' seemingly unfair kneejerk reactions about white people always turning out to be absolutely 100% correct.
I can't be offended though because I can see where it's coming from and agree with it. It has some truth to it or at least is worth us taking time to think about how much truth it has to it. And it's the only movie I've ever seen like this. If it became a standard movie trope then I'd probly start to think "Oh come on now, why does the white guy have to be kidnapping and hypnotizing the black people again?" But I don't think that's gonna happen.
That's why I wish it could be instructional to the people who are made uncomfortable by it. I wish now that they know that feeling of thinking they're being denigrated by a movie they could consider how much more often they'd be experiencing it if they were black, Asian, Latin, Native American or God forbid Arab. I wish it would make them question every time they've ever insulted somebody for supposedly wanting "political correctness." Are they really gonna demand political correctness now in this one specific case where it was their widdle biddy feelings that were hurt?
(If you really do think this is an attack on white people though, you should know that Peele's mother is white. So is his wife. He went to Sarah Lawrence College. He doesn't hate you for being white.)
I personally have not run into a white person who didn't love the movie, and I'm very skeptical of some Tweet I saw gloating about it causing "white tears." But I do think it can work differently on people depending on their backgrounds. The Saturday night crowd I saw it with was pretty diverse and it did seem like there was a more vocally enthusiastic response (including applause) from some of the people of color. I think it's more personal for some people and that's an example of why it's cool to have more diverse voices creating our art, including our horror movies.
Anyway, it's a good movie, and it's a good title too, because you might assume it's racist people telling him to GET OUT of their neighborhood, but it's more like hey man you better GET OUT of here, these people are dangerous!
And I think it should be good for a rewatch because there are many aspects of it that work two ways like that. It's a really well thought out script with lots of little clues and details that may be confusing or meaningless at the time but once you've seen what's going on you can put it together in retrospect. Some things I didn't understand until talking to friends afterwards, and there's one little thing that I only realized while writing this review. So I think a SPOILERS FROM THIS POINT ON section is in order.
* * *
SPOILERS FROM THIS POINT ON. Don't read the rest unless you've seen the movie.
The thing that occurred to me just now was why she stood up to that cop wanting to see Chris's ID. We know now that she doesn't care about racism, so it's not really her sense of justice. It's because she doesn't want the cop to see his name and remember it when he comes up missing. But it's such a good scene just for the tension it creates that it doesn't seem like it needs an explanation like that. It would still fit if it didn't have that purpose.
And now I'd like to discuss how special the end of the movie is. When he's killed his way out and he's covered in blood and the red and blue lights come down the road as he's on top of shotgunned-nearly-to-death Rose, it seems like we're getting the bleak ending, the NIGHT OF THE LIVING DEAD ending, the the-System-will-never-believe-you-and-now-you're-fucked ending. I was struck by the loud scream of shock and delight from an African-American woman in front of me when it was revealed to really be his friend Rod there to rescue him in a "T.S. motherfuckin A" vehicle. It was like this woman had been wound up tight and suddenly free to release every ounce of tension and relief through her voice. I too was happy to have the triumphant ending, but for some people I think it's a real serious cathartic moment. Nope, this time you are not going to lose faith in all institutions. This time you're going to get the happy ending you deserve.
The other thing that's great about the ending is the perfect Key & Peele tortured comedic timing of the long pause as Rod sits there and tries not to say I told you so.
That guy's really funny, and this whole cast is great, but since we're in the spoiler section I want to single out Gabriel and Stanfield, for their complex performances as black people struggling to communicate from inside white people inside black people (!), and Williams for the turn she takes. She does such a good job when she seems to be a well meaning character, but I think it's kind of courageous for her as an actress to do that scene where she's listening to the DIRTY DANCING soundtrack while looking for her next victim. It's one thing to turn out to be a psycho in a SCREAM movie or something but to play the awful predatory white girlfriend of nightmares takes some guts. I mean I know she already did Peter Pan Live!, but still, I respect it.
This is already a big hit on a small Blumhouse budget, which means they'll try to get Peele to direct a comic book movie. But in interviews he seems intent on doing more horror movies with social commentary in them. Either way I bet it will be interesting.