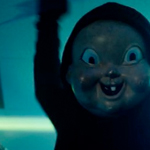 HAPPY DEATH DAY is a nice little high concept horror movie. 90 minutes, fast paced, upbeat. When I first saw the teaser I thought "I can't believe nobody's thought to do that before!" and sure enough these people did it ably.
See, it's GROUNDHOG DAY meets a slasher movie (specifically SCREAM 2 I would say). Oddly named sorority girl Tree (Jessica Rothe, LA LA LAND) wakes up hung over on her birthday in the dorm room of some geek she barely knows. She shame-walks out of there in her shoulderless sequin blouse, squinting at the bright sun, and goes through a busy day (rushed changing of clothes, late for class, awkward run-ins with guys, sorority meeting, avoiding her dad, attempted tryst with a teacher) before being stabbed to death by an unknown person in a baby mask (weird school mascot, good slasher mask). And then she wakes up in that dorm again, on her birthday again. So she has to keep re-living this day, but also solve her own murder so that maybe she can see tomorrow.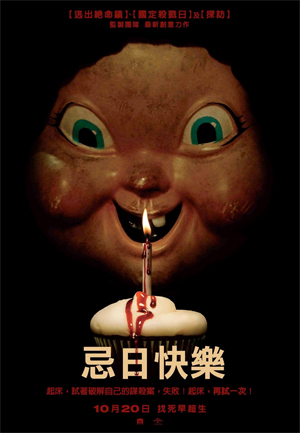 Early on I had some twinges of "how much can I get behind this girl? She's horrible!" I forgave her for dissing Carter (Israel Broussard, THE BLING RING), whose dorm room she wakes up in, because she assumes he molested her when she was drunk. That is a good enough reason to overlook that he's probly pretty cool because he has a THEY LIVE poster. But then she ignores a girl outside the sorority house and throws her roommate (Ruby Modine)'s cupcake gift in the garbage, and I know the teacher (Charles Aitken, The Knick) is the real bad guy, but college age is old enough to know not to get with somebody who's married.
But that quickly dissolved because of the novelty of a Final Girl who's an asshole. Who am I kidding, I like seeing women getting a shot at this (see YOUNG ADULT, THREE BILLBOARDS, the recent BLOOD MONEY). Here it's not only a gender reversal, it's kind of a throwback: in the '80s guys like Bruce Willis and Bill Murray captured our hearts playing charming assholes. It was a thing. Murray was still doing it in GROUNDHOG DAY and it's cool that this young lady gets to do it a couple decades later in the ripoff.
It also works because Tree is redeemable. To me the deepest part of GROUNDHOG DAY is that he starts choosing to spend his days helping people despite knowing that it will restart at the end of the day. HAPPY DEATH DAY's version isn't as profound, but it's nice. We don't learn right away that Tree's mother died on her birthday, and that makes it a hard day for her father (Jason Bayle, THE BIG SHORT), and that makes it hard for her to see him on her birthday. But eventually she does, and tries to face the issue and repair the relationship. And her investigations of different suspects cause her to see where they're coming from and be nicer to them. And as Carter becomes her Andie McDowell, the one she can confide in about being stuck in the one day, she starts to really like him too, surprising him each day.
It's filmed in New Orleans, which explains why Tree is wearing a t-shirt for the local funk band Dumpstaphunk. I was surprised to see that.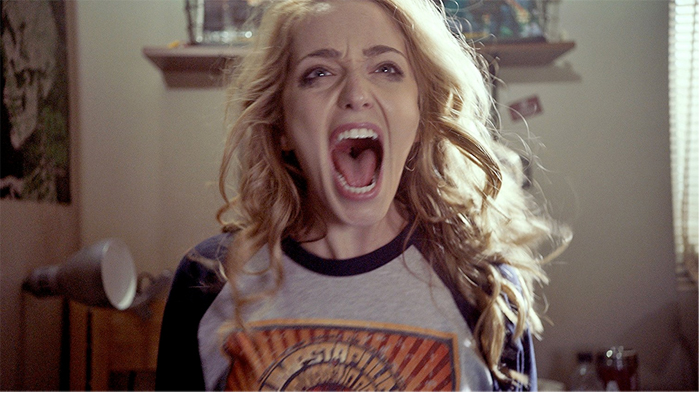 I only have two complaints, and they're minor. One, at almost the very end there's a part where they talk about GROUNDHOG DAY. I get it, they don't want us to think that they think that we don't know that they got the idea from GROUNDHOG DAY. But they shoulda let it go. Distracting, not funny, not worth doing. Two, the gimmick of a main character who gets murdered over and over again is crying out for some crazy Savini-esque kills, but it's a PG-13 movie so any time something like that is implied it just cuts to her waking up again. Seems like a wasted opportunity, but luckily the story is handled well enough that I didn't think much about that while watching.
By the way, like GROUNDHOG DAY it never reveals a reason for the time loop. That does seem a little more odd here since she's facing the extraordinary circumstances of being murdered and also a time loop that as far as we know is completely unrelated. But I heard the director say that he does know what caused the time loop, and he told the Heat Vision blog "I will say that if we are lucky, and people like the movie and we get to do another one, I do have a sequel ready in my head, and it's definitely not what anyone is expecting, but it will make a lot of sense. And it will answer a lot of questions that may pop up in the first movie for people." Cool. I'd be into that.
The director is Christopher Landon, who I was not previously aware of. He's the son of Michael Landon, and he wrote ANOTHER DAY IN PARADISE for Larry Clark when he was still in college. Years later he became known as a horror guy because he wrote PARANORMAL ACTIVITY 2, 3, 4 and THE MARKED ONES. HAPPY DEATH DAY came from a script by comic book writer Scott Lobdell, that Landon had rewritten for star Megan Fox and producer Michael Bay, apparently adding the birthday element and changing all the dialogue and kills and the solution to the mystery. It never got off the ground so he brought it to Blumhouse, and it's a perfect fit for them.