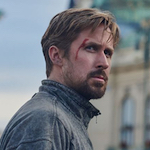 THE GRAY MAN is the new Netflix movie that they put so much into they're actually doing promotion for it. Showed it to critics a week early, had the directors do interviews and stuff, as if they want people to know it's there and maybe watch it. Almost like they're in the movie business. Crazy.
It stars Ryan Gosling (ONLY GOD FORGIVES) as "Six," a guy who was doing time for murder until a spook named Fitzroy (Billy Bob Thornton, ON DEADLY GROUND) got him released in exchange for dedicating his life to being a secret government assassin, or "Sierra." One day on a mission in Bangkok he takes out a target (Callan Mulvey, BEYOND SKYLINE) who, before dying, gives him an encrypted drive he says has the dirt on Carmichael (Regé-Jean Page, MORTAL ENGINES), his new boss at the CIA who pushed Fitzroy out. When Carmichael acts suspicious about it on the phone Six decides to mail the drive to a retired handler he trusts (Alfre Woodard, CROOKLYN) and go on the run.
To track down Six and the drive, Carmichael hires Lloyd Hansen (Chris Evans, STREET KINGS), a guy who was kicked out of the CIA for being too much of a maniac even for the CIA, who now works as a freelancer so that he can be hired by the CIA to do the things they supposedly aren't allowed to do. Convenient. Lloyd ambushes Fitzroy at a funeral (presumably for the guy Six just killed) and reveals that they've kidnapped his beloved niece Claire (Julia Butters, ONCE UPON A TIME …IN HOLLYWOOD), forcing him to help them find/kill Six.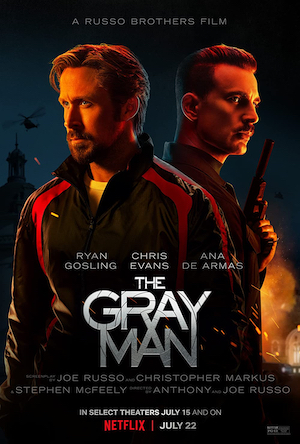 So it's largely a chase movie with Six jumping through a series of countries, meeting up with people he needs help from, sometimes getting betrayed, sometimes being caught up with by Lloyd or other mercs trying to get a bounty on him. There are a bunch of big spectacular action scenes, the most memorable being a foot chase/shoot out that goes into and on top of a moving light rail train with an enemy car and an ally car (bullet proof) chasing it. The ally is Dani Miranda (Ana de Armas, KNOCK KNOCK), a CIA agent assigned to help him in the Bangkok mission who comes after him to clear her name and then realizes he's telling her the truth.
The tone is serious, but everybody is a smartass. Shane Black is an obvious influence. I like movies like that, so I'm not gonna complain. The directors are Anthony and Joe Russo (YOU, ME AND DUPREE, AVENGERS: ENDGAME) with a script credited to Joe Russo and the team of Christopher Markus & Stephen McFeely (CAPTAIN AMERICA movies, NARNIA movies, PAIN & GAIN), based on the novel by Mark Greaney, a former medical supply salesman whose success with the book led to 10 sequels so far plus co-writing a bunch of books with Tom Clancy. So my impression is that the books are what they call "airport novels." From what I've read the adaptation is somewhere in the middle between "completely faithful" and "nothing to do with the book."
Six and Miranda are both highly skilled in many fighting techniques and get to do all kinds of running around punching, slashing and stabbing, dropping hand grenades, leaping off roofs onto vehicles, throwing each other guns, jumping through windows. There's something very satisfying about little Ana de Armas coming to the rescue suited up like a GI Joe, running toward a castle with a bunch of guns, blowing up a helicopter with a rocket launcher – a great shot where the copter spins and explodes as it crashing into water and causes a big fiery, watery explosion. Um, yes, I would like her to be on my side.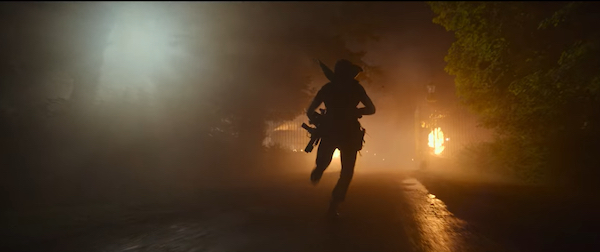 And in the middle of this why the hell not have another elite badass called "Lone Wolf" played by Dhanush (I can't claim to be familiar but apparently he's a superstar actor, singer and filmmaker in Tamil cinema) show up and battle them for a while? There is no reason not to do it unless you're some kind of asshole.
One of the second unit director/stunt coordinators is James Young, who was choreographer for the Zoe Bell movie RAZE, fight coordinator for various Marvel movies, and stunt double for the Winter Soldier. Maybe that's why we get to have cool Winter Soldier/Black Widow type leaps like this: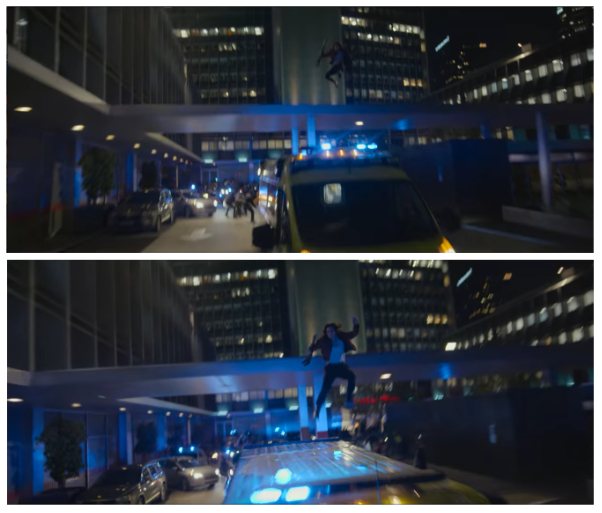 Also credited as a second unit director is the legendary Spiro Razatos (MANIAC COP, EXTREME JUSTICE, GET CARTER, BAD BOYS II, RESIDENT EVIL: APOCALYPSE, DEATH RACE), which very much makes sense because he had that job on FASTs FIVE, 6, SEVEN, FATE, 9 and X, and some of this stuff is very similar in its complex mixture of stunt work and FX to depict high speed crazy vehicle hopping insanity. The #1 reason cinema was invented and persists, even it goes straight to streaming.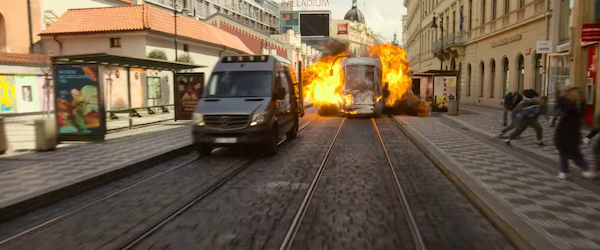 Most people I've talked to did not like this. Some hated it. At best they seem to think it's mediocre. I rate it more as just solidly entertaining. It's certainly no JOHN WICK, and as far as the original Netflix productions go, I prefer the slightly more artful (and bloodier) EXTRACTION and KATE. At the same time, this offers a sense of blockbuster-sized scope and spectacle that those don't, and that few action movies do these days. It's more of a globe trotting exaggerated super spy type of movie. I appreciate that it's neither the smart assy nothing-matters-we're-just-riffin-here-ain't-I-stinker type bullshit that Ryan Reynolds and The Rock prefer, nor the this-is-very-serious po-faced-ness of the BOURNEs and some of those. It's too proud to wink and nudge but unashamed to take place in a world where
1) a weirdo passport forger (Wagner Moura from ELITE SQUAD and its sequel) is such a weasel that his studio is equipped with a trapdoor that drops Six into a dungeon so he can turn him in for a bounty
2) but Six very quickly MacGyvers an escape that involves flooding the entire chamber so he can float to the top and set off an improvised explosive. Which he does just as Lloyd's shock troops arrive, so the explosion also kills a bunch of them and creates steam for him to emerge from and look cool.
The most common complaints I've seen were about the CG looking cheap and the action being unclear. One scene that has been accused of both is the one where Six has to fight his way off of a plane that's tearing apart, spinning and plummeting. I know there are people who just think anything they can identify as a digital effect (most things in most big budget movies) is offensive garbage. I don't follow that religion and to me this looks as detailed and convincing as the average blockbuster movie, which means more than the vast majority of straight ahead action movies that try this sort of thing. I found the scene totally thrilling and actually well directed – it's just the exact right amount of disorientation for me to feel like I'm in there getting knocked around while still being able to follow what's going on. Not just wiggling around for no reason – a deliberate, effective way to communicate the feeling of the action. Controlled chaos.
Many people (including my friend Mike from Action For Everyone) really hate the look of the movie (director of photography: Stephen F. Windon, THE POSTMAN, DEEP BLUE SEA), and specifically mentioned CG fireworks and smoke as being a problem, as well as darkness. I guess this is just a matter of taste (I have none) because a specific thing I liked about the movie was how much they use steam and smoke and darkness while keeping strong silhouettes on the characters so you can still identify them. I want to look a little more at the sequence with the fireworks because I thought it was a good one.
The assassination in Bangkok takes place at a party for the Thai New Year's holiday Songkran, just as a big fireworks show is happening outside. Six doesn't shoot his target when he's supposed to (a kid is there, wouldn't you know) so he has to chase him through the club. The fireworks show seen through the windows serves as both atmosphere (alternating blue, red and yellow light onto the characters) and narrative (it's a visual and aural distraction allowing Six to attack from behind). He grabs a series of objects – a woman's hair stick, a cheese knife, a bottle – and uses them to John Wick the target's entourage behind him. The low light of the scene is actually the coolest thing about it because it's perfectly tempered between being able to see him and believing these guys wouldn't immediately notice what was going on.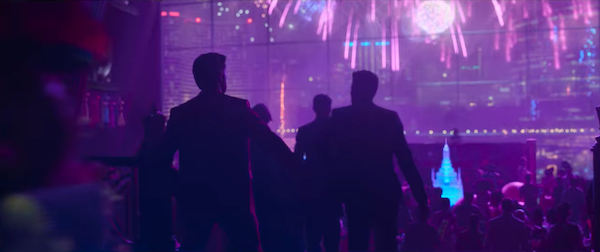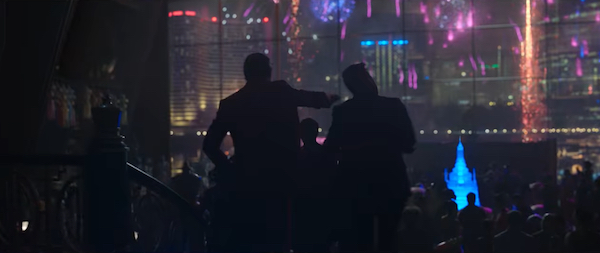 The target ends up throwing somebody through the window and using the hole to exit, landing between the cannons that are launching the fireworks, and Six follows him to continue the fight. The literal and figurative pyrotechnics of the scene are too chaotic for some people, but I think it's probly more intelligible than many of the fights we've seen in studio movies, including the Russos' own CAPTAIN AMERICA: THE WINTER SOLDIER. More importantly I think it's a legitimate case of an effective impressionistic action scene. For this fight I think it's fair to trade a little lucidity for the imagery of the fireworks and the combatants pushing each other over the barrels as they explode. It looks fucking cool while also being a clever way to isolate these two from witnesses to a crucial conversation and exchange.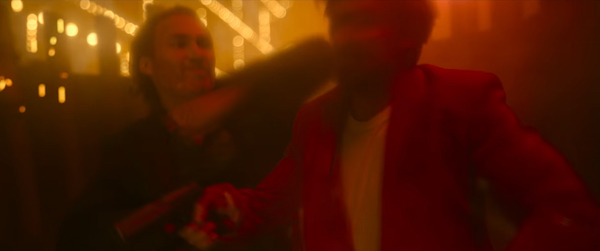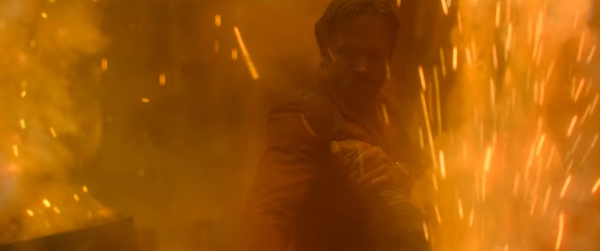 To me, ideas like that (what if they fight between fireworks cannons?) are the reason to do a movie like this. JOHN WICK is an obvious influence on some of the visuals as well as the action, but it also made me think of the scene in BLACKHAT where he meets that guy in the middle of that religious procession with everyone carrying torches. Darkness and light and this big thing going on around them but they're only focused on each other. I think THE GRAY MAN tries to follow that tradition of finding interesting settings and imagery for each sequence instead of going right to the standards.
Of course that's not to say that it's anywhere as effective as JOHN WICK or BLACKHAT, and it doesn't add as much originality to its well-worn plot conventions. But I still think these "the story is generic" complaints are a little like calling a sandwich generic for using two pieces of bread. The idea is to tell that type of story and put some mustard on it, and I think they did that well.
So I'm gonna list some more of the little moments, action gags and images I thought gave this personality:
• The way the assassination plan in Bangkok is to shoot up through a glass floor with people dancing on top of it and into another glass floor above that with the target on it.
• When he's in a dark house fighting an invader while holding a flashlight, and it cuts to an exterior from the distance and you just see the flashlight beam whipping around inside.
• When he's battling guys on the light rail train and has to wait for the accordion to straighten out to have a clear shot.
• When he's on top of the train and looks at the reflection in the windows of a building they're passing to see the location of an enemy inside the train and shoot him through the roof.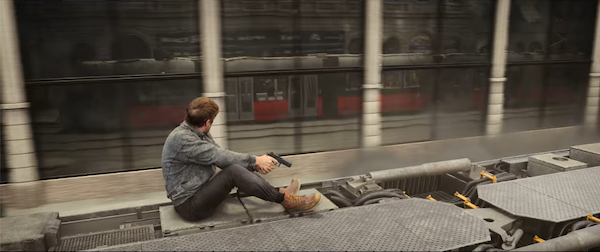 • I like that after it's introduced the kidnapped niece element it novelistically skips back two years to tell the story of Six being assigned to protect Claire and becoming friends with her. We've seen this plot a million times and we don't usually get that.
• When Claire is covering her ears listening to a record (possible FACE/OFF homage) and the camera moves along the windows as, through the closed curtains, we can make out Six passing along outside battling the people guarding her.
• When he's being shot at while handcuffed to a bench and has to steal and load a gun one-handed.
• When he hears someone outside a room and the camera follows his three shots across the wall to the door as the body falls against it and pops it open.
• During a big fist fight Lloyd punches Six in the skull and hurts his hand. Then he gets thrown into a fountain and whines that the flare gun burn from earlier stings.
• Six fights Lone Wolf in a hospital and uses a defibrillator as a weapon (to shock him) but Lone Wolf gets it and uses it as a different type of weapon (spinning it by the cable like a chain mace).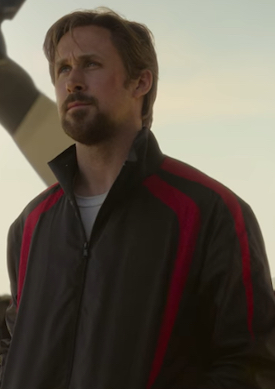 Also I enjoyed following the arc of Six's cool black and red windbreaker. Needing to change his appearance to escape, he buys it from a random gamer in an alley in Bangkok. He's still wearing it the next day when he jumps out of a crashing plane and lands in Turkey, and then when he gets to Vienna, but unfortunately I think he loses it while escaping from the flooded passport dungeon. Still, a three country run is more than most jackets get. R.I.P. to a real one.

In order to be part of the Sierra program, to be an ultimate killer, you have to have no family. Fitzroy came up with the program and as soon as bad people find out he has a niece he cares about, they use that against him. When they figure who Six cares about they used that against him as well. By contrast, the villains have no loyalty to each other. Carmichael's subordinate Suzanne Brewer (Jessica Henwick – Bugs from THE MATRIX RESURRECTIONS!) says that they're old Harvard friends, which I guess could be a euphemism, but I took it literally. Either way, they're the kind of "friends" who scheme to steal power from each other at any cost. That's what makes them the bad guys.
And they're wrong about bonds being a weakness. Six's loyalty to those he cares about is reciprocated, while the villains' dishonor causes allies to abandon them (in one case specifying that "These are not honorable people.")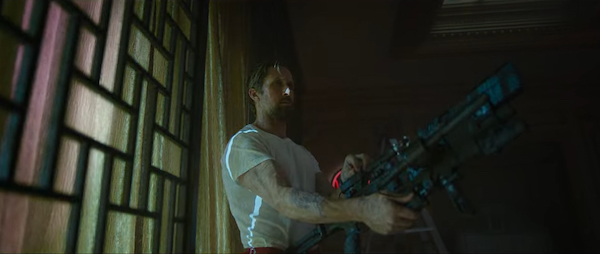 For his first assignment, Six is given a comically large gun, like an action figure might have. I like that he has to ditch it and then (though it's certainly not an anti-gun movie) uses all manner of other weapons, improvised and otherwise, with blades being an apparent favorite. During that duel in the fireworks pit, the previous Sierra throws away his gun to fight hand-to-hand. In the climax, when Six duels to the death with Lloyd, he throws his gun into a fountain and they go at with fists. (And a knife.) I prefer more flying kicks, but it's a good, brutal fist fight as far as movie star fist fights go, with the extravagant touches of the fountain and happening as the sun comes up. (And he does get to break off the center of the fountain by kicking Lloyd's head into it. Not even as the finishing move.)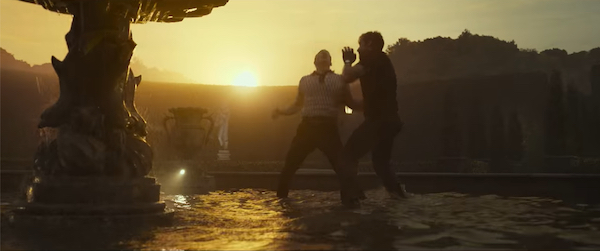 Since this is a movie star movie I suppose I should mention that Gosling is a solid leading man, able to dip into both sides of the DRIVE/THE NICE GUYS dichotomy by being fairly stoic but with a dry sense of humor. Evans is clearly having a ball, being an absolute prick, his muscles bulging out of a polyester shirt I might wear and his face decked in a mustache I definitely wouldn't. It's funny, his years of being Captain America almost made me forget how long his thing was playing arrogant dicks. Here he gets to dust off the old chops and yes, he's going big. It would be a disservice to the movie not to.
I love the counterintuitive casting of Thornton for this role. If you need a guy who's recruiting people into a world of murder, but you want him to be thought of as a lovable father figure, is your first thought gonna be BAD SANTA? We loved him playing so many assholes and contradictorily that makes us think of him as a sweetheart here.
De Armas is always cool and I dig that they don't bother with some kind of love story or sexual tension. These are professionals. Henwick is more locked into performing a certain narrative role and unfortunately never gets to bust out the martial arts skills. However, they already announced a sequel so I'm gonna assume these two will have a great fight against each other. Speaking of sequels, I respect the discipline of the Russos not going too Marvel with this. I was positive that the mysterious unseen boss referred to as "The Old Man" would be some surprise celebrity cameo during the credits, but they left it alone. I look forward to more adventures in Gray Land, but if they decide to pull the plug this is complete as is.
Anyway, it's pretty good. That's all.