This is the first in a Patreon-only review series of THE TWILIGHT SAGA. For as little as $1 a month you can support an ol' so-called outlaw in his writing endeavors, and as a thank you I got these exclusive reviews for you.
This one was originally housed here on outlawvern.com but I had to move it to Patreon due to technical difficulties, and I didn't want to delete all your comments so I left the post here. So what the hell, this time I'm gonna include an excerpt so you non-Patreons can get an idea of the approach I'm going for.
TWILIGHT
Vampires & Longing
In 2008, a couple weeks after Obama was elected president, and about a month after Beyoncé released "Single Ladies (Put a Ring on It)," the movie TWILIGHT came out, based on the 2005 book Twilight. And a while later, around the time it came out on video, I realized it was a thing. The romantic teen vampire book and movie series soon became an enormous pop culture phenomenon that seemed from the outside like lusty TITANIC melodrama smeared onto half-assed Buffy the Vampire Slayer fan-fiction. Certain young women swooned, many horror fans complained, much of society turned up their noses, hundreds of millions of dollars were spent.
Didn't seem like my thing. But I was always curious.
Time passed. The world went to shit (although Beyoncé only got better). The two main stars of the movie went on to do good work and be pretty respected. Young people turned into a little older than before people and theoretically gained new obsessions. The series was maybe arguably somewhat forgotten, spoken of mostly with disdain. I still kinda wondered about it.
And then, like the day a young man suddenly takes his shirt off and realizes that he's a buff werewolf, it came: the instinct to start renting the TWILIGHT movies and write about them as an exclusive bonus for Patreon supporters. These will be very detailed and spoiler-filled, under the assumption that either you've already seen them or don't care and are curious what they're like. But I want you to know this isn't going to be a hit piece. My goal is not to make fun of these movies, in the event that I don't like them. I'm more just looking to see what they're all about and try to understand what the deal is with them. We'll see how it goes.
Part 1 is TWILIGHT, directed by Catherine Hardwicke (THIRTEEN, LORDS OF DOGTOWN, THE NATIVITY STORY; production designer of THRASHIN', I'M GONNA GIT YOU SUCKA, POSSE and TANK GIRL; crew member of the T.J. Lazer show-within-a-movie from ROBOCOP) and written by Melissa Rosenberg (STEP UP) from the novel by Stephenie Meyer.
Isabella "Bella" Swan (Kristen Stewart, PANIC ROOM) moves from Phoenix, Arizona to Forks, Washington to live with her dad (Billy Burke, DRIVE ANGRY, FREAKY DEAKY), who is the chief of police. This is not a necessity, but a self-sacrifice – she doesn't like this gloomy town that she's visited off and on throughout her life, but she wants her mom (Sarah Clarke, THIRTEEN, married to Xander Berkeley in real life) to be able to travel around and have fun with her second husband (Matt Bushell, S.W.A.T.: FIREFIGHT). This girl likes to martyr herself.
So she pouts her way to her first day of class, where she immediately makes friends with Jessica (Anna Kendrick, who at the time had only done two theatrically released movies). Early on it's a normal high school movie. Jessica shows her the ropes and welcomes her to a group of friends including Angela (Christian Serratos, Rosita from The Walking Dead), Eric (Justin Chon, REVENGE OF THE DRAGONS, director of a movie called GOOK that I heard was good), Tyler (Gregory Tyree Boyce, no other credits) and Mike (Michael Welch, ALL THE BOYS LOVE MANDY LANE), who seems pretty presumptuous about making Bella his girlfriend.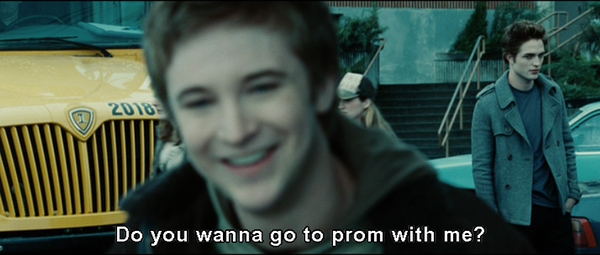 You get the standard scene where she sits in the cafeteria and her new friends point out various people in the school as they walk by. Normally this involves explaining who the different cliques are (see CLUELESS for a famous example, or DISTURBING BEHAVIOR for an extra-obnoxious one), but that doesn't really seem to be a thing at Forks High School. There's just a family called the Cullens who look like rich weirdos, and then a couple other people.
Bella claims to hate "cold wet things," in the tradition of Anakin Skywalker hating sand, but that's gonna change. As we know from general pop culture awareness, she falls for Edward Cullen (Robert Pattinson, THE ROVER, died in one of the HARRY POTTERs), a hunky dude with hypnotically thick eyebrows. Her longing stare at him across the cafeteria is comically intense, and to her shock she finds herself sitting next to him in biology class. Good news for her: there's a fan on to glamorously blow her hair, J-Lo style, as she walks in. Bad news: as soon as she sits next to him he looks like he's gonna puke. His reaction is so over-the-top she has to check to make sure she doesn't smell.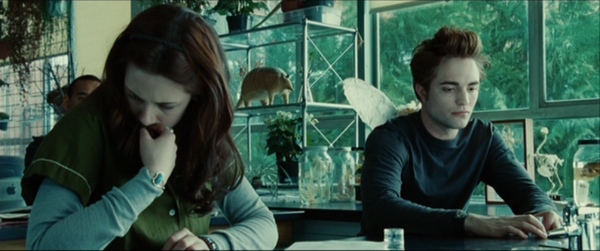 Then he dismisses himself and doesn't come back to school for a week.