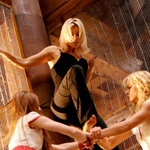 DOA: DEAD OR ALIVE is the name of a tournament where the best fighters from around the world are invited to come stay on a remote island where they are pitted against each other in un-refereed fights with few rules. It's like Mortal Kombat except not interdimensional, no monsters, during daylight, and not to the death. So they probly could've picked a better name. Maybe just "A."
They're wedded to this DOA title, though. They got the logo on parachutes, computers, signs, even a volleyball. That's the kind of island we're dealing with here, it has custom made non-tournament related sporting gear. These are professionals.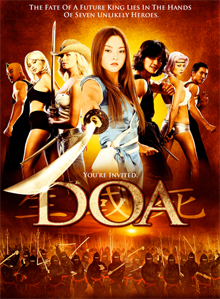 The fights are co-ed, but mostly women, with the guys mostly being kick-fodder. Most of the fighters have an ulterior motive to be in the tournament. There's Christie (Holly Valance, TAKEN), a thief, and her male partner Max (Matthew Marsden, RAMBO), who are really there to steal treasure. (Max is a sissy who somehow tricks his way into the tournament and then Jar-Jars his way through the fights, suggesting a certain level of incompetence in the recruiting for this particular elite tournament.) Then there's Kasumi (Devin Aoki, 2 FAST 2 FURIOUS), a ninja/princess searching for the truth about her presumed-dead-from-last-DOA-tournament brother Hayate (Collin Chou from the MATRIX sequels). Hayabusa (Kane Kosugi – yes, one of Sho Kosugi's sons), is a ninja servant there more to keep an eye on her than to compete. Tina (Jaime Pressly) is a famous wrestler who wants to prove she can really fight, and her dad (Kevin Nash, MAGIC MIKE) I guess is there to protect her. Important stuff like that.
There are some other throwaway characters like Zach (Brian J. White), portraying that beloved archetype The Black Guy Who Charmingly Hits On the Women Even Though They Hate It (see also Damon Wayans in GI JOE).
Another way it's like MORTAL KOMBAT: it's adapted from a video gamical work. This is not one of the Uwe Bolle video game pictures, it's one of the P.W.S. Andersons. It even has his male muse Robin Shou in a cameo as a pirate who makes the mistake of boarding Tina's vessel without permission. But Anderson is only producer, the director is Corey Yuen (FONG SAI YUK, THE TRANSPORTER, NO RETREAT NO SURRENDER). It's still cheesy, with all kinds of obnoxious on-screen graphics, split screens, whooshes, and terrible music that's trying to tell you both how awesome everything is and how funny it is. I would've preferred MORTAL KOMBAT's serious drums and guitars, that would've been funnier.
But Yuen delivers the goods in ridiculous action of the wire-fu, fuck gravity, gimmicks over realism variety. Lots of bad green-screening so people can do things in mid-air, a scene where three women toss and pull each other like aerialists to climb a structure as a team, a guy who grabs flying needles out of the air to do acupuncture on his enemies. I love this type of shit. It's actually alot like McG's CHARLIE'S ANGELS pictures, but with a little more emphasis on the PG-13 titillation.
I knew there was something about volleyball in this movie. I looked it up and I guess this series of games was known for its big-breasted female fighters, so they did a spin-off called Dead or Alive Xtreme Beach Volleyball. The movie responds by having the ladies play volleyball in one scene. This is definitely a clothed-T-&-A movie, but I don't think it's exploitative. The actresses aren't my type but they become sexy by how knowing and game they are about the teasing aspect. The movie has a sense of humor about throwing in gratuitous butt shots and stuff. For example when they're climbing up each other and somebody grabs onto the back of Tina's jeans, accidentally giving her a plumber's butt crack.
Maybe the scene that sums the movie up best is the intro of Christie. She's apprehended by police while in a hotel room wearing only a towel. She catches them off guard by making a big show of pulling her panties on in front of them, then when a cop tries to pass her her bra on the tip of his gun she kicks both out of his hand, puts her arms through the bra straps in mid air, catches the gun and uses it to make the cop hook her bra for her. Teasing + fighting – physics = entertainment.
Another factor we have going on here: Eric BEST OF THE BEST PARTS 1-2 Roberts as Dr. Victor Donovan, the mysterious high roller running the tournament. He has long hair and acts cool but is comfortable in Seagal-style embroidered silk Asian numbers. At first there's also a bubbly blond on rollerblades (Sarah Carter, WISHMASTER 3: BEYOND THE GATES OF HELL) welcoming everybody to the island in the style of an Access Hollywood type TV magazine show, but then she enters the tournament and they try to maker her a relatable character.
I wasn't surprised that Dr. Donovan turned out to be evil, but I was surprised his plan was to use nanobots injected into the fighters' bellies to record their fighting styles and project them into hi-tech sunglasses that make him the world's greatest warrior. His downfall I think he should've foreseen: the glasses getting knocked off him in a fight. Should've let go of his vanity and put on one of those dorky straps:
Like the CHARLIE'S ANGELSes it's knowingly silly and superficial, and enjoyably sweet natured. The women each have their own storyline going on and they're supposed to compete, but they end up having each other's backs.
I guess the ninja princess deal is the most involved of the different stories, because there's the princess, the guardian, the brother and also a purple haired lady (Natassia Malthe) who is not part of the tournament and was her close confidante but has followed there to kill her for leaving the clan. There's this whole thing where if she leaves the palace she'll become a "shinobi" and they'll have to kill her due to some honor thing. But doesn't shinobi mean ninja? Are they confusing it with ronin or something? I don't buy it.
But I don't expect white people making movies based on video games to know any more about ninjas than I do. The screenwriters are American: J.F. Lawton (UNDER SIEGE) and David & Seth Gross (Bill Nye the Science Guy). I like how the international nature of the video game industry leads to these weird cross-cultural movies. I'm guessing this was a Japanese game, 'cause there's ninjas and temples and a giant Buddha head on the island, but Yuen is Chinese so the fights are in the tradition of Hong Kong kung fu movies, but then it's an American production so it's Eric Roberts dressed sort of Asian, and Pressley's supposed to be a redneck…
It's a cartoonish view of the world, but kind of a nice one. The world is one big melting pot. We're all the same, even if we gotta kung fu each other.