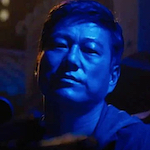 F9: THE FAST SAGA, a.k.a. FAST 9, actual onscreen title: FF: F9, is not the Platonic ideal of a FAST AND FURIOUS movie. That would be FURIOUS 6 or FAST FIVE. But if Plato is anything like me he would've appreciated this one for what it is. I don't know how much of a grump he was.
(lots of spoilers here of course)
This is the first FAST movie since 2003's 2 FAST 2 FURIOUS that's not written by Chris Morgan, instead being credited to Daniel Casey (KIN) & director Justin Lin (HOLLYWOOD ADVENTURES) with a story by those two & Alfredo Botello (uncredited revisions on TOKYO DRIFT). They've come up with a patchwork that certainly shows the dangers of a movie series going on for twenty years with at least half that time spent trying to top itself in size and ridiculousness each time out. But for me it has a much better balance of preposterous action and sincere melodrama than, at the very least, HOBBS & SHAW and FATE OF THE FURIOUS. It has more and better spectacle than your average movie, but also requires that you like the characters and themes of the series to enjoy it. In fact, in between a car somehow Tarzan-swinging across cliffs on a rope and another one being (as you've surely heard) launched into space, you're gonna spend a surprising amount of time in 1989 when Dominic Toretto's dad (J.D. Pardo, THE TWILIGHT SAGA: BREAKING DAWN PART 2, SNITCH) was killed in a racing accident and Dom went to prison for beating another driver (Jim Parrack, FURY) with a wrench.
Of course, part of the reason for that is to explain how Dom (Vin Diesel, STRAYS) and Mia (Jordana Brewster, THE TEXAS CHAINSAW MASSACRE: THE BEGINNING) have a never-mentioned-before brother named Jakob (John Cena, BUMBLEBEE), who Dom basically excommunicated from the family but who is now an agent of Mr. Nobody (Kurt Russell, hopefully paid handsomely for his half day of work here) gone rogue and has teamed with dictator's son Otto (Thue Ersted Rasmussen) to try to get a hold of the two halves of a key that form Project Aries, a device that, you know… conquers the world or whatever. With a satellite. And hacking. If you upload it or whatever, one of those type of deals. So Roman (Tyrese Gibson, DEATH RACE), Tej (Screen Actor's Guild Award Winner Chris "Ludacris" Bridges, HUSTLE & FLOW) and Ramsey (Nathalie Emmanuel, Hollyoaks) show up at Dom and Letty (Michelle Rodriguez, RESIDENT EVIL)'s remote farm house and convince them to come drive cars/save the world, etc.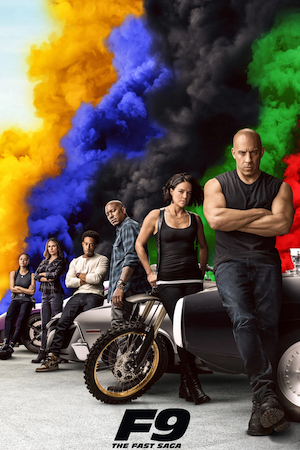 I had fun all the way through the movie, but for a while I kept thinking about how much they've definitely pushed this too far. It's been silly since the beginning and I love that about it, but after a series of dialogue dumps needed to explain a bunch of twists and backstory about… some fucking spy shit about some fucking device? You know, I like that the series has evolved, but when these were about outlaw street racers with good hearts committing crimes they were more entertaining, more different from the other shit out there, and therefore contributed more to humanity than this spy movie stuff. And also the xXx series was created for that. Ask any scientist. It's a fact.
But at the same time I was kind of surprised how slow and character-melodrama-based they were willing to start out. Treating the backstory of Dom's dad and why he went to prison like it's the Clone Wars – a thing we heard about in an earlier movie that we never thought we needed to know more about. At first I was surprised that Diesel didn't insist on de-aging to play young Dom, which could've been a delight. But it's not just one little flashback, it's pretty extensive, so they have Vinnie Bennett ("Rookie Cop," GHOST IN THE SHELL) as Young Dom and Finn Cole (Animal Kingdom) as Young Jakob.
I was honestly thrilled when I realized that these young versions were about to have a street race. Though of course it's a prequel, taking place some time in the '90s, it's also a throwback to the first three movies in the series, 15-20 years ago, in which scenes like this were a staple. I was also excited to spot someone I correctly guessed was Young Vince (Matt Schulze's character in parts 1 and 5). And I was excited just to see the traditional "woman starts the race" even before I realized that was supposed to be Letty! She has camo pants 'cause I guess it was too early for her platform boots and round sunglasses phase of 2001.
So as much as the movie seems overblown and silly beyond the point of no return it also has these full-on Young Fast & Furious Adventures throughout the movie, which are 100% sincere and non-jokey in the spirit of the first movie, at the same time as being a goofy thing we haven't seen in any of the other ones. And they culminate in a scene where present day Dom super-hero fights a riot squad and collapses a building on them, thinking he's sacrificing himself to protect Letty, and he has a near death experience that basically causes him to travel through time, witness his father's fiery car crash death from a different perspective and come to a different understanding about his brother.
Soon after that we have the long climactic set piece that brings the whole movie together, a sort of evolution of the classic FAST FIVE safe sequence or FURIOUS 6 tank sequence crossed with the endless runway chase, this time involving multiple cars armed with powerful magnets chasing a long armored vehicle. And this is something I love dearly in movies – the action climax that's also the emotional climax, when (THIS IS A BIG SPOILER) Jakob is betrayed by his fellow evil motherfuckers and has to fight them, and he falls off but Mia catches his hand and pulls him up, because even though he's the bad guy, he's her brother. She tells him to go, letting him take her (magnetically attached to the vehicle they're on!) car, in what I initially saw as a callback to Brian letting Dom go in the first movie. And then (this is some Justin Lin genius here) Dom drives up so the two feuding brothers are able to glare at each other in two cars moving high speed but facing opposite directions. After having driven away, as if trying to escape, Jakob suddenly zooms in to help Dom with a multi-car maneuver to flip the vehicle they're chasing, causing it to flip up completely vertical and then slam down in a move I suspect was intentionally designed to look like a suplex.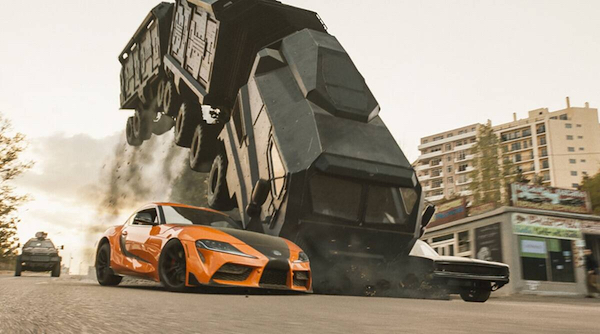 I really like the way the final step, when they use explosives to penetrate the bottom of the vehicle, plays out silently beneath Roman talking from orbit, making a decision to possibly sacrifice himself for the greater good. But it's odd how it kind of buries the crucial moment when Dom and Jakob perform the FAST & FURIOUS tradition of climbing from vehicle to vehicle together.
Yes, it's true, Roman and Tej have to fly a car into space. I know everybody thought that would be funny, and it kinda is, but to me the exciting part is that it's tied to the long-awaited-by-me return of TOKYO DRIFT lead Sean Boswell (Lucas Black, THE X-FILES) in something more than a cameo. Accompanied by his Tokyo high school friends Twinkie (Shad "Bow Wow" Moss, "Kid Jumping On Couch," Gin & Juice segment, MURDER WAS THE CASE: THE MOVIE) and Earl (Jason Tobin, BETTER LUCK TOMORROW) he now builds rocket cars in Germany for some reason. At first I was concerned that Sean was following the same pattern as Roman, Hobbs and Shaw of starting out as a real character and then deciding to only do wacky shtick. But at least it's in line with some of the self-deprecating humor that leavened his mostly earnest leading man role in TOKYO DRIFT and made him so fun.
(But is someone else the D.K. now? Did he lose the title? Did he retire? Did he abdicate the throne?)
(Also I genuinely hope they bring Brian Tee's D.K. character back in the next one. He was a dick then but people change. He's a cool actor and his driving could just be constantly drifting. And he might bring Sonny Chiba with him.)
So yeah, Roman and Tej go into orbit in a space hooptie to magnetize a satellite. It's unclear what their original plan for re-entry is, but they figure something else out. The jokiness (like some shit about Roman eating lots of candy?) is of questionable quality, and I kept thinking that when people said they wanted FAST to go into space weren't they picturing it being done with a straight face? Wouldn't that be way more delightful? But there's a dumb moment that kinda made me accept it for what it was. Down on earth all this other shit is going on with the magnet cars and trying to stop a download or whatever and the team's lead hacker Ramsey is doing the looking-at-computer-screens-and-saying-jargon-over-the-radio duty, and gets on Roman and Tej about not having destroyed the satellite yet.
You see, her two close friends were given scuba helmets, put into a souped up car and launched from a Stealth jet into space by three goofball middle aged recent high school graduates, and instead of worrying about their safety she snipes at them because she assumes they must be fuckin around up there. So that was the deadpan ludicrousness I was looking for. That sold it for me.
(It would also be funny if they ran into the EXPLORERS aliens up there.)
Back in September of 2020 Michelle Rodriguez did an interview where she accidentally revealed that yes, somebody goes to outer space in this one. It had been rumored or joked about enough that some guy called The Jesse Cagle Show asked her and she said, "How did you guys find that out? Man, when a movie doesn't come out. Forget about it. Things get out." The clip made the rounds (I saw it on Screen Crush) and taken as confirmation. I honestly thought she might be joking. But to me the real news in the clip came when she was talking about wanting to improve the writing for female characters in the series and how Lin brought on a female writer to help with that. She doesn't exactly name the script doctor, but raves about her, says she's African American and "from the hood" and that she worked on Westworld. But also, apparently forgetting that she wasn't naming the writer, refers to her as "SLP."
So you know me, I tried to figure out who this writer is that she's talking about, and I came up with this theory that it could be Suzan-Lori Parks, Pulitzer Prize winning writer of the play Topdog/Underdog. She mostly works in theater, but she wrote Spike Lee's GIRL 6 and Lee Daniels' THE UNITED STATES VS. BILLIE HOLIDAY and she's the writer and showrunner of the Aretha Franklin season of Genius.
There's one big hole in the theory: she's not credited as ever working on Westworld. But she does use the nickname SLP (I heard Lee Daniels call her that on a podcast), and I haven't been able to find any other writers (including those on Westworld) with those initials. And since Jeffrey Wright was one of the two original stars of Top Dog/Underdog, there's a connection to explain why she could've been brought in to do uncredited work on that show. So I believe it's possible that a Pulitzer Prize winner for drama was brought in to improve the female characters in F9. Or at least make Rodriguez happier about them.
I thought about that in the scene where Mia and Letty sit down together at an outdoor cafe in Tokyo. They're talking about Dom and Jakob and Han but then Mia asks Letty how she's doing and she opens up a little. It seems like a self-conscious decision to pass the Bechdel Test, but it's a nice moment. Actually a thing I really liked was at the beginning when the crew find Dom and Letty at their off-the-grid-child-raising farmhouse and tell them about the mission. Dom turns them down, but Letty decides she has to do it, gets on her motorcycle and goes. Man, it is always the guy being stubborn and code of honory and the woman worrying about safety and being reasonable and taking care of children. I loved that they flipped it. (And Letty gets some good motorcycle action.)
I think I speak for all of civilization when I say that the main selling point for this one was that they brought back Han (Sung Kang, BULLET TO THE HEAD), previously killed (in the same incident) in parts 3 and 6. First it was just a car crash and then we learned that Deckard Shaw purposely crashed into him and blew up his car to get back at Dom for busting his brother, and this time we learn that in fact Han needed to hide out because of some other shit and used that to fake his death. I love that this one event has now been ret-conned twice, so when we watch TOKYO DRIFT we can now picture that Jason Statham and Kurt Russell are both there during that scene, just off screen.
(Of course, when I think about it I'm still unclear what happened – Shaw must've really been trying to kill him, but Mr. Nobody saw it coming and knew exactly where it would happen and that Han could crawl out unseen?)
But the point is Han is back, and this is one of the few action franchises that trusts the audience to want to see alot of hugging. Everybody here believed Han was dead for years, turns out he's not, so they gotta hug him. When Dom first sees him there's some tension there, seems like he may be rightfully mad about being misled and put through that. But then he just comes over and gives Han a big long hug. And Jakob is in a holding cell, watching this through a little window, enraged that his biological brother has this brotherly connection with someone not blood-related. The lack of subtlety made me chuckle, but also reminded me why I love these movies.
Part FATE is not one of my favorites of the series, but I seem to have enjoyed it more than some. Still, I think Lin brings much more excitement to the action scenes. In the first movie they had straight up jumping-from-a-car-to-a-truck type stunts, these days I'm sure there's even more stuntwork involved, but it's combined with a huge amount of effects work to do the not-even-pretending-not-to-be-impossible. So there's a Dom vs. Jakob rooftop chase scene that turns into jumping across the tops of vehicles. Dom hangs off the back of a bus so it's a little bit Jackie Chan, but mostly it seems like an intense game of Frogger.
I really appreciate that it stays very true to the rule I have believed since FURIOUS 6, that no matter how far a body is catapulted or dropped, as long as it hits a car on the way down it's okay. It reminds me of childhood playground rules like "the cement is lava" or "I have a force field." Touch a car on the way down and you're safe. It happens multiple times in this, and I love it.
It also occurred to me that the kind of stuff that was amazing but also very artificial looking in the freeway chase of THE MATRIX RELOADED is now expanded on pretty effortlessly here. If anybody has a time machine that they don't mind using for frivolous things, please go back to 2003 when 2 FAST 2 FURIOUS came out a month after THE MATRIX RELOADED and tell me, "Just you wait until FAST AND THE FURIOUS PART 9." I'll assume you're making one of those hacky jokes like, "I like some horror but not like SAW part 32 or whatever they're on ha ha ha wouldn't that be crazy."
Let's talk fashion for a minute. I love the implication that Mr. Nobody captured Cipher (Charlize Theron, 15 MINUTES) and allowed her to remain in her amazing red leather pants, black tank top and sports coat ensemble, and then when her ownership was transferred to Jakob and Otto they still let her look amazing while on display in the middle of a hangar in a Magneto cage. (How does she go to the bathroom though?) Theron is one of the best actors of her generation and maybe it's kind of a shame that they have her doing bullshit like messing with Jakob's head and/or providing backstory by psycho-analyzing him as jealous of his brother. But also it wouldn't be as cool if it was anybody else. She makes it fun. Especially the wink.
Furthermore, I genuinely love that in the jungle sequence early on, when they're going to find Mr. Nobody's plane knowing full well they may be attacked by the military, Dom chooses to go in a white t-shirt and jeans. With few exceptions this holds up for the whole family through the movie. Jakob and his team are kitted out with black armor, boots and weaponry, but our guys are like no, fuck that, I'm wearing my cool jeans and leather jacket or whatever. It's great because #1, these movies absolutely do not need the quasi-realism that most action movies feel is important, #2 it's a nice rejection of the genre's standard fetishism for military gear, and #3 it makes it easier to tell who's who. Dom is the one wearing the white shirt. Easy to spot.
Also a drawback of wearing all that kevlar and shit is that it clutters your physical form. So Martyn Ford, the main opponent in BOYKA: UNDISPUTED (also in ACCIDENT MAN and FINAL SCORE) plays Otto's main bodyguard, and he looks pretty tall, but you can't tell that he's a 6'8" 320 pound Incredible Hulk and a Bane melted together into one giant mass. (Or maybe he slimmed down?) He has a good fight though, against (SPOILER) Jakob on top of a moving truck and involving some wrasslin' type moves.
One of the minor series characters who shows up unexpectedly is Shea Whigham (BAD LIEUTENANT: PORT OF CALL NEW ORLEANS)'s FBI agent character Stasiak. But I guess it's been a while since I watched part 6 all the way through, because it wasn't until afterwards that I realized his crooked nose bone was a joke about the fact that Brian O'Conner broke his nose in parts 4 and 6. I was worried that Whigham had gotten himself into some trouble!

How do I review F9 as a movie when it's not just a movie? This was a long anticipated life event for many reasons. There's the fact that it's the ninth or tenth installment of a series I've been loving since whenever I saw the first one on video (so, something close to 20 years). It also marks the return of the series' best director Justin Lin after an 8 year absence (his last time, FURIOUS 6, being my favorite). And we knew he'd brought Han with him.
And of course when it was almost upon us there was, you know, the whole global pandemic thing to delay it. In my movie-damaged brain that's actually a major point on the Covid-19 timeline, because after the James Bond movie was postponed a few months, F9 surprised everybody by pushing its date back an entire year. That was honestly one of the first things to make me realize how serious shit was getting (although at the time I naively thought it was about the Chinese box office and not the whole world). THE FAST AND THE FURIOUS knew what was up before most of the world. Definitely most of this country.
I was glad they didn't dump it to streaming like some would've-been event movies. I didn't want it it in my living room yet. That's for later. The Fast Family projected on a screen was the light at the end of the tunnel for me. I'm not exaggerating when I say that when vaccines became available my only time consideration was being fully vaxxed before June 25th.
I believe it's safe for fully vaccinated people to go to movies, but the building was mostly empty anyway. A little sad not to experience with a real crowd, but at least I got to be back in my church. And I feel like I neither let the movie be crushed by impossible expectations or overly elevated because it was my first time in a theater since THE INVISIBLE MAN about 16 months ago. (Not that the latter would've been bad.)
Mrs. Vern had some uninitiated co-workers asking which couple of FASTs they could watch over the weekend if they wanted to go see this. I just couldn't answer. It's most closely connected to part 1, but I think you'd get whiplash jumping directly from that straightforward street-racing-POINT-BREAK-ripoff to this international absurdist soap opera theme park ride. It brings back four characters from 3, but the more relevant part of the Han story happened on the end credits of 6. You'd have to see 7 to know what the fuck Mr. Nobody is all about and 8 for Cipher. And I guess you don't need to know when and how Letty lost her memory, but that might raise eyebrows when it's mentioned.
My point is I don't really know how to discuss these without assuming I'm talking to someone who has seen all the previous ones (or at least most of them), just going through a list of elements and discussing them. But if this review is long and uneven and all over the place but pretty fun if you're into the shit then consider it my impression of the movie.