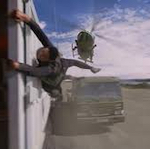 CARTER is a new South Korean action spectacular just released on Netflix today. It's a real runaway roller coaster, bowling ball rolling down a steep hill, adrenaline jolt type of movie, so in that spirit I'm gonna try to plow through a review and get it up real fast, like in the old days.
I'm not always on top of the South Korean cinema, but this one is from director Jung Byung-gil, whose THE VILLAINESS (2017) ranks high for me in the list of the best action movies in the last decade. CARTER is in some ways not as good, but it's even more action-packed and technically awe-inspiring, so I absolutely recommend it.*
*To most people. Some restrictions apply, see later in review for details, ask your doctor if CARTER is right for you.
Joo Won (FATAL INTUITION) stars as Carter Lee, a guy who wakes up face down in a hotel room surrounded by gun-pointing CIA agents. He has a freshly stitched-up, cross-shaped wound on the back of his head, and there's a trail of blood leading from under the covers across the floor. He doesn't remember who he is or what the fuck is going on, but the agents show a video of him holding one Dr. Jung Byung-ho (Jung Jae-young, SYMPATHY FOR MR. VENGEANCE) hostage and saying to come get him in that hotel room.
As if that's not enough drama for one morning he suddenly starts hearing a woman's voice from an implant in his ear telling him what to do – starting with jumping out the window because the place is about to explode. So, you know, he's only wearing thong underwear but he runs and leaps through the glass and and drops through another window into a bath house where some mobsters are torturing a guy and they have all their weapons laid out next to the tub so he ends up in a very long battle running around fighting and slashing dozens of naked or nearly naked attackers with a scythe. And it continues in that vein, but with some spy shit mixed in. One of those types of movies.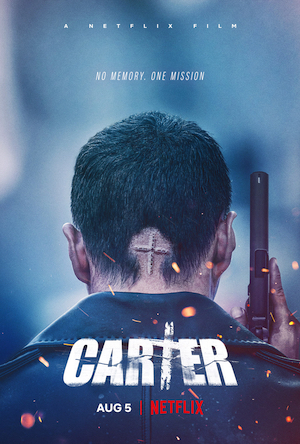 There are several stretches of the movie that do slow down to breathe, talk, and provide exposition. Arguably some of those are too long. But most of the 132 minute running time is given over to breakneck, ultra-violent, ridiculously ambitious action set-pieces. Much of the convoluted background of what the fuck is going on has to be decoded in the background of that, which can be disorienting. What we know at first is that a deadly pandemic originating in the DMZ has spread across the globe, Dr. Jung managed to cure his daughter Ha-na (Kim Bo-min) and is transporting her to mass produce an antibody treatment in a plan negotiated between North and South Korea, but they've gone missing. Carter is trapped between the CIA and a North Korean coup, not sure what side he's supposed to be on or who he can trust, but he decides to go along with the lady in his ear, Han Jung Hee (Jeong Sori, I think), and bring Ha-na to her.
The main reason for CARTER to exist is also the reason some people will absolutely hate it: it's an excuse to take the knockout action cinematography/choreography/FX work of THE VILLAINESS to even higher levels of quadruple backflip show offery. My friends who can't stand moving cameras should never, ever think about watching this, because the opening ten minutes alone would literally kill them and send them to Hell for the sin of not appreciating outstanding craftsmanship.
If by any chance there was a worldwide shortage of cranes, gimbles, drones or steadicam rigs in the past year or so, the production of CARTER would be my prime suspect. The movie is presented as one (obviously not really) continuous shot, but I actually didn't pick up on that until surprisingly far into the movie. The numerous times the camera U-turns to watch the battle from another angle, or swoops up into the sky to look down on it from above, or dives down under a vehicle to watch from under the chassis for a bit, or zooms in on something important like the hitch about to stop holding two train cars together, basically act as edits. So we get the visual storytelling provided by a series of images without the chaos of fast edits that muddy up so many action scenes.
That won't be much consolation for people who are sensitive to movement or who will dismiss it on the basis of the many times when the digital effects can't live up to the brightly lit, realistic look of the movie overall. There's an omen close to the beginning, a very cool transition where the camera is following a squadron up some stairs but then goes up into the sky to follow a bird, and the bird looks like an unfinished effect. There are many other times where the digital stitching of shots is very noticeable, or where the physics of a flying person or vehicle in a bullet time type shot just look off and give it a video gamey sort of jankiness. So obviously the people who so often think the Hollywood movies with gigantic budgets look too fake will have a problem with this one. I'm not that guy, so I was able to roll with it.
I mean, I would love if this all looked 100% convincing, but being as that's not the case, I would rather they had these incredibly cool shots that look phony than just calm down and do a normal movie. I mean I like the Robert Zemeckis-ness of it. When an admittedly phony looking multiple motorcycle pileup turns into a fiery explosion as they tumble down some stairs, the camera follows a flaming tire rolling away and down into a river and then meets back up with Carter escaping on the other side.
The way the camera constantly flies around and spins and twirls will surely make some people dizzy. It got me for a second in the part where he's winding through alleys on a stolen Papa John's delivery scooter (with bare feet – he's wearing only underwear and a leather trench coat he found). But I swear I had no problem following this. It's flying around like a rocket but it's not shaky and it's not chopped up so it's almost literally like a ride. I found it absolutely thrilling.
Anders aka @pod-hard on Twitter had a good way of describing CARTER on Twitter:
https://twitter.com/outlawvern/status/1555675592258859009
I was thinking of it as a '90s Hong Kong BOURNE IDENTITY with the energy (but not douchiness) of CRANK and the camerawork (but not artiness) of ENTER THE VOID. And it reminded me of the constant momentum and innovation of HARDCORE HENRY, except on a much bigger scale, and without the problem of not being able to see the protagonist's expressions and poses (which caused me to turn that one off). It's also a child of the freeway chase in THE MATRIX RELOADED, benefiting from the technical innovations of FURY ROAD. (I wish the score was more like the techno of the former than the escalating bombast of the latter.)
So it's an insane spy movie with exploding phones and molar bombs and fighting and stabbing and shooting on almost every conceivable type of vehicle (car, scooter, truck, bus, van, motorcycle, train, plane, helicopter) except for water ones. Save that for part 2 I guess. Since we can't have that yet, we throw in some rage zombies for good measure. Sometimes on fire.
It's hard to convey just how much action there is in this and just how ambitious it is. One of the most famous sequences in THE VILLAINESS involved a sword fight on motorcycles (later heavily homaged in JOHN WICK CHAPTER 3). Here Jung expands on that in an incredible motorcycles vs. van chase/fight/shootout with lots of FAST & FURIOUS style jumping or hanging from vehicles, a DOBERMANN style face-scraping, and the camera hovering and in out of the open doors on either side of the van. At one point (through movie magic) there are three vans driving high speed next to each other with their doors open, and he's leaping freely between the three of them fighting multiple enemies. Meanwhile many of his pursuers meet their doom in spectacular ways like when a motorcycle crashes and flies in the air and smashes into the window of a bus, causing the bus to skid out and roll onto its side, in turn causing several more motorcycles to crash into it and hurl into the air.
That's in the first half of the movie. Shit gets even crazier. When Carter is taken onto a jet you know there's gonna be a big fight and a very long skydiving scene. I liked the one in THE GRAY MAN, but this one is way more elaborate, with a weird mix of yeah-that's-obviously-an-effect and wait-a-minute-is-this-part-real? He has to jump without a chute to steal both Ha-na and a chute from another guy. And they're shooting at each other in mid-air but it's pretty hard to hit under those circumstances. And also there's a knife fight and they're dodging some flaming debris from the plane.
The final transition to the ground is very fake looking but then they land in the back of a pig farmer's truck for the best and most MAD MAX-esque part of the movie. Motorcycles chase the truck, the driver gets shot, little Ha-na has to steer over his body while Carter fights some guys in between the pigs. He kicks a guy through the tailgate, a bunch of the pigs fall out, a motorcycle with a sidecar hits one of the pigs and is upended…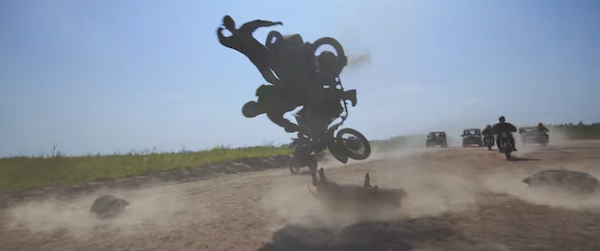 …another motorcycle crashes into that motorcycle and the driver rolls off, then a Jeep hits the first motorcycle, is launched into the air and lands right on the driver of the first motorcycle!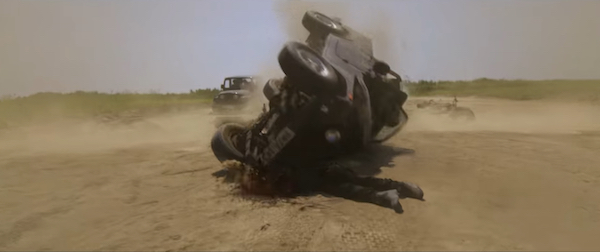 The amount of imagination put into all the gnarly shit that happens is straight up sinister. If you, like me, admire the audacious excess of BAD BOYS 2's corpse dumping bridge chase, here's something kinda like that that's actually a coherent and thrilling action sequence to boot.
And there's even more where that came from. Just little things that happen casually. Like when they're escaping in a Jeep through a tunnel and zombies mob the vehicle but another zombie runs up behind them firing two pistols and as they drop starts running on all fours but another guy runs up and shoots him in the head but as he falls he shoots up and hits that guy in the head. Or in the bath house scene when Carter punches a guy who's holding a blade and that guy falls over and accidentally stabs the guy they have hanging upside down. It's not the type of action where it's the same shit over and over – guns guns guns, punch punch punch. It's voluminous variations of crazy shit. I'm not even gonna get into the part where they're hanging off of and jumping to and from helicopters. Or several other sequences.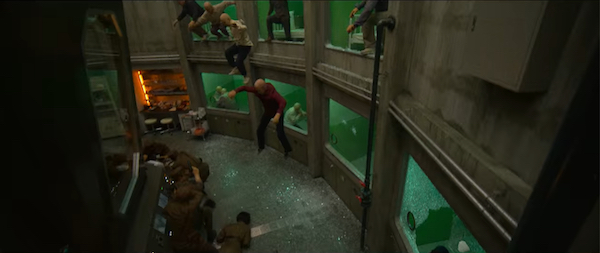 I like a movie that has a healthy respect for jolts of random chaotic mayhem. Here, for example, peaceful moment in nature is interrupted by a glob of zombies pouring down a waterfall. But ghouls are not needed for shit to pop off. In the bathhouse sequence, after Carter seems to have won and drops to his knees to catch his breath, the camera does an EVIL DEAD swoop through all the bodies and injured people all the way to the other end of the building, where it meets up with the high-out-of-her-mind naked woman we saw puffing smoke when we first came in, now holding a gun and shooting people as Carter finds the exit. (To a stairway where he will battle another swarm of people and get knocked out of a window and break his fall on the guy who falls before him and bounces [very unnaturally] off a passing car.)
I'd even say there are some settings and surreal touches that qualify as smart. Carter gets cornered while cutting through a cheesy haunted house maze in a warehouse, surrounded by fake corpses in coffins and stuff, but then there's an explosion so when he leaves he's stepping through actual puddles of blood and over actually mangled bodies. Another one is when he and Ha-na blend into a street protest where everyone is wearing paper masks of Ha-na and Dr. Jung. So Ha-na puts on a mask of herself and Carter, who's sort of protecting her like a father, puts on a mask of her father.
IMDb is light on credits for this, and most of them on the movie are in Korean, so I don't know who to credit for the action choreography/direction. But one credit that's in English is for stunt coordinator Simon Rhee – Dae Han from THE BEST OF THE BEST 1 and 2! (He also plays a bus passenger, but I didn't spot him.) There are so god damn many stunts to be coordinated that I gotta assume he's a stunt coordinator and not the stunt coordinator, but whatever he did, good for him!
By the way, this is one of those weird-ass international co-productions I love so much. He's not listed on IMDb yet, but there's a whole sequence where Carter gets captured by the CIA and has to listen to a big English-language monologue from Luke Cage himself, Mike Colter. Then a more sympathetic American played by Camilla Belle (THE LOST WORLD: JURASSIC PARK, THE PATRIOT, THE QUIET, 10,000 BC) tries to help him.
With so much of this happening outside in the daylight I don't think this looks as stylish or atmospheric as THE VILLAINESS, and because it's trying to do so much more with its FX-integration it ends up looking cheesier at times. But occasionally I think there's an added value to the artificial-ness. Belle's big scene is a conversation with Carter as the camera rotates around them standing in a moving bus. The rain and tinted windows give it an obvious rear projection look, but as her heart breaks at the realization he doesn't remember her the camera stops on her face, her surroundings go out of focus and the outside world looks almost black and white.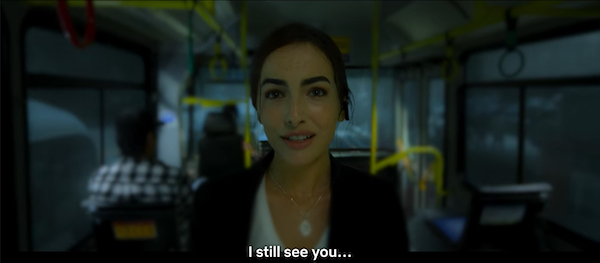 A similar approach is used for the scene where Carter finally gets his memories back. The doctor injects him inside the Jeep, the camera rotates around to his face, and he looks more saturated than his surroundings as it hits him.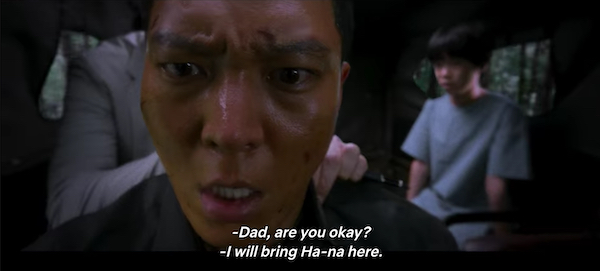 There is some ambiguity, though, about whether those are his real memories. If Belle's character (named Agnes according to IMDb) and Hee are both telling him the truth, then he was a CIA agent named Michael Bane who became a spy for South Korea and fell in love with Hee while undercover in North Korea. But before that he would've been in love with Agnes, who swears she knows him better than "that voice in your ear," i.e. Hee, so it's tragic for her. But I think the movie hints at possibilities that Agnes could mistaken about his identity (I don't believe we ever hear the DNA test results that she promises will prove her right) and/or that his recovered memories are not really his.
As you can tell from that description, the story is just as convoluted and hard to follow as THE VILLAINESS. And it even shares the themes of changed faces and deep undercover missions and unexpected love. However, THE VILLAINESS has the benefit of so much melodrama that you (or at least I) become emotionally attached to the protagonist early on, helping you to hang on when you're lost. CARTER is a little more challenging in that the story requires him to be a total cipher, and for neither he or us to understand what's going on much of the time. So I imagine the stupendousness of the action scenes will be lost on some people in a way they wouldn't if the story allowed us to be more engaged in the character from the beginning.
But in the end the answers are given, the bigger picture becomes clear, and becoming emotionally invested is the payoff. I wasn't sure it was gonna work for me, but it did.
I'm sure some will dismiss CARTER as a demo reel for the action team. Okay, that's probly not too far off, but it's a demo reel that's better than the average action movie. Maybe the English language scenes were even meant as practice for Hollywood. I read that Jung is attached to a post apocalyptic comics adaptation starring Gerard Butler (which sounds pretty cool), but I'm unclear if that's really still happening or not. I don't need it to, because generally these sorts of talents are wasted on American movies. On the other hand, if a FAST & FURIOUS or a Marvel movie had a couple of setpieces done on this level it would absolutely blow people through the back wall. They would think it was the greatest thing they'd ever seen.
Vote Carter.