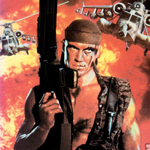 This year my summer review series will be a little different. I knew I had to write about the 30th anniversary of a certain culturally phenomenal event movie that gave the town of Hollywood an enema, taught us to keep bustin and set us on a path to pretty much our entire current era of entertainment. And when I looked at the other movies that came out that year it reminded me how different summer movies used to be, for better or worse. In those days they were less genre, less special effects, more straight ahead action. And it seems to me the summer of '89 was a transitional period bridging the prevailing action movements of its decade to those of the next. So I'm going to be taking a look at 1989: The Last Summer of '80s Action. (title pending)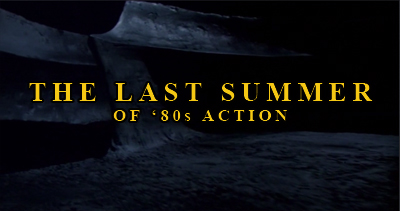 Note: To help remind you and myself what it was like back then I'll often be mentioning Billboard's #1 single for a particular week. For example, when RED SCORPION came out it was "She Drives Me Crazy" by Fine Young Cannibals.  But the truth is that's not what I was listening to at the time. To re-create my summer of '89 audio experience I'd have to get a portable radio with auto-reverse tape deck and listen to a dub of It Takes a Nation of Millions to Hold Us Back over and over all day every day.
PROLOGUE
The 1980s. A time of sweaty chests and bandoliers. Half a decade after the smash success of JAWS, summer was cemented as the go-to season for mainstream crowd-pleasing movies. For the purposes of this study I've chosen to define summer movies as anything released from the beginning of April to the end of August – the months when kids are out of school, with some leeway at the front for Spring releases intended to play well into the summer. (read the rest of this shit…)
VERN has a new action-horror novel out called WORM ON A HOOK! He has been reviewing movies since 1999 and is the author of the film criticism books Seagalogy: A Study of the Ass-Kicking Films of Steven Seagal and Yippee Ki-Yay Moviegoer!: Writings on Bruce Willis, Badass Cinema and Other Important Topics as well as the crime novel Niketown.