"Alice, have you seen my gun? I thought I packed it with the photos."
That's the first line in RED HILL. It describes kind of a random, odd occurrence, but it also tells us alot. Shane Cooper (Ryan Kwanten) is a cop, he's just moved, his gun is as important to him as his family memories– or he thought it was, but then he misplaced it. Now he's looking for it because shit, he has to get to his first day of work here in the small town of Red Hill and he's gonna look like an idiot if he shows up with no gun.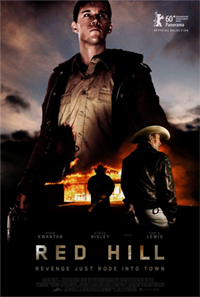 Well, that's what he ends up having to do. And we quickly learn more: his wife is pregnant, he's from a big city, his paranoia about the locals here not liking him is completely justified. In fact he meets the sheriff Old Bill (Steve Bisley) after watching his fiery town hall speech about not letting outsiders change the town. Shane walks up to introduce himself and shake hands, but Old Bill leaves him hanging, just walks past him really fast pointing at his empty holster asking, "Where's your firearm?" And not in a joking-around-with-the-new-guy type of tone.
The other cops aren't too welcoming either. They laugh at him for saying "yes sir" and make him ride a horse instead of drive a police vehicle. It's not as bad a first day on the job as that dude in RETURN OF THE LIVING DEAD, but it's pretty shitty. And while his shitty first day is unfolding there's something much more horrendous headed his way that nobody is quite paying attention to yet. First a TV report about an explosion at a prison. Then the other cops find out it's Jimmy Conway (Tom E. Lewis), a guy they busted, and they know he's coming their way for revenge. Uh, could somebody loan me a gun?
It's basically a western, a bunch of lawmen with rifles setting up strategically to take out the outlaw who's headed their way. But he's Like a Force of Nature (LaFoN), he just keeps plowing through, killing all the cops without saying a word. Also half of his face is burned (from the explosion? From before?) so he's got a good villainous look. They say more than once that "he's hunting us down like dogs!" but come on man, this guy is a killer but I doubt he goes around shooting dogs. Who does that? Nobody does that. I know I've pointed this out before, but it's worth repeating as long as this phrase persists. The truth is if he was hunting them down the same way people hunt down dogs that would mean he was petting them, talking to them in baby talk and giving them snacks. In general people are nice to dogs, in my opinion.
There's definitely a tension here, a masculinity competition. Shane's not a burly dude or anything, and he knows they think he's soft 'cause he's from a city, he doesn't know how to ride a horse, etc. But really he shouldn't have worried about that. He's the one that carries a wounded cop around on his back. He can handle himself, but some of these other guys can't. One cop misses Jimmy with six shots at close range. Jimmy fires back with more accuracy.
It should also be noted that Jimmy uses a boomerang in one scene. As I have mentioned recently, I personally believe boomerangs are awesome.
There's more to it, but it's a simple story so I'll hold back some details. But there are some themes going on about colonialism and indigenous peoples, small town people vs. city people, generational differences, changing times, shit like that. But nothing pretentious, it's all there plain as day but nobody talking about it or making a speech or anything. It's tasteful.
The filmatism is very quiet and direct, the shootouts have a realistic feel of chaos while still being visually clear. There are some really cool cinematic touches, but nothing too flashy. I liked a part where he's breaking into a car, and the POV of the shot is inside the car, so the sound is muffled until the window breaks and then you can hear all the rain coming down hard outside. And the scene where he's locked in the trunk of a car and watches what's going on through a bullet hole.
This is a good movie, and the first half or so kinda feels like a great movie. There's nothing wrong with the second half, but it pretty much goes where you expect it, no big surprises, nothing spectacular enough to take it to the next level. Well, except there's a thing about a panther on the loose. I gotta admit I didn't expect a panther in this movie, or most movies in general. Anyway, this RED HILL one is pretty good.