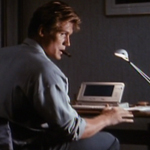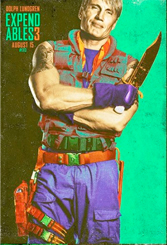 You know, if I find some funk record I never heard of I look at the year, if it came out between 1970 and 1976 then I get higher hopes. '77 and later is risky. This is a similar concept. There's still a few Dolph Lundgren pictures I haven't seen, but I figured COVER-UP was the most promising one because of where it came in his filmography: 1991, that glorious time between the late '80s and mid-'90s when American action movies were reaching their peak fitness levels, their maximum potential. Dolph did THE PUNISHER and I COME IN PEACE, then this, then SHOWDOWN IN LITTLE TOKYO and UNIVERSAL SOLDIER.
Well, turns out there's a reason why you hear those ones mentioned occasionally and this one never. It's not that memorable. But it has moments. I like moments.
It's directed by Manny Coto (DR. GIGGLES, STAR KID) who is now mainly known as a writer and producer on 24. This was probly pretty good practice for that. Writer William Tannen is usually a director, he did HERO AND THE TERROR.
Dolph plays Mike Anderson, American foreign affairs reporter covering an attack on a U.S. Navy base in Jerusalem. He runs into his ex-girlfriend Susan (Lisa Berkely). They yell at each other but agree to have dinner later. He wants her back, and she doesn't tell him right away that she's engaged to marry his old best friend from his military days, "Coop" (John Finn, CLIFFHANGER, CARLITO'S WAY, TURBULENCE).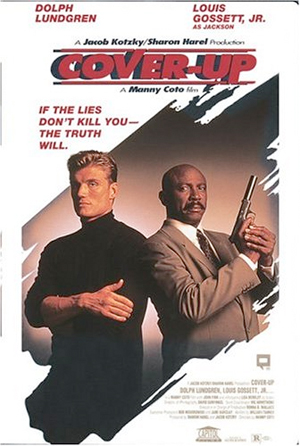 Anderson is one of these intrepid reporters, the ones with the intrepidness, so he doesn't believe the official story about what happened. Perhaps this is because he sees the CIA's Lou Jackson (Dolph's PUNISHER co-star Louis Gossett Jr.) snooping around, and he thinks that guy is a fucking asshole. They've had run-ins in the past. Jackson kicked him out of Rome when he was onto a big story a year ago, and he threatens to do it again as he's getting to close too the truth about this new terrorist group Black October, who we see murdering some guys in a hotel room using a powerful nerve gas. Looks painful.
Anderson is meeting with Coop, getting some tips, when Coop gets nailed in a car bombing. This part is well timed, I actually didn't expect it, so hopefully some asshole in a review won't spoil it for you before you see it. If so please realize that this is a 23 year old obscure movie that I'm pretty sure you weren't planning to see before he or she brought the topic up.
Anyway, shit gets paranoid. We see Jackson telling Susan she needs to get Anderson to "open up," and she seems like she's trying to get back together with him. Is she sincere or is she undercover? Who can we trust? He figures out his phone is tapped, that he's being followed, and then a guy on a roof tries to shoot him. (Sorry, random homeless guy who was trying to talk to him at that moment. Tough break, bud.)
Although they mention his military background they don't make Anderson into a gun or karate expert. He can brawl, but seems pretty undisciplined, not that far off from the regular guy that other actors would be when playing a reporter. Of course, being Dolph has a size advantage, so that helps. When he gets attacked and strangled in a hotel room it's a real good violent scuffle scene, some elbows and kicks but mostly a wriggling-around-knocking-over-furniture type of fight just like anybody would have. But because of his master's degree in chemical engineering he knows to spray Right Guard in the guy's eyes.
Plotwise this one leans a little more toward the suspense thriller than the action movie. The biggest action sequence is probly the opening attack on the base, at which point Dolph's character isn't even in the country. But he does get into a pretty big car chase, with shots fired and an exploding vehicle and what not. And a bad guy attacks him with a sword, and there's a climax where Dolph gets pretty physical in his attempt to stop a major terrorist attack. And a couple impressive stunts now that I think about it. Vic Armstrong (later director of JOSHUA TREE/ARMY OF ONE) actually gets a Stunt Coordinator/2nd Unit Director opening credit. You don't see that every day.
When a movie like this is not exactly great in the filmatistic or actioning departments what it really needs is just some weird, odd touches that make it a unique and beautiful snowflake. And this has a couple of those that I would like to point out.
First of all, this part where he meets with Coop. Coop has a beer. Anderson has… a dessert.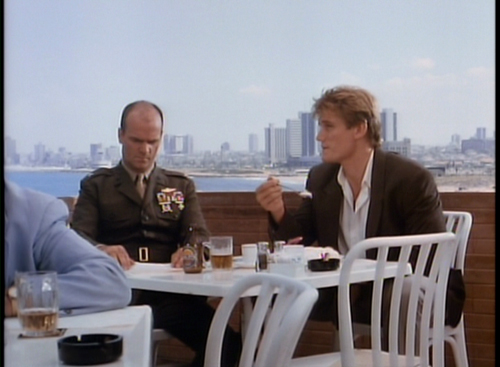 At first it seems like it might be some cake or a little dish of ice cream or something. Then you see it: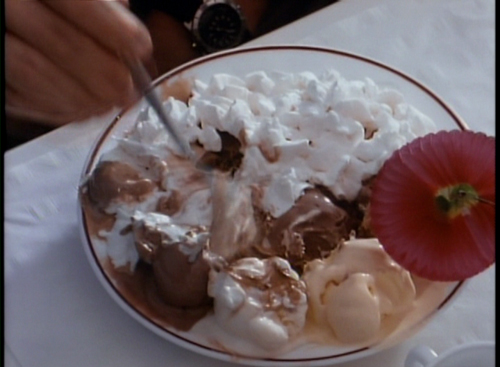 That's how you know Dolph is acting. We know from his Maximum Potential workout video that he's not into eating sweets. I especially like that there's no comment about him eating a giant dish of ice cream for lunch, no joke made about it, just this one shot.
Then, from the next cut we learn that he went home and passed out drinking airplane bottles of Smirnoff and Kahlua and smoking cigars.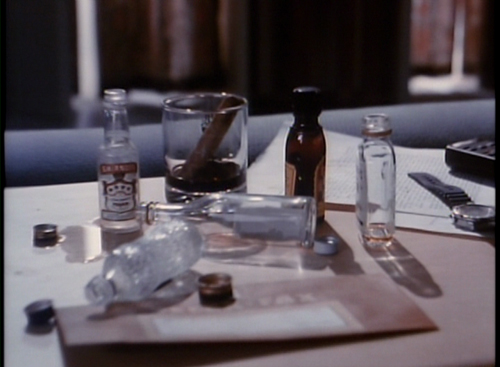 Another funny thing is how oblivious he is to the fact that Susan is trying to get him in bed. It starts when her fiancee is still alive, when she surprises Anderson in his hotel room while he's showering. She acts very innocent and like they're just friends but then she makes this face: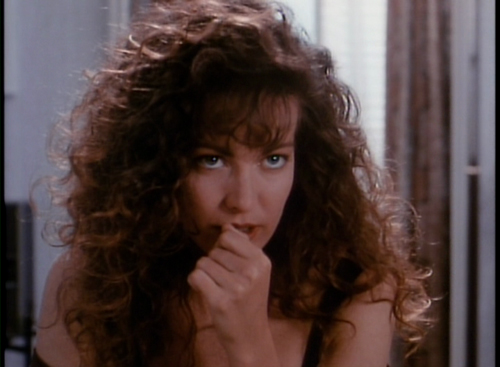 Later he's so onto his big scoop that he completely ignores what she's doing behind him: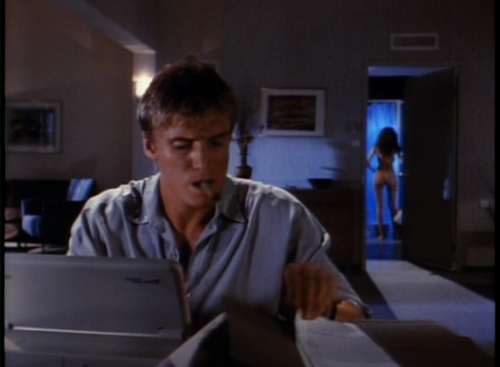 She has to do the ol' "Do you have any conditioner? Will you get it for me?" maneuver, pull him into the shower and start ripping off his clothes and sliding down his belly before he finally gets it.
An interesting touch in the sex scene: as she orgasms she pulls the shower curtain down, so there's a shot of the rings popping off one by one, just like in PSYCHO. Then it cuts to them laying in bed, all wet, and there's a thunderstorm outside. Like a horror movie. But the meaning is ambiguous. Could be "don't trust this one, Mike." But from the look on her face it could also be "What kind of a monster have I become?"
Anyway, in another scene there's a random hotel employee who lays on a bed and pulls the top of her dress down her shoulder while he's investigating a murder scene, and he doesn't react to that either. Maybe women throw themselves at him so much that he's become immune to it.
Another weird moment is in one of those scenes where somebody appears behind him as a surprise. But instead of having the character say "Hello Mike" or whatever there's is a shot of a paper airplane landing on the ground and then he turns around to see where it came from and there's a gun pointed at him. Now when going back through the movie to get screen grabs I discovered a not clearly shot, not significant as far as I can tell part where a paper airplane was thrown earlier, so I guess that's supposed to be a trademark of this character for some reason. But before noticing that I was convinced they just couldn't get the actor in for looping and they said "I don't know, how 'bout an insert shot of… a paper airplane? Would that make sense?"
Okay, maybe that one's not that exciting. Here's a good one: Dolph punching a woman in the face.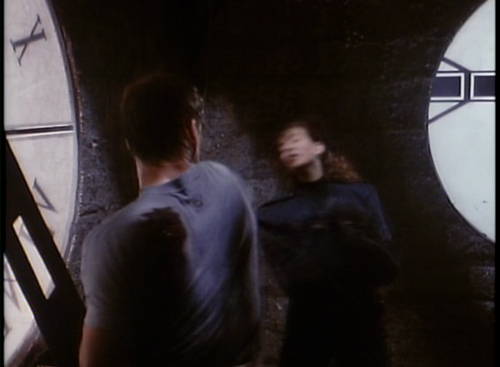 Don't worry, she just shot him! I really think he was gonna be a gentleman before that happened.
When you eventually find out what the secret conspiracy is it's got a little tinge of prophecy to it. SPOILER a particularly hawkish faction of the U.S. military uses a made up story about weapons of mass destruction to try to start a war with Iraq and with the Arab world at large. Of course, they actually try to use the WMDs for an attack that they're gonna blame on Iraq, so it's not really the same as what happened in real life. Not that far off though. If a b-action movie is kinda right about the world it deserves credit for that. Good job Dolph.