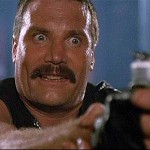 COMMANDO is a rare commodity – a Schwarzenegger picture on a low enough budget to feel like the early Seagal and Van Damme pictures. The good ones, though. Schwarzenegger plays John Matrix, the perfect name for an ex-special forces muscleman who lives in a cabin out in the woods with his daughter Alyssa Milano. (Who is the boss, anyway? I never did figure that out.) She doesn't want him going on dangerous missions anymore so he stays home and spends his days chopping wood and feeding deer with her. Luckily, before he gets too bored with this Snow White lifestyle some other soldiers he used to be knee dip in the shit with kidnap his daughter as a way to force him to assassinate some South American leader or other. So he gets to go to war. And to be honest he looks more comfortable running around with camoflauge paint on then he does feeding a deer. We all have our little things we're good at, you know.
If the deer feeding scene or Joel Silver's name on the credits didn't tip you off that this is gonna be a good one then the plane scene will. Matrix and one of the bad guys get on a commercial flight headed for the assassination. John Matrix – pretending to be way more high-maintenance than you would expect from a guy named John Matrix – asks a flight attendant for a pillow and blanket (no sleep mask though) and inquires how long the flight will be (about 11 hours). When no one is looking he snaps his captor's neck, poses him with the pillow and blanket like he's asleep, sneaks into the cargo hold and climbs out onto the landing gear just as the jet is taking flight. He jumps off as soon as he's over swampland, lands safely and sets the timer on his watch for 11 hours. Ladies and gentlemen, COMMANDO.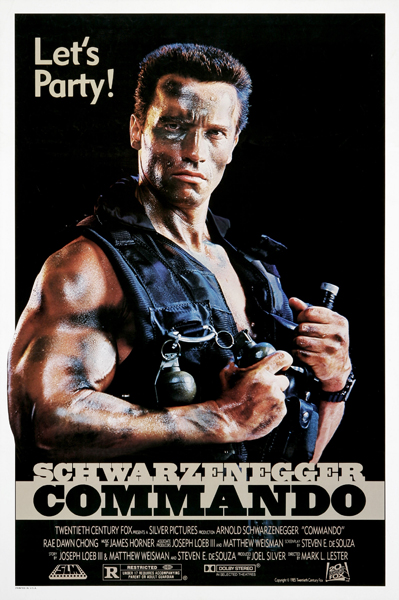 So of course Matrix has to kill a bunch of guys to get to his daughter – the sweet simplicity of classical action movie structure. Nobody ever mentions Matrix's giant muscles, which as usual he must've been born with since we never see him pumping iron. But because of his He-Man build he does alot of things a normal sized commando couldn't do believably such as tear a seat out of a car, carry a huge log on his shoulder supported by one hand, carry a guy around by his ankle, pick up a phone booth with a guy in it and throw it, and push over a car that's on its side. (Well, I guess that last one anybody could do, but they would be scared to do it.) Also he swings on some kind of streamer and jumps on top of an elevator. And later when he gets arrested Rae Dawn Chong rescues him by firing a rocket at the truck he's in, so it blows up and he doesn't. Because he's John Matrix.
There are several notable bad guys here. There's Dan Hedaya with a bad South American accent. There's Bill Duke, always menacing even when he's a good guy. Here he's trying to kill Matrix (later they'll be teammates in PREDATOR). But the main guy is Vernon Wells, best known as Wez from ROAD WARRIOR/MAD MAX 2. He's kind of a mid-level villain, but he does wear a chain mail vest, which you don't see every day. And he has the line, "John, I'm not going to shoot you between the eyes. I'm going to shoot you between the balls."
The fights are real good super powered type fights where they punch each other through the air and throw each other through walls. There is one of those traditional smash-through-hotel-wall-and-scare-people-having-sex type fights. At the end Matrix impales Vernon Wells with a big pipe and somehow steam comes out of the pipe so he says (SPOILER) "Let off some steam." The very next shot is little Alyssa Milano smiling as if she enjoyed it. At first I thought this was just bad editing, but then I remembered that despite her not wanting her dad to go on missions she did tell a bad guy that being returned to her father would be "not as nice as watching him smash your face in." So she is kind of a messed up little girl – she's worried about her dad being put in danger but she loves to watch him horribly mutilate people, it is one of her primary interests along with deer-feeding.
I don't remember if I saw this one in the '80s or not, but now I understand why it's one of the more famous Schwarzenegger pictures. The director is just some dude who did CLASS OF 1984 and FIRESTARTER, so it's no great directorial work like PREDATOR or something. But it doesn't fuck around. The kidnapping happens early on, then he immediately pulls that great plane escape and there is never too long in between those types of crazy action sequences. There's also alot of funny dialogue both of the clever and the corny varieties. I'm gonna have to give some credit to screenwriter Steven De Souza and producer Joel Silver, since they also did DIE HARD. Back then those guys knew how to make an entertaining action picture.
By the way, my friend Mr. Armageddon (the guy mentioned in the TRANSFORMERS review) tells me that the fictional South American country Val Verde is also where the dictator is from in DIE HARD 2. IMDb trivia says it's also mentioned in PREDATOR. And that John Matrix kills 81 people in the movie. Jeez, I must've missed some of those, I better watch this again.
http://youtu.be/5jeLvKIibgs
This entry was posted on Wednesday, August 1st, 2007 at 8:52 pm and is filed under
Action
,
Comedy/Laffs
,
Reviews
,
Thriller
. You can follow any responses to this entry through the
RSS 2.0
feed. You can skip to the end and leave a response. Pinging is currently not allowed.