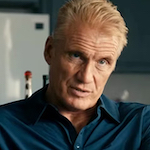 I just made my second appearance on "'I Must Break' This Podcast," where I seem to go to discuss movies that Dolph Lundgren is briefly in. The first time it was for the excellent Amy Johnston vehicle FEMALE FIGHT SQUAD, and this time it's for SECTION 8, the new one starring Ryan Kwanten, Dermot Mulroney, Mickey Rourke, a little bit of Dolph and a great guest appearance by Scott Adkins. I'll probly do a written review soon with more detailed thoughts, but it was a good discussion with Sean Malloy and a good excuse to talk about the current state of the genre, since this movie is pretty representative of where we're at.
This entry was posted on Sunday, October 9th, 2022 at 10:37 pm and is filed under
Blog Post (short for weblog)
. You can follow any responses to this entry through the
RSS 2.0
feed. You can skip to the end and leave a response. Pinging is currently not allowed.