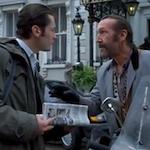 August 14, 1991
THE COMMITMENTS is the story of a wannabe music manager in Dublin convincing his friends (all white) to put together a soul cover band. The conceit is that '60s soul music is beautiful and "honest," that working class Dubliners have more in common than they realize with the African-Americans who created this music, and that the novelty of white Irish people pouring their hearts into these beloved songs would be a cute and fun way to celebrate them in the context of a comical underdog story.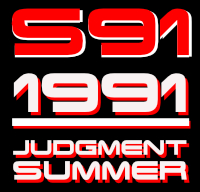 This is one of Mrs. Vern's favorite movies, so I wanted to be open to it, but I definitely rejected the idea at the time, not taking any serious offense or anything but just under the belief that at best white singers can do pretty good soul music. Dusty Springfield was a one off and Amy Winehouse was 9 years old at the time so it just seemed delusional. I imagined some kind of "let's all clap for these white people pulling off pretty good soul music" story of triumph for people who don't generally listen to the real thing.
Okay, so I wish they didn't nickname themselves "The Saviors of Soul," and I question the music journalists in the movie believing this recently formed cover band could be "the next U2 or Sinead O'Connor," but I'm relieved that the movie doesn't pretend they're anything too great. And when they're all disappointed by promises of Wilson Pickett coming to their show falling through they admit that most of them actually had to have it explained to them who he was. When manager Jimmy Rabbitte (Robert Arkins) argues that "The Irish are the Blacks of Europe. The Dubliners are the Blacks of Ireland," they look at him dumbfounded, so at most I think we're supposed to find it kind of true. If at all.
But I feel like it needs to be said that even if they're a very small percentage of the population, and even if you don't see any of them in this movie, I do believe there are Black people in Ireland, especially in major cities like Dublin. And maybe they deserve the title of "the Blacks of Ireland" more than the Commitments do. But, other than that, honestly I have no problem with this movie. I enjoyed it.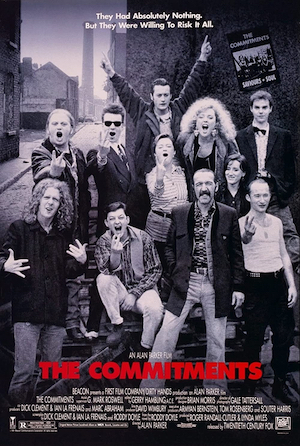 It starts with Jimmy Rabbite (namesake of Jimmy "B-Rabbit" in EIGHT MILE? I honestly don't know) laughing at his friends, bass player Derek (Ken McCluskey) and guitar player Outspan (Glen Hansard), playing in a shitty wedding band called And And And. He convinces them to ditch their singer and puts an ad in the paper to audition musicians for his vision of a '60s soul review. Cut to one of those wacky montages of slamming the door on or listening impatiently to various Irish folk tunes or heavy metal dudes who don't get/fit what he's going for.
The stroke of luck is when he meets Joey "The Lips" Fagan (Johnny Murphy, THE OUTSIDER), a trumpet player he says is his dad's age, but who defends himself by saying he's 16 years younger than B.B. King. Turns out this pony-tailed dork in the Jesse Jackson '88 campaign gear is – or at least says he is – a veteran session and touring musician who has played with everyone from Aretha to Stevie (age 11). He's stopped touring to chill out and take care of his mom, and is clearly the most qualified person in the neighborhood to teach these people not to totally ruin soul.
Jimmy also recruits his singer friend Bernie (Bronagh Gallagher, DEAR SARAH), and gets her to bring Imelda (Angeline Ball) just because all the boys think she's a hottie, and she also brings her friend Natalie (Maria Doyle Kennedy) because she's good. And for the frontman he chooses Deco (Andrew Strong), a sweaty pony-tailed Belushi type he saw drunkenly commandeering the mic at that wedding, an incident Deco doesn't even remember because he had 14 rum and blacks and "No one told me."
Deco is a fun character – kind of clueless about how much he annoys the others, but a good and very passionate singer as far as bluesy white dudes go. There's a subplot about how the drummer hates Deco so much he has to quit out of fear he'll beat him up and break his probation. They replace him with Mickah Wallace (Dave Finnegan), the infamous neighborhood hooligan they'd previously tapped for doorman/security. In one of the funniest scenes Mickah sees Jimmy in the crowd being shaken down by the gangsters who loaned him money, jumps off stage to beat the shit out of them, and then finishes the show with blood on his shirt.
In montages they practice at their jobs, singing on the bus or playing bass in a meat locker surrounded by pig carcasses. They slowly get better, they play a show in a church mostly for kids and relatives, they have inter-band conflicts, they start to believe in themselves. There are various quirky characters and funny lines. Jimmy's dad (Colm Meaney, UNDER SIEGE) is obsessed with Elvis, and has a portrait of him on his wall above one of the Pope. Jimmy hates Elvis and says he's "not soul," which is a legitimate argument unless you're the manager of The Commitments.
The topic of white people appropriating Black music also comes up in a scene where their piano player Steven (Michael Aherne) plays "A Whiter Shade of Pale" by Procol Harum on the church organ, Jimmy says they "nicked" the intro from Marvin Gaye, but Steven says "He nicked it from Bach," obscuring the issue (that racial inequities caused pioneering Black artists to never be paid as much as the white artists they inspired) with the "all art is borrowed" idea. He's a nice kid though. He means well. He knows not what he says.
One amusing subplot involves Dean (Felim Gormley), who only started playing sax recently when "My uncle gave it to me when his lung collapsed." When he gets good enough to start adding in improvised bits it angers Joey and Jimmy because they think "that's not soul, that's jazz" and "jazz is musical wanking." And then when Dean trims his pompadour/mullet combo they worry that he has "a jazz haircut." Jimmy is full of these snobby music opinions; when he's waxing poetic-ish about how soul music is "honest, there's no fuckin bullshit" and how they're "bringing the music back to the proletariat" and all that I feel like we and the people he's talking to are both somewhere between "he has a point" and "this guy is so full of shit but it's nice that he gets so into it."
But part of what makes this work is that the practices and performances are a big chunk of the running time, and though they're not the Funk Brothers or the Dap-Kings most of the actors are real musicians performing these universally enjoyable songs, and when they get into it it's fun to watch. Especially as you get to know them and laugh at their quirks, like the way they go backstage and all yell at each and nearly come to blows before coming back out with smiles to do the encore.
And I think the inspirational part of it is effective because they do not manage to reach superstardom, or even stay together for very long, and they don't get crushed by that. Like Rocky just being happy to get to the end of the match, they set themselves the smaller goal of learning how to play a little and prove to themselves that they're "not a tosser," and that's enough for them. That speaks to me. I too hope I'm not a tosser. And I love the way it shows how important it is to Bernie to be able to look forward to singing with her friends after a long day at home in the projects taking care of her relatives' babies.
For whatever his flaws, Jimmy is a dreamer who manages to get all these people excited about the thing he's excited about, and that's inspirational. I also like Joey's optimism – after an iffy first practice he's excited because "It's a start. I like starts. Once you have the start, the rest is inevitable." I'll try to remember that.
Also, any comedy cliches or inauthentic moments are offset by the very grounded look director Alan Parker (PINK FLOYD'S THE WALL) and cinematographer Gale Tattersall (WILD ORCHID) come up with. It's always overcast and they're walking through weathered streets, depressing housing projects, kids are running around breaking windows and setting things on fire, and you can see why they're dreaming of putting on matching black outfits and singing "Chain of Fools."
By the way, hats off to Jimmy for selling tickets "half price to the unwaged."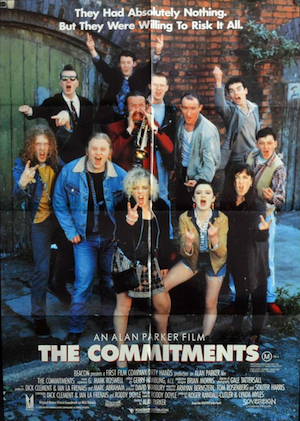 THE COMMITMENTS is a good example of a movie that wasn't a giant hit at the time – at least outside of Ireland, where it was the highest grossing film of all time – but that ended up having a long afterlife. Here in the U.S. it only made back about its budget, but I'm sure it made plenty of money between the European box office, video, cable and the two different soundtrack albums. It won the British Academy Film Awards for best film, direction, adapted screenplay and editing, plus nominations for supporting actor (Andrew Strong) and sound. It was also nominated for editing at the Oscars and Best Motion Picture – Musical or Comedy at the Golden Globes.
The screenplay is credited to Dick Clement & Ian La Frenais (OTLEY, THE PRISONER OF ZENDA, NEVER SAY NEVER AGAIN) and Roddy Doyle, based on Doyle's originally self-published 1987 novel. At the time the book was the first of his "Barrytown Trilogy" about members of the Rabbite family, and he came to resent that the movie made it so much more popular than the later ones. The other two, The Snapper and The Van, were soon turned into movies scripted by Doyle, with Colm Meaney returning, though the film rights to THE COMMITMENTS forced them to change the character's name. Doyle also wrote two more Barrytown novels, Paddy Clarke Ha Ha Ha and The Guts.
In 2000 Miramax bought the rights to THE COMMITMENTS and announced a sequel, written by playwright Warren Leight (also a writer on the early Troma movies MOTHER'S DAY and STUCK ON YOU!). I have to imagine it would've been a getting-the-band-back-together comedy promoted as "this year's THE FULL MONTY!" It definitely wouldn't have taken the same approach as Doyle's 2013 novel The Guts, which centered on 47-year-old Jimmy and his misadventures (including an affair with Imelda) after learning he has bowel cancer. Sounds good, but maybe not a crowdpleaser. Probly would only get one soundtrack album, at most.

Cultural references:
The band has a meeting in a video store, where they watch footage of James Brown performing (I think from THE T.A.M.I. SHOW?) so we get to see some posters, including LOOK WHO'S TALKING, A NIGHTMARE ON ELM STREET 5 and LEVIATHAN. As an in-joke there's a special "Alan Parker Week" section with a cardboard cutout of Parker and tons of copies of BUGSY MALONE, ANGEL HEART, MISSISSIPPI BURNING, etc. Also there's a scene where Jimmy sells somebody a bootleg of MISSISSIPPI BURNING on the bus.
When Jimmy is trying to get the band to study soul music he tells them to stop listening to Guns 'n Roses and the Soup Dragons. One of those bands is still remembered and one I think you had to be there. (I saw them open for INXS, only because this older goth-ish girl I had a huge crush on let me go with her. I tried to convince myself I was into it. I was not that into it.)

Aftermath:
Alan Parker directed four more movies before his death last year: THE ROAD TO WELLVILLE, EVITA, ANGELA'S ASHES and THE LIFE OF DAVID GALE. Cinematographer Gale Tattersall went on to shoot TANK GIRL, VIRTUOSITY, THIR13EN GHOSTS and ATLAS SHRUGGED: WHO IS JOHN GALT?.
Andrew Strong (Deco) became a successful recording artist, while Kenneth McCluskey (Derek) and Dick Massey (Billy) toured with a 9-piece band called "The Stars from the Commitments," who actually did get to play with Wilson Pickett. Felim Gormley (Dean) played sax in the band for The Late Show with David Letterman. Andrea Corr (Jimmy's sister Sharon) and her siblings Jim, Sharon and Caroline became a huge group as The Corrs. Glen Hansard (Outspan) continued playing with his band The Frames and in 2005 co-starred with Marketa Irglova in ONCE; the two also composed and performed the film's songs and won the Best Original Song Oscar for "Falling Slowly." Bronagh Gallagher (Bernie) wore a The Frames t-shirt playing Trudi (one of the stoners at Eric Stoltz's house) in PULP FICTION, and she got blown up in the opening scene of THE PHANTOM MENACE. Angeline Ball (Imelda) was on an episode of Highlander as well as being a cast member on EastEnders, Shameless, Keeping Faith and other shows. Maria Doyle Kennedy (Natalie) was on The Tudors, Dexter, Downton Abbey, Orphan Black and Outlander, plus movies including JUPITER ASCENDING and THE CONJURING 2.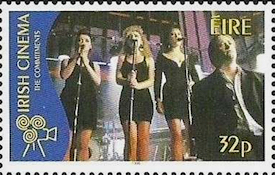 In 1996, the characters of Deco, Imelda, Natalie and Bernie were featured on an Irish postage stamp as part of an Irish cinema series.
In 2010, eight other cast members joined the "the Stars from the Commitments" tour for the 20th anniversary.
In 2013 Doyle wrote a stage musical of the novel, which played on the West End through 2015, then toured the UK and Ireland for two years and was going to start up again last year but has been postponed due to Covid. The author had turned down offers for years, until his kids' love of the movie and of musicals helped him get over his hangups about it.
This entry was posted on Wednesday, August 18th, 2021 at 11:42 am and is filed under
Comedy/Laffs
,
Drama
,
Music
,
Reviews
. You can follow any responses to this entry through the
RSS 2.0
feed. You can skip to the end and leave a response. Pinging is currently not allowed.