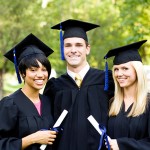 Director Mark L. Lester returns in 1990 for an ambitiously ridiculous sequel to CLASS OF 1984. Instead of taking some character or setting from that movie and continuing with it he takes the same sort of story and puts it in a futuristic sci-fi world. So instead of a paranoid vision of violence in schools a couple years from now it's a purposely ridiculous paranoid vision of cyborg teachers taking on violence in schools.
The first one took a while to warm up, but CLASS OF 1999 is at maximum awesome levels straight out of the gate. You can't help but laugh as the movie apes ESCAPE FROM NEW YORK and then ROBOCOP and then a little TERMINATOR. The ESCAPE FROM NEW YORK part is that the hero is a juvenile delinquent who they let out of prison to go– well, not on a mission. To high school. And it's in a walled off zone where the kids are so out of control the government has decided not to enforce law there.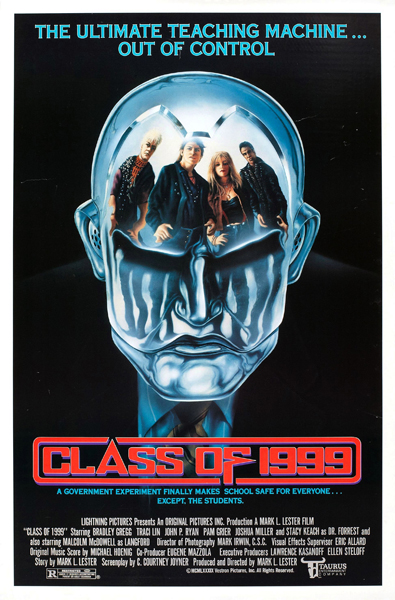 But the Department of Educational Defense has hired a military contractor (this is where ROBOCOP comes in) to implement an experimental program of robotic teacher enforcers. They were combat robots but were reprogrammed to teach. And one of them is Pam Grier. Other notable cast members include Malcolm McDowell, Stacy Keach (with freaky contact lenses) and Joshua John Miller, that freaky kid vampire from NEAR DARK who was also in RIVER'S EDGE.
The opening is great because they explain this sci-fi premise and it's so absurd but straight-faced that you gotta appreciate it. And then it gets even better because the kid and his brothers are driving to school and there is a shoot out and, yes, a car flip. And the school is walled off with barbed wire and there's an armored school bus. Good shit.
I guess after working with some nice kids like Michael J. Fox Lester stopped being as scared of the youth. So this time he actually sides with them. Yes, teen gang warfare is out of control, and of course there is a futuristic drug called Turbo or Oktane or Maxxx or MegaKrak or something like that, but the kids are the good guys because the robot teachers are reverting to their military programming and somebody needs to stop them. So that makes it more like a typical teen movie than the first one, which was from an adult point of view.
But it's a typical teen movie where they're battling evil cyborgs, so there's lots of funny shit in here. For example when a classroom gets out of control one of the roboteachers puts a kid over his knee and gives him a high speed robotic spanking.
The climax is not as exciting as the first movie but then they totally rip off THE TERMINATOR and have a seemingly destroyed robot come out of the flames with most of his skin burned off. But instead of stop motion they use animatronic puppets. They don't look quite real but that makes it way creepier. They're not supposed to be real humans anyway. I was really impressed by those effects.
The movie also has some extra appeal for me because it was filmed in Seattle. If you live around here you may recognize Lincoln High School, which is in Wallingford.
Personally I think 1984 is a more solid movie, but 1999 is much more absurd, the JASON X to 1984's any other FRIDAY THE 13TH. So I would not blame any of you if you like this one more. I think it's also time to acknowledge that Mark L. Lester is a director who deserves some type of respect. You don't do these two movies and COMMANDO on accident.
There's apparently a third movie in the series (with the incorrect title CLASS OF 1999 II) but it's not by Lester and not on DVD in the US. I tried to rent an import of it but despite how it was labelled the movie on it was actually just CLASS OF 1999.
This entry was posted on Sunday, May 18th, 2008 at 10:19 am and is filed under
Reviews
,
Science Fiction and Space Shit
. You can follow any responses to this entry through the
RSS 2.0
feed. You can skip to the end and leave a response. Pinging is currently not allowed.