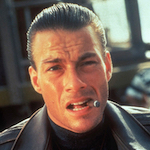 "All right, you want some real action, tough guys? Let's do it."
August 9, 1991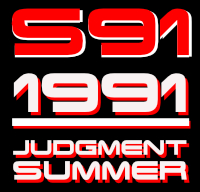 While the summer was dominated by the expensive studio action spectacles TERMINATOR 2 and POINT BREAK, there were plenty of solid action movies made with a little less money and a different type of star power. Case in point: Jean-Claude Van Damme was in the process of rising from the new Cannon Films guy to household name. By this point he had starred in BLOODSPORT, CYBORG, KICKBOXER, LIONHEART and DEATH WARRANT. The latter two had been his largest, with budgets of about $6 million each. This one jumped up to $15 million.
It was worth paying more for this gimmick: Van Damme plays twins. Originally conceived as an adaptation Alexandre Dumas' The Corsican Brothers, it's a story about brothers separated at six months old and reuniting at 25 to avenge the murder of their parents.
Our story begins in 1966 at the opening of the Victoria Harbour tunnel in Hong Kong. The twins' pops, Paul Wagner (Andy Armstrong, uncredited stunt coordinator of NIGHTBREED) is one of the big shots behind it, but there have been some kind of shenanigans with his partner Nigel Griffith (Alan Scarfe, CATHY'S CURSE, LOCK UP, IRON EAGLE II) borrowing money from Tongs and betraying him, so he and his wife (Sarah-Jane Varley, THE WILDCATS OF ST. TRINIAN'S) are ambushed by gunmen after the ceremony. And the babies are in the back with a nanny (Wu Fong Lung, ANGEL ENFORCERS?) so they witness the whole thing just like the future killer Santas in SILENT NIGHT, DEADLY NIGHT.
I wrote about DOUBLE IMPACT very early in my reviewing journey and I claimed it was "not one of his better pictures in my opinion" and "pretty generic and dull" and "just your usual mistaken identity twin garbage" and "just a bunch of exploding and running around in the streets like an old cop show." Since then I have grown more cultured and sophisticated and seen it at least a couple more times, so now I love it. And I think it's evident right from this opening that it's not gonna be "pretty generic and dull." When the gang – led by a guy named Moon (Van Damme's BLOODSPORT nemesis Bolo Yeung) – attacks, Mr. Wagner gets out (in a tux!) and has a shootout with them. And gets a big meaty chunk shot off of his shoulder.
Wagner's 'Nam buddy/bodyguard Frank (Geoffrey Lewis a few years after PINK CADILLAC and TANGO & CASH) had been sent home for the night, but he shows up in time to shoot Moon in the face and take one of the babies to France, while the nanny drops the other one at an orphanage in Hong Kong. (I haven't checked the dates on this but I'm pretty sure this is where George Lucas got the idea for Star Wars).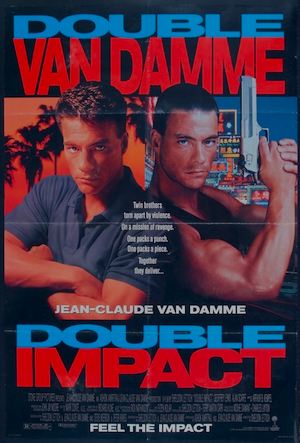 Imagine you're a 25 year old Frenchman, you and your uncle run a karate dojo/aerobics studio in L.A., then out of the blue your uncle tells you he's not your uncle and takes you to Hong Kong and tricks you into coming face-to-face with a twin brother you never had any clue could possibly exist.
That's what happens to Chad (Jean-Claude Van Damme). He thinks Danielle (Alonna Shaw, KING OF NEW YORK) is just being forward when she leads him into the backroom of a Mahjohng parlor and grabs his dick, but actually she thinks he's her boyfriend Alex (Jean-Claude Van Damme), a gruff underworld figure who is more angry about his girlfriend being with another dude than surprised that the other dude is his surprise twin.
Frank tells them the backstory and convinces them they have to go get this motherfucker Griffith, slimy mob-affiliated businessman who Alex describes as Hong Kong's Donald Trump. Danielle happens to work for Griffith, so she agrees to snoop around and look at some files. Chad is into the idea of getting revenge; Alex takes some convincing. But he brings them on his boat, not telling them that it's a work thing (he's smuggling Mercedes Benzes with trunks full of cigarettes to Chinese buyers). They get chased by police boats and Uncle Frank shows his worth by dumping the cars in the water and shooting them with a machine gun until they create a big enough wall of fire and smoke to let them escape. Man, I'm an uncle and I don't think I could do that. I better get my shit together.
At various times Chad is mistaken for Alex or pretends to be him, but I don't think it ever goes the other way. (Maybe if they ever made a sequel it would be in L.A. and Alex would keep getting confronted by the boyfriends of the ladies Chad does the splits in front of.) Chad gets beat up for telling Raymond Zhang (Philip Chan, WINNERS AND SINNERS, BLOODSPORT) – who is trying to force Alex to work with him and also is the gangster who had their parents killed – to fuck off. One way we know Zhang is an absolute piece of shit is that he can't get his fancy lighter to work so he just tosses it on the ground – and this was a special lighter Frank gave to Wagner as a gift right before he was murdered.
Zhang has scary-ass Moon working for him, while Griffith has a muscular new head of security named Kara (Ms. Olympia 1984-1989 Corrina Everson). I always like when there's a female body builder henchwoman. It improves absolutely any movie.
One of the major locations is a bar called "Klub Klimax" that's decorated like a fancy Chinese restaurant and the men who go there wear tuxes, but they play cheesy dance music. Some of the songs in the movie are by someone called "Gen." Those are just playing on the dance floor and stuff, not showcased in montages or anything. But the goofiest one gets to dominate the end credits:
Of course there's a big battle at the Klub. My favorite little detail is when Alex pauses during the fight to pick up a glass of whisky from the bar, drink it, and then crush it in his hand. For no reason. (I mean the drinking I get, the crushing is just a show off move.) The long-haired henchman featured here is played by Evan Lurie, but not the musician. You can read about him in my review of MARTIAL LAW II: UNDERCOVER, where I went a little Jake-Gylenhaal-in-ZODIAC on the research.
The thing I think I was most off-base about in that earlier review is the pair of performances by Van Damme (who by the way doesn't get a "Jean-Claude Van Damme… and Jean-Claude Van Damme" type credit, but he does get white letters and red letters that zoom in from opposite sides of the screen to combine into red and white letters). Time-honored (and surely pain-in-the-ass) techniques like split-screens and back-of-the-head doubles are executed well – there's only one composite shot in a car that I think looks bad. And they do a good job of making Alex (with his slicked back hair, tough guy jackets and cigars) and Chad (with his dorky polo and khakis like he's going sailing) look different. But the biggest part of selling the illusion is Van Damme genuinely achieving two distinct characters.
Chad is like Van Damme in KICKBOXER – boyish, naive, unserious. He's a great fighter who goes over to the dojo to knock out a new guy who's being an asshole (David Lea, who I wrote about before as the stunt double for BATMAN), but he prefers wearing blue spandex, doing the splits to show off to his women students (including Julie Strain) and bouncing his ass around for the camera. Meanwhile, Alex is more of the cold-eyed, grimacing tough guy like we'd see in HARD TARGET and many of the later Van Damme films.
It's amusing when it's a mistaken identity story, because Frank really loves Chad but also thinks it's funny to not tell him what's up when everyone in the mahjong parlor thinks he's their boss wearing a ridiculous outfit. A weird thing about Alex, though is his possessiveness – his immediate jealousy about Danielle mistaking Chad for him builds to crazy drunken visions of his brother fucking his girlfriend in the style of a Shannon Tweed movie. I think it's supposed to be a "this guy is dark and troubled" thing, but later he hits her and that turns it into more of a "fuck this guy" situation than I think they intended. Also in the depiction-is-not-endorsement department: he calls Chad a homophobic slur two times. Otherwise he'd be the one you want to be when you grow up.
I wouldn't mind if Van Damme made more twin brother buddy movies, but I'm sure people tell him you can only do it once. I still consider it a theme for him, though, since he's twins in MAXIMUM RISK (just not sharing the screen) and clones in REPLICANT.
Another way DOUBLE IMPACT is historically important is that (unless you count when he was directed by Corey Yuen in NO RETREAT, NO SURRENDER) it's the beginning of Van Damme's long cinematic relationship with Hong Kong cinema. It's mostly set and filmed in Hong Kong and is certainly influence by their action scene of the era with its focus on intense gun play including Van Damme rolling across the floor firing two pistols. Soon he would work with John Woo (HARD TARGET), Ringo Lam (MAXIMUM RISK, REPLICANT, IN HELL) and Tsui Hark (DOUBLE TEAM, KNOCK OFF, the latter filmed in Hong Kong), the #1 bridge between Hong Kong directors and Hollywood at that time.
In other ways DOUBLE IMPACT feels like the '90s American mid-budget action movie it is – they end up at the docks, climbing around on the machinery, going up platforms, almost getting crushed in giant gears as the orchestral score by Arthur Kempel (GRADUATION DAY) gets excited. One villains dies by being dropped onto crates, the other crushed under a shipping container. Job site fatalities.
I really appreciate the construction of this movie, the way it thoughtfully establishes little action details ahead of time, to make them more satisfying when they come to fruition in the last act as Alex and Chad duel each of the major villains. Take for example the character of Kara. Every time she appears there's an emphasis on her muscles, particularly on her thighs. The camera angles work with her spandex shorts, tight leather pants, and especially her dress to really show them off, but at first when she kills she doesn't use her strength, but rather a switchblade.
In her final face off with Alex, though, she drops from above and squeezes her thighs on his head like a vise. He has to struggle to twist his head around and pry himself out. She says, "It's you and I, dickhead!" and grabs his balls. It's a good fight and at the end he gets that same knife away from her and kills her with that.
Then there's Bolo as Moon. When he kills the Wagners in the prologue he's in a tux, so his trademark Hulk muscles are hidden, and the menace is entirely in his mean face. Then Frank shoots him in the face (there's a really cool view of him through the cracked and bloody car window, which he then punches through), so in the present day he has a big facial scar and white eye to make the face look even scarier. Finally, a little ways into his duel with Alex he stops to strip off his jacket and shirt, and then he flexes. Because he's so strong he resorts to lifting barrels above his head and tossing them at Alex like he's Donkey Kong. (The first time Alex blocks it with a kick, hurting himself pretty bad.)
And once Alex seems to have won the fight (thanks to that old cliche the "kicking a guy against an electrical thing on the wall and sparks come out because he's getting shocked") the barrels become more relevant because we realize they've been leaking a trail of flammable liquids, which catch fire and cause an explosion.
Even Zhang, who does not seem like a combatant, has a great one of these. He spends the movie strutting around with gang boss accessories like a long coat over his shoulders, round sunglasses and especially his cane, which he's always gesturing with or hooking onto things. Finally at the end we find out that thing had a sword inside the whole time! For emergencies like this.
Hats off to director Sheldon Lettich, who had written THOU SHALT NOT KILL… EXCEPT, RUSSKIES, BLOODSPORT and RAMBO III and had written and directed one of my favorite Van Damme films, LIONHEART. He and Van Damme are credited with the screenplay, sharing screen story credits with Steve Meerson & Peter Krikes (STAR TREK IV: THE VOYAGE HOME, BACK TO THE BEACH)
Thought it made less money than the lower budget DEATH WARRANT, DOUBLE IMPACT was a modest hit, opening at #2 and ultimately doubling its budget in theaters. Van Damme would follow it with UNIVERSAL SOLDIER, a movie with an even bigger budget and much bigger box office, making him officially a mainstream movie star for a while.
aftermath:
Corinna Everson, who played the buff henchwoman Kara, later playaed "TV Mallory" in NATURAL BORN KILLERS and she was in an obscure movie I reviewed called BALLISTIC (1996).
Co-screen-story-writer Peter Krikes went on to be co-executive producer of YOGA HOSERS.
Sheldon Lettich reunited with Geoffrey Lewis (Uncle Frank) for the excellent Mark Dacascos vehicle ONLY THE STRONG, and with Van Damme writing LEGIONNAIRE and directing THE ORDER and THE HARD CORPS.
In 2012, when Van Damme was getting well deserved attention for his villain role in EXPENDABLES 2, he and Lettich revealed they were planning DOUBLE IMPACT 2 and had written a treatment. Unfortunately it had to be cancelled when it turned out MGM owned the rights and would have to share in the profits but could not be trusted with the responsibility of financing it. Thanks alot MGM you fuckin cheapskates. Take your stupid lion and shove it up your ass. Signed, the entire world who have been robbed of DOUBLE IMPACT 2 by no one but you.

P.S. I finally picked up the MVD Rewind blu-ray of this one and I haven't been able to go through all of the extras yet, but so far the best trivia I've learned is that it was financed by Michael Douglas' production company Stone Group Pictures, and they were doing STONE COLD at the same time and were convinced that The Boz was gonna be the new Schwarzenegger, so they put more money into that one. I think everything worked out for both movies though. (The company only did two more movies: the Sissy Spacek comedy HARD PROMISES and Dolph's ARMY OF ONE, directed by DOUBLE IMPACT second unit director Vic Armstrong.)