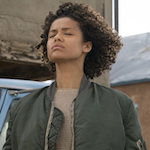 FAST COLOR is a really well made little movie I watched on Hulu. I didn't really know what it was about, but remembered that when it came out last year there were people lamenting that it didn't get enough attention. They called it a super hero origin story and felt that should've made it more marketable.
That description isn't totally inaccurate, but sells it a little short, I think. It's about a woman with some telekinetic type powers, but she doesn't wear a costume, fight crime, fight super villains, or use her powers for heroism at all. She even explicitly says "We're not super heroes," and doesn't seem to later change her mind about that. The story reminds me much more of FIRESTARTER than any comic book movie. Regular person made into a fugitive by being born with unusual gifts, running through small towns to avoid being a guinea pig for some secret government project. (read the rest of this shit…)
VERN has a new action-horror novel out called WORM ON A HOOK! He has been reviewing movies since 1999 and is the author of the film criticism books Seagalogy: A Study of the Ass-Kicking Films of Steven Seagal and Yippee Ki-Yay Moviegoer!: Writings on Bruce Willis, Badass Cinema and Other Important Topics as well as the crime novel Niketown.