THE TEMPEST is the story of this wizard lady named Prospera (Helen Mirren) who lives on a small island with only her cutie daughter Miranda (Felicity Jones) and her monster slave Caliban (Djimon Hounsou). Also she has a slave named Ariel (Ben Whishaw) who's like a naked sprite guy (with boobs?) who flits around and does her magical bidding.
She's got some books and beakers and shit but this is an island made up mostly of volcanic rocks. There's not much of a night life or anything, it's gotta be kinda lonely. Her daughter's never even seen a human man before, what're they gonna talk about? Rocks? Trees? Beakers?
Of course it's worse for poor Caliban, 'cause he's a slave. The bitch makes him carry logs across the island all day, I'm not even sure why. What's she gonna do with all those? Build something to do, I guess. He has some words written upside down on his lower torso, I learned from the making-of deal that they're Victorian curse words that he carved into himself. So he must not be too happy, is my guess. It's the Shakespearean version of drawing anarchy symbols and pentagrams all over your notebook.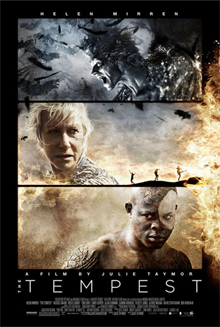 Anyway everybody's luck changes when Prospera stands on a cliff with her magic staff and makes a storm. The storm causes a shipwreck that brings visitors to the island: a boy for Miranda to fall in love with (Reeve Carney), two drunks (Russell Brand and Alfred Molina) who impress Caliban by feeding him booze, some guys that Ariel messes with to get revenge for Prospera (David Strathairn, Chris Cooper, Alan Cumming, one or two other guys). It's sort of these three separate stories all connected to Prospera and the shipwreck she caused. Or four if you count Ariel trying to get his freedom as its own story. I guess that would make Helen Mirren the Crypt Keeper in a way, since she's the host of all this. But she's prettier and more dignified than the Crypt Keeper in my opinion. Not to be mean but that guy has kind of a lame sense of humor if you ask me.
This is from a play by William Shakespeare and to be honest I'm not that up on my Shakespeare. But I still went and saw TITUS for some reason and I loved that shit. This reunites Shakespeare with TITUS director Julie Taymor, and Taymor brings Cumming from TITUS and Molina from FRIDA and the stars of the remake of ARTHUR which she didn't direct but maybe is just a huge fan of.
You may notice that the wizard was originally a man named Prospero, they changed it to a woman and this is an outrage, etc. Well I say lighten up pal, it's not supposed to be Transformers, it's just Shakespeare. It turns out Taymor wasn't out looking to change it up (when she did the play on stage it was still a dude) but she happened to run into Mirren while she was casting and Mirren suggested the idea. Then she just tried to make sure it could be adapted without being a gimmick. So she wasn't trying to say anything by changing it to a woman, but I like how it makes it seem sort of autobiographical. She's a woman who's off in her own world, who's very good at powerful arts, she even scares people, and in my opinion she kinda got screwed over like Prospera did.
I know she's gonna keep getting made fun of for this Spider-man musical debacle. It seems clear that she had alot of ambitious ideas that they were having trouble pulling off, and since they involved acrobats swinging around on ropes it was dangerous (and people actually were hurt). And she may very well bear responsibility for that, I don't know the details. But I still think it was bullshit the way they hung her out to dry after some bad reviews. The one thing that the people who hired her forgot is that they were the people who fucking hired her. And since I have an idea what kind of stuff Julie Taymor does I got a good hunch that the Broadway musical producers do also, and knew what they were in for. It was a brilliantly insane idea to do it, and they put millions of dollars and years into it, and then when it was almost done they said "wait a minute, what is this brilliantly insane thing? When we hired a crazy director of highly stylized operas to try to figure out some fucking way to turn Spider-man into a Broadway musical/circus extravaganza and by the way money is no object, we didn't know it was gonna be weird."
And the funny part is that most of the reviews I saw actually said that you should see it and it was an amazing spectacle. But that somehow it turned out that Spider-man was kind of silly as a rock musical. Huh. Go figure. Must be Julie Taymor's fault.
It's kind of like this hypothetical scenario:
Look, Mr. Jodorowsky. You know how we hired you to direct a movie based on the board game Candyland? Well, we appreciate all your hard work, but we have two problems with what you've done here. #1, it seems like one of your movies that you direct. #2, it's based on the board game Candyland. So we're gonna have to bring somebody in to try to salvage this thing.
I mean, you either want to see the crazy fuckin Julie Taymor Spider-man musical or you don't. You don't want to see a watered down version of that. Pull the trigger or put the gun back in the drawer. Don't take out a bullet and try to throw it into me.
I figure that whole mess will probly hurt her career. Luckily she still has this possibility of independently financed movies. This one is smaller scale than TITUS (less characters, less locations, no crowds, no gore, no motorcycles) but clearly comes from the same visionary mind. I love how she keeps the original language but makes the plays accessible to numbskulls like me by telling the story through the visuals and the acting. It's not the same as on stage, they can whisper. They can have a look in their eye that's only picked up in a close-up. To me they kind of seem more "real" than alot of times when you see Shakespeare performed and yet the visual world is more unreal.
The actors in this are great. I was kind of amazed at how much Russell Brand could seem just like himself but speaking the lines from the play. It sounds so natural. But Hounsou is the guy that steals the show. He's so physical and weird. He's kinda like Gollum but without the benefit of computerized monster features, he just has pain-in-the-ass-to-apply fake mud skin. I like that guy but I had no idea he was capable of playing a character like this.
It's kind of weird that the one black actor has to play the slave. I looked it up and it's not traditionally a black actor, so that's not on Shakespeare. But fuck it, it's the best character. He's referred to as a "mooncalf" and the son of a witch named Sycorax. He was on the island before Prospera, so he says he owns the place. But because of the makeup I kind of felt like he was born out of the earth. He doesn't just own the island, he is the island. So quit making him move sticks around.
Kyle Cooper is credited as the effects supervisor. That's the guy that got famous for doing the SEVEN credits sequence, and he did those "penny arcade" scenes in TITUS. I like the effects here because they're going for style and not realism. The way Ariel is superimposed flying around is goofy looking but it almost seems like how Taymor would've projected him on stage. (actually she used a puppet when she did it on stage which would've also been cool in the movie.) There is a little part with a human crow monster that I guess is a harpy, it's apparently done live with a human head and puppet body and looks absolutely incredible. It's not a big enough part of the movie to recommend you see it just for that, but it's one of the best monsters I've seen in a long time. The CGI hellhounds on the other hand are pretty crappy looking.
I didn't get a chance to watch all of the extras before I was done with the rental, but from what I did watch I gotta say that like TITUS the making-of stuff is almost as good as the movie. Taymor knows these plays inside and out from doing them on stage and she has a long rehearsal period where she goes through line-by-line with all of the actors and she's just so much more involved than a movie director normally is. Her process with Brand is especially interesting because she lets him improvise and paraphrase all his dialogue in modern speak and then go back to the original text once he really understands it. There's a clip where she asks him to tell her about his character and he goes on a rapid-fire in-character non-stop riff for several minutes. Even if you find him annoying, which is understandable, you can see that his brain lives life a quarter mile at a time and you can understand why she would like him. I bet he shows up in her next movie too (hopefully as spider-man or green giant or whoever).
Somebody who has opinions on this play might have more to say about Taymor's particular interpretation of it, but just from the perspective of the Shakespeareless this is a good one. Personally I might prefer TITUS because it's more elaborate and crazy, more Michael-Jackson-video-esque, but this has the same quality of a beautiful and surreal visual experience and great acting that makes the play very accessible. In fact a little more accessible than TITUS because it's 52 minutes shorter. Also it doesn't have a bunch of chopped off limbs or cannibalism so that makes it either more or less accessible depending on the person I guess.
It's a good story well told, great characters well acted, and one of the year's best harpies.
According to an important new expose by the director of INDEPENDENCE DAY and GHOST CHASERS, "Shakespeare never wrote a single word." Not even "fart." I guess judging from the trailer Shakespeare was just some nitwit that the powers that be chose to use as a patsy in some kind of conspiracy that had to be kept so secret not even Nic Cage knew about it in NATIONAL TREASURE. Some other guy wrote those plays, if they were even written at all, which frankly I'm starting to doubt. This review will probly seem silly and naive after ANONYMOUS comes out, but I enjoyed THE TEMPEST. I'm glad I was able to see one last "Shakespeare" movie before Roland Emmerich proved it didn't exist.
THE TEMPEST is currently available on blu-ray but for some reason the DVD doesn't come out until December 20th, when it will already be too late.
This entry was posted on Friday, September 23rd, 2011 at 10:54 am and is filed under
Fantasy/Swords
,
Reviews
. You can follow any responses to this entry through the
RSS 2.0
feed. You can skip to the end and leave a response. Pinging is currently not allowed.