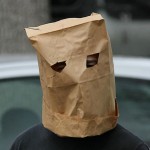 As you've probaly figured out by now, I love THE TEXAS CHAIN SAW MASSACRE. Hell, I'd go so far as to call it the DIE HARD of horror. The Mohammed Ali of horror. The Bruce Lee of horror. I also love part 2, not as fond of part three, hated part 4, fucking DESPISED the remake.
This week they got the prequel to the remake coming out. I'm sure I'll probaly hate it, but who knows. In some ways it doesn't sound as bad as the remake, and since it's not a remake you can hold it to the lower standards of a sequel. And lucky for it, there have been two not so hot sequels already to lower the bar. So I came up with a plan. First, I devised a method by which I will see the prequel without Michael Bay getting any of my money. Then I rented parts 3 and 4 so I can have them fresh on my mind while watching the prequel. That way I will have the maximum possible open-mindedness when I see the new one and might be able to appreciate it. The only problem is I watched Part 3 here and it's not as bad as I remembered.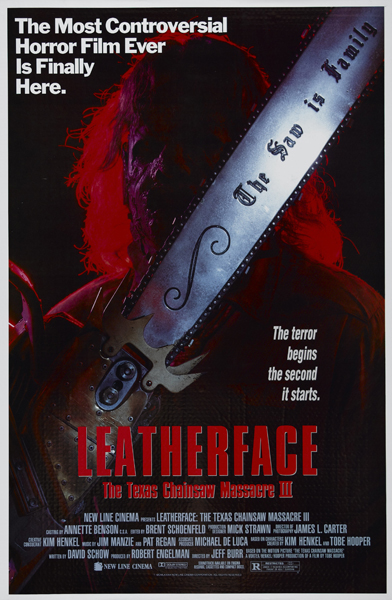 LEATHERFACE (which is a dumb fucking title) is not really a disaster. More like a small accident, a minor fenderbender. Nothing to be proud of, but we'll get it fixed. The beginning of the movie has Leatherface creating his mask, shot exactly like the opening of A NIGHTMARE ON ELM STREET where Freddy constructs his glove. This is important because that's the context this movie was made in. New Line Cinema had the rights to make a Texas Chainsaw sequel. They had just released A NIGHTMARE ON ELM STREET 5: THE DREAM CHILD and it had done only okay. And they probaly knew that NINJA TURTLES shit couldn't float forever, so they had to come up with a new Freddy. That's why the title puts the emphasis on Leatherface. Leatherface is Freddy, the mask is his hat I guess, the saw is his glove. Give us money.
The extras on the DVD for LEATHERFACE repeat what director Jeff Burr said in the documentary THE SHOCKING TRUTH, that Peter Jackson (who had only done BAD TASTE and MEET THE FEEBLES) was New Line's top choice for the movie. That sure would've been a weird alternate reality if he had taken the job, but after he and others turned it down they went back to Jeff "STEPFATHER 2" Burr, who they had rejected before, and gave him only a couple weeks before he had to shoot the script they had already developed. Then when it was done New Line made them cut stuff out because they were worried about the ratings, and when they submitted it to the MPAA (11 times) they had to cut out even more. If you take all that into account you can understand why it doesn't work but you can admire the little bits here and there that Burr managed to pull off.
The main characters are a couple driving from L.A. to Florida. They stop off for gas in some Texas-themed part of California where they have signs that say "Don't Mess With Texas" and "Texas Road" but the landscape still looks like California. The gas station is run by Alfredo (Tom Everett), a weird mumbling pervert with a novelty skull toy, a peephole into the gas station restroom, and a weakness for the ladies. He has a polaroid camera around his neck, so you know he's supposed to be the substitute for Edwin Neal's hitchhiker character. This guy is definitely the most CHAIN SAW character in the movie, he does a great job of mumbling crazy shit to himself, having that Edwin Neal balance of creepiness and black humor, but with an added edge of misogyny and general hostility.
But then Viggo Mortensen shows up. His name is Tex (after the state that California is supposed to resemble in this movie). He sort of rescues the girl from Alfredo while her sissy boyfriend is in the bathroom, and they flirt. Alfredo gets jealous and pulls out his shotgun, Tex stands between them, the couple make a run for it. And from that point on their road trip is fucked.
First they get a flat tire. Which is bad enough. But then to make matters worse, Leatherface comes after them in a huge truck with the brights on. This is sort of what happened in part 2, but this time they added the new touch of a truck-bra made out of stitched together human skin. He saws up their car and magically tears the trunk lid off, but they get away. Then they almost collide with a Jeep, which happens to be driven by the great Ken Foree (Peter from DAWN OF THE DEAD, later Charlie Altamont in THE DEVIL'S REJECTS). He turns out to be some kind of survivalist, which explains why he has some weapons. He mentions having a ranch or compound or something with a couple of buddies – I wish the end of the movie was him going and getting his buddies and then come back with a fuckin arsenal and declare a civil war against the Sawyer family. That would be a different movie from all the other ones. It would be the ALIENS of the Chain Saw series, maybe. But that's not to be.
But the three of them get attacked together so they sort of become a team. At one point, Foree runs into the crazed last survivor of a previous chain saw massacre, an idea that was used again in the remake.
After various horror and etc., the boyfriend and girlfriend both end up in captivity at the new Sawyer house, where we meet the all new family. I guess maybe Leatherface somehow survived his stomach-sawing and hand grenading in part 2 and went to live with some cousins or something. (Actually I think his squeaky legbrace is supposed to tell you this is a direct followup to part 1, where he saws his own leg.) This time there's a little girl (possibly Leatherface's daughter) who plays with a doll made out of a baby skeleton. There's a mother in a wheelchair who talks through a tracheotomy deal and looks at Leatherface with the eyes of a proud mother. There's sort of the macho uncle with an earring, Tink, who builds "Junior" (Leatherface) a badass tricked out chrome chainsaw with "THE SAW IS FAMILY" engraved on the blade. Also he is responsible for the new headpounding contraption they use to make their lifestyle more convenient in the more technological age of 1990. And then there's Tex, who you would have to be an idiot to not expect to end up in the family, even though he was really good at passing himself off as a respectable member of society. Viggo does a good job with a couple good lines like "How you like Texas?" and "If you need anything… just twitch." But his character is a little too standard-issue evil to live up to the legacy of the first two films. He's no Chop Top, for example.
Oh yeah, and Grandpa is still there. He looks just like in part 2, but he's dead and mummified. The one really brilliant cinematastic touch by Burr is that he keeps cutting to reaction shots of the dead Grandpa. It sort of gets you in the crazed Dinner Scene mindframe of the characters. The poor gal has her hands nailed to a chair, her boyfriend is hanging upside down dead, there's a family of weirdos talking about "Junior loves them private parts, he sure knows what to do with them parts," and the director is interested in what the mummified body thinks about all this. Perfect.
In the original and the other sequels, the girl manages to excuse herself from dinner, but this is the only one where a survivalist shows up and fires a PREDATOR-sized barrage into the window, massacring most of the family. He shoots off two of Tink's fingers and (somehow) one of his ears. He even kills Grandpa. But eventually, obviously, he's gonna run out of bullets and there's gonna be a final battle with Leatherface, etc. Maybe a car chase, but probaly not. I have never been clear why the girl doesn't seem to have any problems with her hands after having them both impaled on railroad spikes and pulling them off.
I have mixed feelings about this Leatherface. The mask looks stupid. The hair looks stupid. The first time he attacks he just seems like a macho evil guy, like in the remake. But when he's in the house he seems more like the frightened retard from the first two movies. He is in sort of a teenager phase, so he listens to shitty heavy metal and puts headphones on his victims. He plays with a Speak 'n Spell type game but is not very good at it. The other characters are decent but not on the level of a Cook, a Hitchhiker or a Chop Top. (The cook apparently went down in the gas chamber, at least that's who I think they are talking about as "W.E. Sawyer" in the Laroquette-less opening crawl.)
The newer version of the DVD has some good making ofs and what not. It supposedly has both the R-rated and unrated versions, but then when you watch the ten minute montage of stuff they had to cut out to get an R, you find out that it's not in the unrated version. So I don't know what the deal is. But it seemed like it would've made the movie a little more intense.
I think the biggest problem with the movie is the style. It just doesn't have that realistic feel of the first one or the relentless insanity of the second. This one feels like exactly what it is, a scripted Hollywood sequel, shot in California. It just doesn't have the art or the authenticity or the muggy Texas atmosphere of the other two. It looks cheap, but still too polished, and the two leads are pretty bland. That combined with the fact that it's part 3 with a storyline not hugely different from the other two, and you get a pretty weak movie. But they have the family dynamic down, they tried to make some new characters and bring Leatherface a little further, and they were smart enough to cast Ken Foree. At least their hearts were in the right place.
This entry was posted on Tuesday, October 3rd, 2006 at 8:58 pm and is filed under
Comedy/Laffs
,
Horror
,
Reviews
,
Thriller
. You can follow any responses to this entry through the
RSS 2.0
feed. You can skip to the end and leave a response. Pinging is currently not allowed.