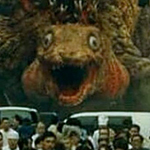 SHIN GODZILLA – or NEW GODZILLA, or TRUE GODZILLA, or GOD GODZILLA – is the new Japanese Godzilla movie, a regular rubber suit one even though it's from acclaimed anime director Hideaki Anno (Neon Genesis Evangelion) (co-director Shinji Higuchi has worked on anime and live action and live action anime and did effects for the GAMERA trilogy). They'd stopped making Godzilla movies in Japan, I guess, but the recent American one by Gareth Edwards got them itching to start over again. So this is yet another do-over where they discover the King of the Monsters for the first time and he doesn't have another monster to fight. He just has Tokyo.
There is plenty of computer animation, but also alot of the old rubber suit, animatronics and miniature models, sometimes deliberately, nostalgically old school. When Godzilla first emerges he's in a comically fucked up form with crazy googly eyes, little nubs instead of arms and a chest that expands and contracts like an accordion. He evolves through several stages throughout the movie, so by the end he's absorbing power and firing energy beams out of his spines like a laser show. And according to my research he is the tallest Godzilla ever, and the one with the longest, weirdest and most fucked up tail. But his eyes never quite stop looking like a turkey's.
The monster attacks are great, but they're actually a small percentage of the running time. That's the reason I gotta assume some people will be horribly disappointed by SHIN GODZILLA, but it's also the genius of it. This doesn't seem like Toho Studios attempting to revive their franchise. It seems like them being laidback enough to let an artist riff on their movies. In a normal kaiju picture the monster attacks and then some bombers and tanks show up and some guys watch from a command center and some guys are in a lab or watching from a nearby field or hill. SHIN GODZILLA is about the processes and the bureaucracy that go into that response. The emergency meetings, committees, task forces, votes, press conferences, meetings about press conferences. Who hires those scientists? How do they get authorization to use the Self Defense Force against a creature? How do they get civilians out of the way? What do they tell the public?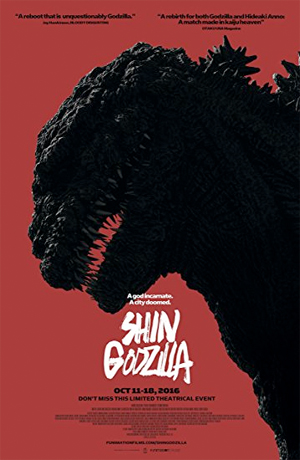 They have to address the legality of mobilizing the military against Godzilla. Even when they get them there civilians are spotted and they have to go through a long chain of people before they call it off. They have to deal with evacuation, and gridlock from evacuating, with finding shelters and food for refugees, with running out of medical supplies. They can't get American help because of the way the treaties work, then they end up having to navigate things for their interests when the U.S. and the U.N. take over command.
It's a monster attack procedural. The level of detail gets absurd and humorous. Most people seem to take it as a satire of bureaucracy, which is fair enough. For Japanese audiences, the movie brings up memories of the 2011 disasters of the Tohoku earthquake and tsunami and the Fukushima Daiichi nuclear accident, and many reviewers interpret it as an attack on the Japanese government's response to those catastrophes. They may be right. But I took it more like THE POSTMAN: a reminder of the importance of serious, professional people organizing and working together to accomplish things for society. Pooling expertise and ingenuity to help people. Mistakes are made and arguments are had, but the people at the center of the story are heroes. You think some anarchists would handle it better than this bureaucracy?
They say Godzilla means "god incarnate." He is giant, he is evolving, he is powerful and seemingly unkillable. We are small and vulnerable. But all these tiny people join together like cells, they become a system, a network that combines its ideas, its man power, its resources, to become something bigger, more powerful, something that also evolves as it faces new challenges. It gets its head cut off and it grows a new one, just like Godzilla probly would if he ever got his head cut off, which he wouldn't, because he refuses to.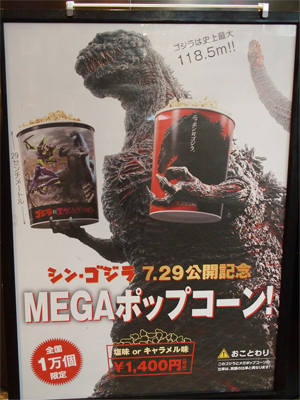 (ENDING SPOILERS EN ROUTE)
The original GOJIRA (1954) is a pretty depressing movie, famously symbolizing the bombing of Hiroshima and Nagasaki. SHIN GODZILLA brings back that topic when America and the U.N. decide to drop an atom bomb on Godzilla. Which is in poor taste. No one in Japan is happy about this. But they have a window of time to achieve their plan of freezing Godzilla to stop the bombing.
It's a counterintuitive but pragmatic movie ending, like THE MATRIX REVOLUTIONS. Ultimately they determine that they have to coexist with Godzilla. And I suppose it's the same with nuclear weapons, unfortunately. The cat is out of the bag, the Godzilla is out of the ocean, we don't seem to have the power to get rid of them. But that doesn't mean we have to go to war.
SHIN GODZILLA got a very limited event type release in the U.S., only playing a few shows on specific nights last October. I saw it then, but held off on my review until there was a possibility of others seeing it again – which is now, because it finally came out on disc last week. Watching it, it was one of those movies where I was loving it but also assuming that many people would hate it for being more about government than monsters. But I think I underestimated "many people," because the crowd seemed to respond very favorably and I've talked to quite a few people with varying levels of Godzilla fandom who've seen it, and so far I haven't found one that didn't think it was great.
If there was an American remake I'd want it to be written by Aaron Sorkin. A sequel would be tougher. From what I've read, they're not allowed to make more until 2020 because of their deal with Legendary, but I suspect this was intended as more of a one-off "this respected director wants to make a Godzilla movie, why not let him?" kind of situation. If there's a sequel, the ending is a cliffhanger. If there's not, it's more ominous – leaving mankind in a perpetual limbo, potential horror on standby right under (or I guess over) our noses. But that's life. Let's just make sure the task force is ready.