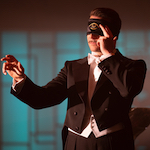 "Folks here, they don't make no never mind who you are or what you done."

The first shot in Guillermo Del Toro's Depression-era noir movie NIGHTMARE ALLEY is of Bradley Cooper dragging a wrapped-up corpse into frame. It reminded me of the teaser trailer for THE HILLS HAVE EYES 2 (2007). That was not a good movie, but it was a great teaser, so when a best picture nominee reminds me of it, that's pretty impressive. If BELFAST or THE POWER OF THE DOG started out like the legendary Lady in the Lake teaser for LEATHERFACE: TEXAS CHAINSAW MASSACRE III they would move up a notch for me, personally.
Cooper's character Stan is inside a small house in disrepair, and he drops the body into a hole in the floorboards, puts on his coat and hat, takes a moment to contemplate and light a cigarette, sets the place on fire and leaves. If anybody walked into the movie exactly two minutes and saw him on a bus out of town they probly spent a good chunk of the movie thinking he was a good ol' salt of the earth everyman trying to survive day-to-day through hard, humble work. The rest of us had to watch him very unsettled, wondering what he's up to, questioning the sincerity of everything he says or does. 'Cause you can never fully trust a corpse dragger.
You know Cooper from THE MIDNIGHT MEAT TRAIN or THE A-TEAM, but he has a side hustle as a respectable actor, having been nominated for Oscars for THE SILVER LININGS PLAYBOOK, AMERICAN HUSTLE, AMERICAN SNIPER and A STAR IS BORN. One thing that's cool about NIGHTMARE ALLEY is that it teams up Oscar nominees Cooper, Rooney Mara, Toni Collette, Willem Dafoe and Richard Jenkins, plus Oscar winner Cate Blanchett and 2008 Scream Award for Best Fantasy Actor and Best Superhero Ron Perlman to star in a grim period thriller with a budget similar to something like LONDON HAS FALLEN. Del Toro (BLADE II) has followed an unusual path: winning best picture for a movie about a lady kidnapping a monster from a lab and fucking him in her bath tub because he knows how to ask for more eggs, then cashing in the clout that earned him to make his first ever movie that's just a straight drama with no monsters or ghosts. That sounds like a bummer, but I think this is the first time since PAN'S LABYRINTH that one of his movies hit me as hard as I wanted it to. I've liked everything he's done, but it's been a while since I've loved one. This one I loved.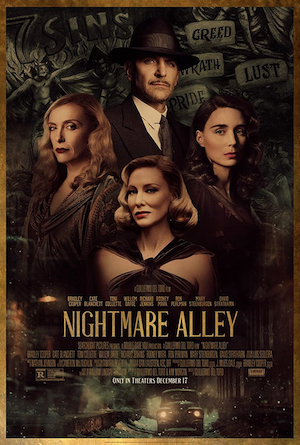 Adapted by Del Toro and film critic/his wife Kim Morgan, it's a story that had me rapt right away. I don't think we hear Stan say a word for more than ten minutes. He wakes up when the (midnight meat) bus hits the end of the line. In town he does a double take when a 3' 9 1/2" man (Mark Povinelli, BEER FOR MY HORSES, WATER FOR ELEPHANTS) walks past him. Then we follow Stan as he follows the poor guy to his job at a carnival. We see him seeing the people who will become his life for a while. He lights up when he sees Molly (Rooney Mara, Classroom Girl #1, URBAN LEGENDS: BLOODY MARY) walking with her possessive father figure Bruno (Ron Perlman, POLICE ACADEMY: MISSION TO MOSCOW). Then he turns his attention to the barker Clem (Willem Dafoe, SPEED 2: CRUISE CONTROL) and follows the crowd into a sideshow tent to look down into a pit and watch a geek (Paul [not p.t. or W.S.] Anderson, LEGEND, THE REVENANT, 24 HOURS TO LIVE, HOSTILES, ROBIN HOOD) bite a chicken.
Sneaking off to avoid paying his twenty-five cent cover charge, Stan runs into Bruno in an employees only area and accidentally gets a job helping take down tents. That leads to selling Clem a radio, which leads to being around when the geek escapes and being the one to find him cowering in the funhouse.
I think this is the first time Stan really talks. He says, "Hey pal, everybody's lookin for ya. I'm not gonna blow the whistle, you didn't do nothin against me. Why don'tchya come on out? Come on, I'm not gonna hurt ya." He seems very sincere. He might be sincere. But the geek hits him with a rock so a second later he choke slams him and clubs him on the head so hard Clem worries he's gonna kill him.
Stan uses his night's pay to buy a bath, available for a dime from the psychic, Madam Zeena (Toni Collette, xXx: RETURN OF XANDER CAGE). Note that that's less than half the price of watching a dude kill a chicken. And for that price Stan also gets some lovin and a job as her assistant. Also he meets her husband Pete (David Strathairn, THE TEMPEST), who drinks too much to help much with the act but invented all the tricks and later starts teaching them to Stan. Demonstrating the technique on Stan, Pete freaks him out by guessing he has issues with his father.
"How'd you know about my father, though?" Stan asks.
"That's a stock answer. It's a black rainbow. One size fits all."
In other words, you ain't that special, kid. You're just another mark.
But he's determined to make something of himself, and of Molly. She does an act involving electrical current – he sketches up an idea to spruce it up with a prop electric chair, and they get close enough that Bruno threatens him with the "five good pounds of meat and bone" at the end of his arm. Says he promised her old man, a legendary grifter, that he'd take care of her.
The thing is, Stan is such a questionable individual that I wondered if he knows something about this grifter, came to this carnival on purpose, that's why he eyed Molly immediately, why he came circling, and will eventually lure her away to do a high class mentalism act with him in the city. Most of these types of thoughts will not pan out, but I appreciate the discomfort of following this anti-hero, feeling an instinct to want to watch him achieve whatever he's trying to achieve, but also worrying what the fuck he might be up to. The American dream, a scam, or both.
He does, at times, seem like he might have a conscience. Clem speaks in hushed tones but smiles with pride when he shares the trade secret of how to create a geek, which involves finding a wino and getting him hooked on opium. "Jesus. Poor soul," Stan says. But we can only guess how much he means it.
Of course Del Toro – with cinematographer Dan Laustsen (MIMIC, SILENT HILL, JOHN WICK 2-4) and production designer Tamara Deverell (FIREHOUSE DOG) – makes the carnival look incredible. This movie made me realize that there are directors who will take any opportunity to put a funhouse in their movie and then make it look like the coolest funhouse you've ever seen, and that I tend to like those directors.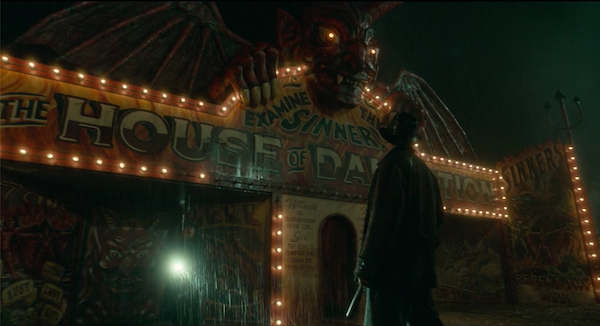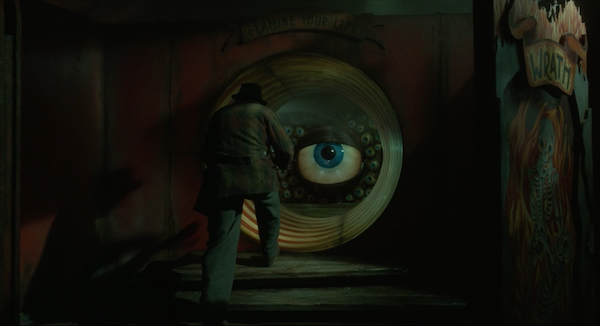 It's not just the gaudy portable artifice they carry around that has a beautiful ugliness to it – it's also the dirt and water on the grounds around them. This is a movie full of stormy nights, lots of excess water dripping off of fedoras, tents and the roof of the carousel, and endless steam raising off of everything.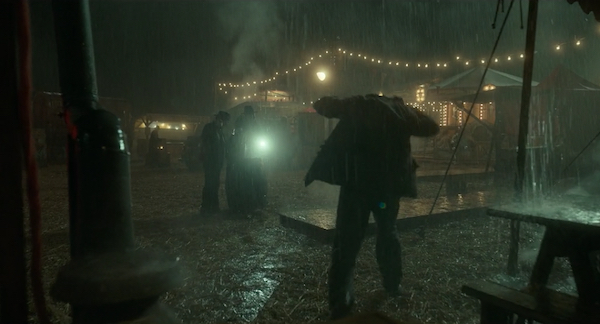 And then it's sunbeams reflecting on the wet boardwalk the next day, Clifton Collins Jr. (FORTRESS) strumming a guitar, Molly watching the Snake Man (Troy James – Baba Yaga from the non-Del Toro HELLBOY) do a contortionist dance. Just a nice morning or early afternoon hanging out before work. The kind of thing that maybe makes this work worthwhile.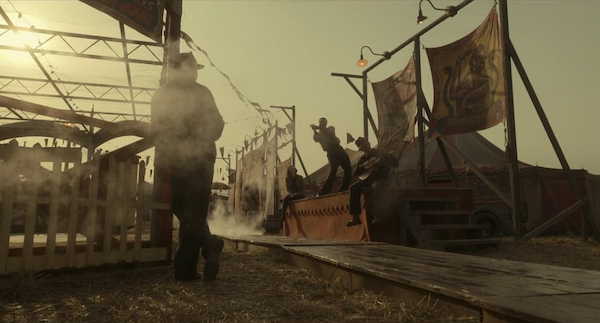 Then Stan and Molly leave for entirely different surroundings, doing their high class mentalism act (based on tricks purloined from Pete under sinister circumstances) for rich people in a fancy hotel ballroom in Buffalo. With a mustache now, wearing a tux, faking an accent. It's two years later, he's not being so sweet to her anymore, and she clearly misses her family at the carnival. I like when they come to visit – they bring a pet rabbit, but dress up nice, know how to fit in, are not afraid to indulge in the multiple platters from room service, and somehow seem wholesome and ethical compared to the bullshit around here.
Zeena's trying to give Stan advice, because Molly's worried about him. He's recently met his match in Lilith, a psychologist who figured out some of their tricks and tried to embarrass him at a show. He outsmarted her, though, so her friend Judge Kimball (Peter MacNeill, RABID, RENEGADES, BODY PARTS, SHE NEVER DIED) is convinced he's for real and can help him communicate with his dead son.
Going against everything he was taught at the carnival, Stan starts doing these "spook shows" for Lilith's elite clients, convincing her to give him information on them in exchange for letting her have therapy and hypnotism sessions with him. (All of this is very unethical!) Parallels are drawn between therapy and mentalism, but interestingly I don't think psychiatry comes out looking like a scam. It's more like Pete's method was just a crude take off on psychiatry. Because maybe most young men do have an issue with their father, and definitely most older people deal with some sort of loss, just like he said. But Lilith, we hope, uses this information to heal people, not to fleece them.
The more dishonorable Stan gets, the more human he starts to seem. Because it becomes clear that this is not some masterful con he's been working since the beginning. It's just another guy cheating to get ahead and fucking himself over irreparably. Claiming he's doing it for Molly no matter how much she doesn't want him to do it, no matter how right she obviously is that he shouldn't. Normal human weakness. A stock answer, a black rainbow, one size fits all.
I've never read the book by William Lindsay Gresham or seen the 1947 movie starring Tyrone Power, but there was definitely a point in the last stretch of this where I realized (SPOILER) "Oh shit, he's gonna become the geek at the end." I don't know whether that's meant to be a shocking twist or if you're supposed to see it coming, but it worked really well for me the latter way, since we've seen this bastard pushing his luck further and further ever since we saw him disposing of that corpse. Taking it too far, going too big, dragging his own body into that hole and lighting the house on fire. It's like watching in slow motion as he launches a motorcycle off a jump and we see the brick wall he's gonna smack right into in the distance getting closer and closer, bigger and bigger. And it's not a "Saw that coming, big deal" type letdown, because when he realizes his fate, it's the one really outsized bit of acting from Cooper in the movie. It's perfect. (Forgetting that he wasn't nominated for best actor I thought I was gonna have to warn everybody to see this before the Oscars because you know they would've used the final shot of the movie as his clip!)
I've heard the earlier movie version is great, and the book sounds good too. The author, Gresham, was born in Baltimore, but in his early 30s he moved to Spain and volunteered as a medic for the Loyalist forces. That's where he became friends with a former sideshow employee whose stories inspired him to write his novel Nightmare Alley (1946) and a non-fiction book called Monster Midway: An Uninhibited Look at the Glittering World of the Carny (1954). He also co-wrote with James Randi Houdini: The Man Who Walked Through Walls (1959) before switching it up a little with The Book of Strength: Body Building the Safe, Correct Way (1961). (In my opinion Cooper should've had to pump up to John Cena size to play the role, but that's my only complaint.)
It sounds like Gresham's life somewhat mirrored the harrowing twists and turns of his fiction. After his adventures in the Spanish Civil War and surviving tuberculosis and a suicide attempt, he suddenly got a bunch of money right after the book was published, because Tyrone Power got the studio to buy the rights. But the author was an alcoholic and a cheater and when his wife, the poet Joy Davidman, let her cousin stay in their New York mansion while she was out of the country, Gresham decided to be with the cousin instead. Davidman had been visiting her favorite author turned penpal C.S. Lewis, who she later married. She's played by Debra Winger in the movie SHADOWLANDS.
In conclusion, watch BLADE II again, but also watch NIGHTMARE ALLEY!