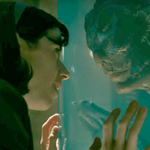 (may contain traces of spoilers)
THE SHAPE OF WATER is kinda like Guillermo del Toro's version of AMELIE, and obviously in his version Amelie fucks a sea monster. Sally Hawkins (NEVER LET ME GO, GODZILLA) plays Elisa, a mute (but not deaf) lady living a quirky life in Cold War era Baltimore. Her apartment is above a beautiful one-screen movie theater showing THE STORY OF RUTH. Her next door neighbor and best friend Giles (Richard Jenkins, BLUE STEEL) is a gay painter of magazine advertisements who lives with a bunch of cats. In the opening scene, a nearby chocolate factory is on fire, so he's even given an impression of how the place smells (shoulda seen it in 4DX).
Elisa's job is mopping floors in an aerospace research lab, and one night the bosses bring in "The Asset" (Doug Jones, FANTASTIC 4: RISE OF THE SILVER SURFER), a creature from the unspecified lagoon in a metal tube, for top secret experiments. Elisa and her co-worker friend Zelda (Octavia Spencer, HALLOWEEN II, DRAG ME TO HELL) don't see it at first, but they hear its roar and have to clean up its bloody mess when it removes two fingers from sadistic head of security Richard Strickland (Michael Shannon, BAD BOYS II) without getting his permission.
We all know del Toro loves his creatures, and we'll get to that. He also delights in contrasting them against depraved monsters of the human variety. Strickland is one of these, an aggressive bully who likes to talk about "signs of weak character" and the brand and stats of the cattle prod he carries around. You know you're a bad person if you have a little speech prepared about your favorite candy that you can suddenly go into while intimidating somebody so they'll think "Oh good, he changed the subject to candy all the sudden, I don't understand why but maybe we are going to eat candy now or something" and then "Oh no, I should've known, he only brought up the candy as an analogy for his philosophy of brutal torture." (read the rest of this shit…)