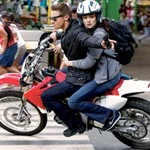 THE BOURNE LEGACY is a sequel with the uphill task of replacing its title character. Not recasting, like James Bond, but creating a new hero, like when Valerie Harper got fired from Valerie and they brought in Sandy Duncan as her sister-in-law. I actually think that's more interesting than if they just made another Matt Damon BOURNE. I liked those movies but I think they're pretty repetitive, and they wrapped up that storyline anyway. Enough of that, I say. But I'm surprised the studio thought there were enough people like me to justify making this movie.
(And I thought they were wrong, based on the reviews I'd heard. I know at least a couple of you guys hated it, and I assumed not many went to see it. But I just looked it up and it turns out it made more money than they expected it to and they might do another one.)

Amnesiac superspy Jason Bourne was created in a secret CIA program called Treadwell. After he figured out his identity, established supremacy and gave them an ultimatum he gave Treadwell the Bourne Exposure. Now the intelligence community powers that be (Edward Norton) are flipping their wigs 'cause they worry that those fuckups could endanger better programs, like this one called Outcome which Aaron Cross (Jeremy Renner) is a part of.
When the movie begins, Cross is at a remote Alaskan black ops training ground, swimming through icy water, climbing mountains, leaping across chasms, fighting wolves (he handles it better, but less poetic, than the guy in THE GREY), surviving alone, stopping to take pills and shoot up. He eventually meets up with another agent played by Oscar Isaac. I didn't know he was gonna be in the movie, and he's so perfect because just like in DRIVE and SUCKER PUNCH you can read him different ways, he could be a threat or a great help. Are they bonding or is this a test? Perfect casting to crank up the paranoia early on. They stay in a cabin (like HANNA or THE AMERICAN – assassins always hide out in remote icy cabins), Cross asks too many questions, gets no clear answers, then headquarters tries to kill them. Doesn't kill Cross.
So, like Bourne, Cross is on the run and trying to find answers. But he hasn't forgotten who he is, he just hasn't been told what they're doing to him. Norton is his antagonist, but he does it from far away, setting up a "crisis suite," barking orders at a command center full of experts looking through files, watching security feeds, making phone calls, raising their hand if they need a higher security clearance.
Meanwhile there's this lab where Dr. Marta Shearing (Rachel Weisz) works. They do something with the Outcome subjects, doing check ups on them, we're not sure what else. Through flashbacks we know she's examined Cross before. Then one day one of her colleagues locks the doors and starts shooting everybody. I'm glad I watched it before the most recent mass-shooting incident that's in the news, because that would've made it more painful. It's a harrowing sequence taking advantage of our knowledge and fears of real life "guy suddenly snaps" workplace shootings, plus the old conspiracy theorist's favorite that they could be mind controlled government hits. I gotta question the sanity of people when they suggest that in real life, but of course in the world of BOURNE it makes perfect sense.
We follow Weisz as she escapes this and deals with the aftermath. I like when movies go off on tangents and pull me in enough that I forget we've gotten away from the other thing. So I was off guard when the storylines suddenly met up. Good stuff.
Here's an interesting character detail about Cross: when he uses a wolf as a decoy to escape from a drone he takes a moment to tell the wolf, "You shoulda left me alone." Like he genuinely feels kinda bad about it. Or he feels he has to justify himself to the wolf. Look pal, I was just gonna get blown up but you brought this upon yourself.
Director Tony MICHAEL CLAYTON Gilroy – who was a writer on the others, but had some disagreements with sequelist Paul Greengrass and star Matt Damon – seems to have made a conscious effort to shoot it as if purposely directed by somebody instead of Greengrass's "oh shit, there's a guy running and we happen to have a couple handheld cameras here!" approach. He assumes people will still recognize it as BOURNE because of all the scenes of character actors barking out orders in rooms full of people looking at different files and security camera feeds on different computer screens. I appreciate the slightly more MISSION:IMPOSSIBLEish approach, where the camera holds still for a motorcycle flip or shows a parkour guy run up a house in one shot, though some fights still have pretty quick cuts and closer-than-I'd-like cameras.
Near the beginning they have Paddy Considine as a reporter for The Guardian, and I thought "oh cool, I didn't know Paddy Considine was gonna be in this," but then he immediately gets shot, and I thought "oh yeah, that was footage from THE BOURNE ULTIMATUM, I forgot he was in that." There are a bunch of small appearances by great character actors: David Strathairn, Albert Finney, Scott Glenn, Stacy Keach. Joan Allen (DEATH RACE, FACE/OFF) returns as Pamela Landy, but I bet she filmed her part in a day or two. It feels a little forced.
In my opinion that's the one thing holding the movie back a little bit is how much they put into tying it in with the previous movies. They overlap it with ULTIMATUM, showing that Norton's character was the one pulling the strings, calling for the journalist to be killed. They have characters looking at Bourne's file, they show his photo and talk about him on the news, and in one part that made logical sense but still made me laugh Cross notices where Bourne carved his name into the rafters of the cabin hideout. Bourne was here! I know this is all for those people who weren't as easily sold on a new main character as I was, but I doubt it helped. It just draws attention to Damon's non-participation. A couple times it felt like one of those DVD extras, like the one on xXx where they killed off Xander Cage. I kept expecting Matt Damon's stunt double to play the back of his head.
Man, maybe Ice Cube should've starred in this one? Nah, Jeremy Renner's good though.
Directationally it doesn't feel nearly as confident as MICHAEL CLAYTON, but when it gets rolling it does have tastes of that thick tension and dramatic complexity. The new shit is much more compelling than the Bourne shit. Cross is basically a junkie, spending the whole movie trying to get his "chems," and when he first saves Marta he seems kind of crazed, more like an abductor than a rescuer. Just like he didn't know what to make of Oscar Isaac, she has no idea if she can trust him, and vice versa (although this time the audience has a pretty good idea they're both clean).
I think their relationship is interesting in unexpected ways. They're both discarded pawns of a conspiracy between intelligence agencies, military units, scientific researchers and pharmaceutical companies. He needs her because she's the closest inside he can get, she needs him because he's the only person willing and able to stop the people who plan to blow her head off. She's a good person at heart but she's used her talents for this morally questionable thing and he guilts her about it. She justifies herself on the basis of ignorance, or greater good. "I was there for science!" But is that enough? She must not be sure.
I like that the Outcome agents keep their drugs in a container inside their dogtags. It's a good visual representation of their predicament: the symbol of their enlistment is also the vessel of their dependency.
(How's that for a high falutin sentence? God only knows what the rest of 2013 will bring.)
There's alot of talk about Cross being amazing and beating previous records and stuff, and he does some impressive action feats, but they don't really give him super powers or anything. They just work hard at creating a plausible sounding science behind how this action hero was created. Maybe if there's a BOURNE CONTINUATION he'll start doing Wolverine shit. (If there's not then I guess this will be a mostly forgotten footnote, like xXx STATE OF THE UNION or U.S. MARSHALS.)
THE BOURNE LEGACY may be only the third best Jeremy Renner action franchise of 2012, but it's its second best UNIVERSAL SOLDIER movie. I enjoyed it.