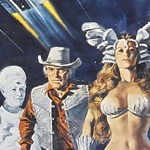 Fuck a star war – what about a battle beyond the stars? I know a battle is smaller than a war, it is only one of the units that makes up a part of a war, but maybe that's better. More intimate. More focused. And then it's beyond the stars instead of within them, as a mere star war is. Beyond is better. This battle has transcended the fucking stars.
Admittedly, it doesn't seem like BATTLE BEYOND THE STARS takes place further away from here than any of the STAR WARSes. In fact, it is for sure closer, because people have heard of the planet Earth, and one guy is from there. His name is Cowboy, but not the pioneering rapper from the Furious Five who coined the term "hip hop." He's actually George Peppard a couple years before The A-Team and he wears a cowboy hat, plaid shirt and insulated silver space pants. He always shows off that he likes westerns and exotic Earth liquor. Obviously he's the Han Solo character, and he's entertaining, but most of his scenes are alone in his ship, so there's a Chewbacca-sized hole next to him.
Coming three years after STAR WARS this was Roger Corman's attempt at a knockoff, and unlike most of the other posers he was smart enough to take a look at Lucas's influences and model the story after samurai movies – in this case SEVEN SAMURAI. Of course, this doesn't hold a candle to either STAR WARS or SEVEN SAMURAI in my opinion. In fact it is a pretty bad movie. But it's interesting. It's less remembered for its story and characters than for its trivia-ready credits: John Sayles wrote the screenplay (it came out the same year as his directorial debut RETURN OF THE SECAUCUS 7), James Cameron did some of the effects (the year before his directorial debut, PIRANHA II: THE SPAWNING), the late James Horner did the exciting score (six years before working with Cameron on ALIENS), all of which contribute to it being a little better than you might expect.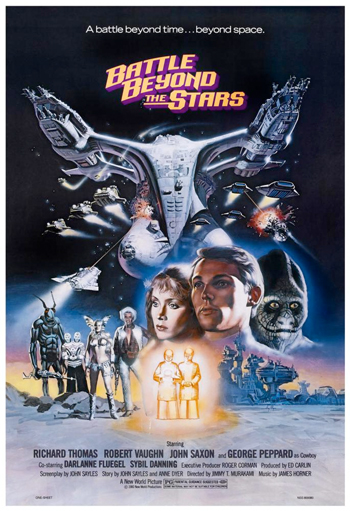 The title is partly accurate. It is in fact a smaller conflict than STAR WARS. It's about the fate of Akir (homage), a planet of bland, passive farmers facing an ultimatum from the Zod-like planetary conqueror Sador, played by ENTER THE DRAGON's John Saxon with facepaint and robes added to his customary manly combover. Basically he pulls a The Humungus, he roars in with a bunch of freaky looking mutant thugs and threatens everybody and then basically says well anyway think about it guys I'll be back later and if you don't submit it's curtains for you motherfuckers. The unlikely hero who is the only one who wants to fight back is Shad (Richard Thomas from The Waltons). The planet's last guy who knew how to kill people is old and can barely see so he loans his ship to this dumb kid to defy the planet's deeply held philosophy of non-violence by flying into space to recruit a crew of mercenaries to defend them.
Like Luke Skywalker before him, Shad is kind of a whiny, naive kid eager to prove his manhood, but in my opinion  he's way, way less likable. All he really does is a few laser dogfights aided by his ship's talking computer Nell (Lynn Carlin, also from The Waltons), but he acts so fuckin serious about it. The part where he really lost my sympathy is when he rejected help from the Valkyrie St. Exmin (Sybil Danning). She proves her skills by out-maneuvering him and then he turns down her help, insults her ship and condescends to her way of life. She follows and helps anyway even though he clearly doesn't deserve the time of day from her, and still the motherfucker lectures her about how this is serious and he's lost people in this war. What a sexist prick. If he ever apologized to her for being a dick and totally wrong for the whole movie I don't remember it, so I must not have accepted it.
He obviously prefers a more passive girl, because he wasn't so put off by Nanelia (Darlanne Fluegel, EYES OF LAURA MARS, TO LIVE AND DIE IN L.A., SCANNER COP, DARKMAN III), the girl on the android repair space station whose father tried to hook her up with him like a fuckin horse breeder. He doesn't go for it though and she ends up helping him on his mission.
Luckily Sayles puts a bunch of enjoyable ideas in here. I like the scene where Shad makes an offer to the legendary killer Gelt (Robert Vaughn). Gelt explains how much money he has and Shad apologizes for wasting his time, but he explains that no, the money doesn't matter, he's such a pariah for all the killing he's done, just the offer of shelter is a good deal for him. And then he has to fly along with them anonymously.
Another good one is the scene where his ship gets damaged and doesn't remember who she is, is confused why her original owner isn't there. It's actually a little sad.
As far as STAR WARS ripoffs go this does have alot to offer. There's some lizard men and mutant guys and stuff, lots of different types of armor, a good exciting adventure score, and outstanding space ship miniatures. On the other hand, it feels like it's trying to follow the STAR WARS lead while being stuck in a more campy, stage-bound type of sci-fi from an earlier era. Lots of sets of caverns, all white backgrounds, magic crystals and all that type of bullshit. There are just too many boring people in robes and silver jumpsuits and shit. The one creation that's most surprising in a post-STAR WARS movie is Nestor, the three beings who share one brain. They're dudes in robes and white facepaint with a third eye painted on their heads. And are we not supposed to notice the line where their faces meet their fake oversized brains? I don't think it's just 'cause I watched it on Blu-Ray, I feel like this is pretty noticeable.
Those guys are way too corny for 1980, but they do get a good part where a mad scientist on Sador's payroll grafts one of their arms onto him to replace the one he's missing. But the Nestor brothers are able to control it and make him try to strangle himself.
There's this romantic notion that's very popular among movie fans now that "old school" and "practical" is always better. And overall I like this attitude, but also I feel like people don't always know what they're talking about when they say it. STAR WARS is what they're talking about for "practical effects," but of course at the time it was very much new school. They blew everybody away with all new effects technology. BATTLE BEYOND THE STARS is a great illustration of how important those cutting edge advancements were, because this model work seems like it's as good as STAR WARS's as far as building detailed ships, but it's always the same straight on shots of them. They didn't have the motion control camera technology that Industrial Light and/or Magic had to animate the models while the camera moves around them. And that really makes these space battles seem stiff and dull and lacking in energy by comparison.
His ship kinda looks like it has boobs though, and they don't have that in STAR WARS. That might keep some people interested I guess. I don't know.
BATTLE BEYOND THE STARS is better as a curiosity than an actual movie, but I like curiosities. You gotta respect a blatant ripoff that has this much effort and talent put into it.
This entry was posted on Monday, July 6th, 2015 at 11:34 am and is filed under
Reviews
,
Science Fiction and Space Shit
. You can follow any responses to this entry through the
RSS 2.0
feed. You can skip to the end and leave a response. Pinging is currently not allowed.