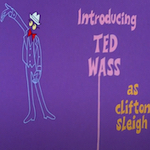 August 12, 1983
So far in this series we've seen the third STAR WARS movie, the second PSYCHO movie, the thirteenth James Bond movie, the third SUPERMAN movie, the second Tony Manero movie, and the third JAWS movie. (We skipped the second PORKY'S movie, but that also came out, and we looked at the second GRIZZLY movie, which did not come out.) Among all these, one of the least remembered, for justifiable reasons, is the eighth PINK PANTHER movie, CURSE OF THE PINK PANTHER.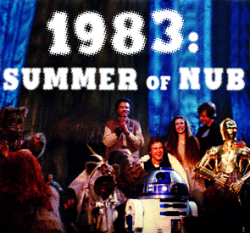 Though people my age tend to be more interested in the animated cat character spun-off from the Friz Freleng-directed title sequence of the first movie in 1963, the PINK PANTHER is of course a series of mystery slapstick comedies about the clumsy but accidentally effective French detective Inspector Jacques Clouseau, played by Peter Sellers in THE PINK PANTHER, A SHOT IN THE DARK, THE RETURN OF THE PINK PANTHER, THE PINK PANTHER STRIKES AGAIN and REVENGE OF THE PINK PANTHER. After Sellers died in 1980 the series became an experiment in ways to continue after the death of a star that was 98% of the attraction.
At the time of his death, Sellers had been planning a swan song for the character, ROMANCE OF THE PINK PANTHER, to be directed by Clive Donner. Now the studio, United Artists, wanted to film that screenplay with Dudley Moore as Clouseau, and Moore was willing to do it as a tribute – provided Edwards directed. Edwards had of course directed Moore in 10, but he didn't think another actor could get away with playing Clouseau, citing the failure of INSPECTOR CLOUSEAU, where he was played by Alan Arkin. So Instead Edwards shot two movies at the same time: TRAIL OF THE PINK PANTHER (released in December of '82), which made use of unused Sellers footage from THE PINK PANTHER STRIKES AGAIN (1976) to make it seem like he's in the movie, and CURSE OF THE PINK PANTHER, which continues that story while trying to pass the torch to a new detective character.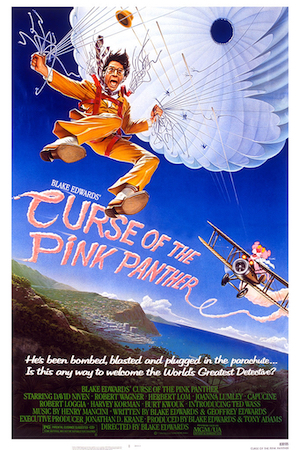 In the opening scene, the titular Pink Panther diamond is stolen from a museum by a thief named Gino Rossi (Christopher Reich, NEVER SAY NEVER AGAIN), who tries to sell it to Countess Chandra (Joanna Lumley, THE SATANIC RITES OF DRACULA, [a different character than the one she played in TRAIL]). Suddenly Clouseau (his face covered in shadows – not sure who played him) steps in. But being that he's Clouseau he fumbles the gun and all the bullets fall out, the Countess shoots Rossi and points the gun at Clouseau, cut to theme song, leave us in suspense.
Like WARGAMES and SUPERMAN III, CURSE has a magical supercomputer as part of its plot. The French Government pressures Clouseau's boss Chief Inspector Dreyfus (Herbert Lom, THE LADYKILLERS) to find the world's second greatest detective to search for the world's greatest detective, Clouseau. The Huxley 600 (an homage to Brave New World I guess?) is supposed to find out who would make the perfect replacement or "clone" for Clouseau – sort of an accidental parody of the way movies are made now, honestly – but Dreyfus doesn't want to have to work with that idiot Clouseau again, so he sabotages it to find the worst detective. The computer chooses NYPD detective Clifton Sleigh, who has a very different personality from Clouseau but a similar knack for clueless bumbling, klutziness and Jar Jar Binksian accidental success.
Though Edwards hadn't wanted Dudley Moore to play Clouseau, he did want him to play Sleigh. Moore turned it down. The director also considered Rowan Atkinson and John Ritter (who he later directed in SKIN DEEP), but he ended up with Ted Wass from the TV show Soap.
The character of Sleigh is a pretty good illustration of what a lose-lose situation they had making this movie. Nobody could match Sellers at the silly accent game, so having someone else do a similar character could be embarrassing. But here we have a guy who's not that and it's even worse – you wonder what's the point of a PINK PANTHER movie with just some bland American guy. He's reminiscent of Clark Kent, actually – a polite, tall guy with glasses who trips over things and embarrasses himself all the time. The way people barely react to the awkwardness of seeing him knock people out windows, fall into swimming pools, sit on inflatable toys that look like boners, etc. seems like the right approach, but didn't really make me laugh, personally.
Unfortunately when he's introduced back home in the States the joke is that he's undercover as a woman, so he wears a dress and talks in a very unconvincing high pitched voice. But at least his straight man partner is Joe Morton (who starred in THE BROTHER FROM ANOTHER PLANET a year later).
Like any mystery, there are a bunch of characters to interview, who may or may not be lying. Robert Loggia (PSYCHO II) plays a mobster. David Niven gets top billing for some scenes as Sir Charles Lytton, his character who stole the diamond in the first film, now claiming to be reformed. Robert Wagner also returns as his nephew George, and Capucine (RED SUN) plays his wife Simone, who was Clouseau's wife in the first film. I guess Denise Crosby (48 HRS.) is also in it, and Bill Nighy plays a doctor, but I didn't recognize either of them.
I suppose maybe the funniest set piece is when Sleigh hides out from assassins by sitting at an outdoor cafe with an inflatable dummy of a woman. A waiter keeps watching him and it gets very ridiculous as he puts a cigarette in the dummy's mouth, but it catches her on fire and then she starts to horrifyingly deflate, so he has to re-inflate her by blowing in a suggestive area. The trouble is that a ludicrous character like Clouseau can get away with this kind of nonsense more than a normal seeming guy can. Like, what the fuck is this guy doing? Why does he think this helps?
But I did chuckle when he's at the hotel and he's inflated her using a broken gas line and then gets dizzy from the gas leak and almost falls out the window and an assassin bursts in and shoots the dummy so there's an explosion and Sleigh flies out the window and is dangling from the telephone still talking to the chief.
It was interesting watching OCTOPUSSY and then this. The formats are pretty similar. Sleigh travels to different exotic locales meeting different fancy people, getting shot at, there's a big car chase, he meets a hot girl who kicks ass and also tries to fuck him and also is gonna poison his champagne but gets shot by a tranquilizer dart, and much of this happens amid the Carnival celebration in Valencia.
The, uh, Sleigh Girl or whatever you want to call her introduces herself as Juleta Shayne (Leslie Ash, QUADROPHENIA), she has short blonde hair like Edwards' wife Julie Andrews, and she has a big scene where she beats up a bunch of attackers in an alley while Sleigh can't contribute because he has his ass stuck in a garbage can. Their opponents include the ninja master Mr. Chong (Elvis' sensei Ed Parker), who has a funny scene earlier where he punches a giant rock and his students laugh because nothing happens, but after he gets up and leaves the rock splits and the whole structure above them collapses. Series veteran Joe Dunne, who was also a stunt double in MR. MOM, is credited as stunt arranger.
Strangely, another movie this reminded me of is THE BOURNE LEGACY. I actually liked that one quite a bit, but it was goofy the way it tried to remind you the character of Jason Bourne was out there while you're following this other character that clearly most people didn't want to see as much as they wanted to see Jason Bourne. If you haven't seen it, there really is a part where Jeremy Renner's character is in a cabin and sees where Jason Bourne carved his name one time. Jason Bourne was here!
CURSE is kind of the same with Clouseau. This guy i looking for him, and going to a museum about him where we see some wax dummies of him in different disguises. Remember this? In the other movies? Wasn't this fun? The museum is run by Clouseau's old servant Cato (Burt Kwouk, GOLDFINGER), and they fight – not as training, but because why is this guy breaking into the museum? But Cato wisely doesn't want Clouseau to be found either. Almost nobody does. (Because who wants to watch more deleted scenes?)
Don't worry, Cato – Sleigh won't find him. But the audience will. Throughout the movie we see Countess Chandra from the first scene accompanied by her lover, whose face is covered in bandages because he's been given a new identity via plastic surgery, the implication of course being that after the opening scene Clouseau fell in love with the Countess and let her keep the Pink Panther. (Note: In one scene, the bandaged man is watching a Roadrunner cartoon on TV, which means CURSE OF THE PINK PANTHER has more Roadrunner in it than DAFFY DUCK'S MOVIE: FANTASTIC ISLAND.) In probly the movie's most successful joke, the mysterious probable-Clouseau is unmasked as none other than OCTOPUSSY star Roger Moore, who Sleigh takes for the Roger Moore. They have a conversation in which the fake Roger Moore unconvincingly denies recognizing a photo of Clouseau. Moore does a great job of acting very suave while doing very clumsy things, including getting an ice bucket stuck on his head and then pretending he did it intentionally.
It's an odd choice though, isn't it, to give Clouseau an ending without the participation of Sellers, and to make that ending be that he turned crook? I wonder if people were offended by that. The thing that justifies it, from what I've read, is that this was also Clouseau's fate in Sellers' own ROMANCE OF THE PINK PANTHER script. So maybe it's the appropriate choice.
This ending feels a little off in other ways, though. It's one thing that the ostensible hero Sleigh finds the wrong solution to the mystery, but for Clouseau and his new lady to still lose the diamond to the Lyttons… that's kinda weird, right? Maybe it would play better if I'd seen THE PINK PANTHER recently enough to remember them from it. And I guess to be fair the ending is more interesting than most of the rest of the movie.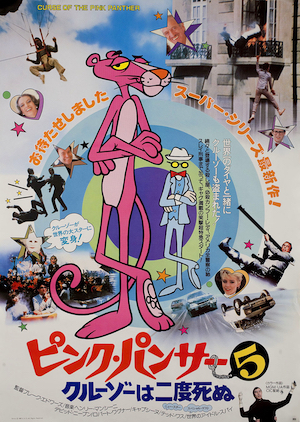 The opening credits animation was not done by DePatie-Freleng, but instead Marvel Productions (Spider-Man, Dungeons & Dragons, G.I. Joe: A Real American Hero) and director Art Leonardi, who worked with the character from 1969's The Pink Panther Show through 1984's Pink Panther and Sons and then worked on Tiny Toon Adventures. It's a decent sequence, not great, but I enjoyed hearing Henry Mancini's updated instrumentation for the theme song, with synths that go extra crazy when the Panther is messing with a coin operated version of the Huxley 600.
Roger Moore (who is credited as Turk Thrust II) filmed his scenes in one take with no rehearsals while he was on a break from OCTOPUSSY.
This is Niven's final film, and since he was suffering from ALS his voice was too weak to ADR either this or TRAIL, so he was dubbed by impressionist Rich Little. I didn't notice.
Wass was contracted to do six PINK PANTHER films, which would've shifted to a new set of characters (like the chief and Joe Morton's character) and put the Edwards slapstick into an American cop movie context. The next one was set to be directed by Terry Marcel (HAWK THE SLAYER) and written by Geoffrey Edwards and Sam Bernard.
But TRAIL had been a poorly reviewed bomb, so MGM pushed CURSE back from the originally planned Spring release date and dumped it in August with little advertisement. It got universally negative reviews, nobody wanted a PINK PANTHER movie without Sellers, it made back less than half of its budget, and Edwards and MGM were tied up for the next half a decade suing each other over it. So Detective Sleigh was never seen again and Wass followed this with SHEENA and OH, GOD! YOU DEVIL. In the '90s he played the dad on Blossom.
It was a decade before Edwards took another shot at reviving the series, this time by having Roberto Benigni play Clouseau's illegitimate son, but nobody wanted that either. Finally in the aughts they were able to make two movies with Steve Martin playing Clouseau, and the first one at least was a success. Next up, if recent news stories pan out, is an unrelated one with Eddie Murphy as Clouseau, but he would also be teamed with a three-dimensional CG version of the animated panther character. I'm not sure how that works, but it sounds a little bit like the unaired 1989 TV movie THE NEW PINK PANTHER, which had Charlie Schlatter as a new character solving a mystery with the animated panther, trying to get in on that Roger Rabbit action. Schlatter is a funny choice to replace Inspector Clouseau since he would soon replace Matthew Broderick as Ferris Bueller in the TV version and then the character of Mahoney in POLICE ACADEMY: MISSION TO MOSCOW. A born substitute.
I remember enjoying the first couple PINK PANTHERs as a young man, but I don't remember them much. When it comes to Edwards I'm honestly more familiar with BLIND DATE. Where the hell is CURSE OF BLIND DATE? That's the one I'm waiting to be disappointed in.
This entry was posted on Tuesday, August 8th, 2023 at 7:07 am and is filed under
Reviews
,
Comedy/Laffs
. You can follow any responses to this entry through the
RSS 2.0
feed. You can skip to the end and leave a response. Pinging is currently not allowed.