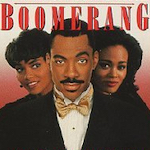 On Wednesday, July 1st, 1992 – one day after Prince and the New Power Generation released "Sexy MF," the first single from their symbol album – Eddie Murphy played a Sexy MF in the romantic comedy BOOMERANG. It's the sophomore movie for HOUSE PARTY director Reginald Hudlin, but it's written by Murphy's COMING TO AMERICA scribes Barry W. Blaustein & David Sheffield (POLICE ACADEMY 2: THEIR FIRST ASSIGNMENT), based on an idea by Murphy.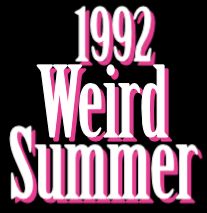 Murphy plays Marcus Graham, hot shit New York advertising executive, who is welcomed to his office like everyone's best friend or personal hero. He's also the type of guy who checks out every female ass he crosses paths with, smiles and flatters his way into dates, and then immediately moves on to the next woman. "Once I hit it I lose interest, but that ain't my fault!" he swears.
He's definitely an asshole, but Murphy plays him with enough charm to balance some of that out. For example there's a scene where director Nelson (Geoffrey Holder, ANNIE) excitedly presents a commercial with ridiculously suggestive shots of a model fellating a banana. Marcus tells him some parts to cut out but laughs and jokes around and just shows an appreciation for Nelson's eccentricity. It's not the usual thing where the successful boss guy has to be mean. Everybody loves him. (Of course, negative reviews interpreted this as Murphy having an ego. Once you're as successful as him you get called out for playing cool guys.)
Marcus has two life long best friends, Gerard (David Alan Grier, THE PLAYER) and Tyler (Martin Lawrence, HOUSE PARTY), who he talks about women with at the gym and stuff. Gerard is sensitive and tries to talk up "sharing and commitment," while Tyler (who doesn't seem to date at all) talks about "bitches." He recognizes that Tyler's attitude is sexist but only sees Gerard's as something to fake in order to get women.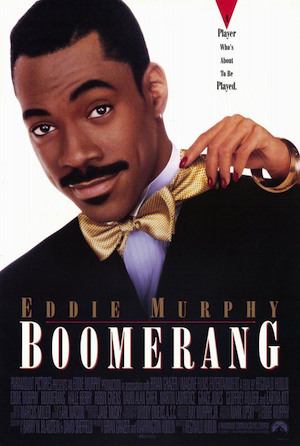 We see a sample conquest when he picks up Christie (Lela Rochon between HARLEM NIGHTS and THE METEOR MAN) and has great sex but ditches her when he sees that her feet have blisters and messed up toenails. This is used as a demonstration of his superficial finicky-ness about women. There's something funny about this character though. She says "Gold star for Marcus. Dinner was yummy!" for example. I was waiting for some reveal about her being mostly around toddlers or something, but it never happens. I think the real indictment of Marcus is that her toes bothered him before her talking to him like he's a baby did.
Marcus's agency is merging with a cosmetics company called Lady Eloise, so he sets up a dinner with Lady Eloise herself (Eartha Kitt, FRIDAY FOSTER) to try to charm his way into a promotion. I hadn't seen this movie since the '90s so at the beginning I was worried Marcus was gonna be doing some Harvey Weinstein shit, and to my surprise he's actually the one who gets coerced by a powerful person, thinking that sleeping with horny old Eloise will get him the job he wants. I'm sorry to put it in those terms and then say it's funny, but there is a really good joke that Lady Eloise's butler keeps cracking up during the dinner, knowing what Marcus is in for, and Marcus keeps seeing it and wondering what's up. It's hard to explain. It's all in the facial expressions.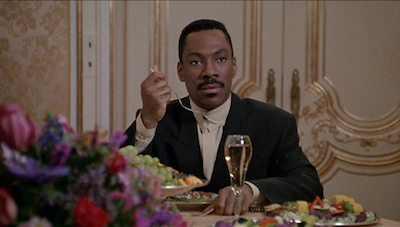 The next day at work he hits on a woman in the elevator, Jacqueline Broyer (Robin Givens following her great performance in A RAGE IN HARLEM). As you certainly guess before he does, she's his new boss. She has the job he thought he would get because it turns out Lady Eloise is just a figurehead with no say in the company. Whoops!
Jacqueline tells him she won't date someone she works with, but he keeps trying. Convincing her to have a work related dinner (at his place!) he sets up everything to be romantic. She takes him at his word that it's not a date, carries the fancy food he made to the couch and watches a basketball game. (He deserves that.) But suddenly on a business trip to New Orleans she drags him into her hotel room. Afterwards he's happy to see that her feet are in good shape and he thinks he's in love.
So of course the boomerang is that the sex didn't mean anything to her, and she strings him along, making him wait months for another date. There's a scene that cleverly mirrors his first scene, arriving at the office and saying hi to everybody, but this time he's very uncomfortable because all the women are looking at him and whispering about what they've heard about his sex life.
Jacqueline's underling/friend Angela (Halle Berry in only her fourth movie, following JUNGLE FEVER, STRICTLY BUSINESS and THE LAST BOY SCOUT), who Marcus sets up with Gerard, tries to get her to be nicer to him. And, as the formula demands, she's the one who Marcus will really fall in love with. It works pretty well dramatically because he seems really out of place in her apartment. She's an artist outside of work (and also an art teacher) and has lots of weird paintings hanging around. She seems like someone he would look down on, and she's so nice you wish he would leave her alone. So despite her being super-hot Halle Berry it requires a transformation for him to be believably interested in her.
That's a funny thing about this is that Murphy devised a role where he has sex scenes or implied sex with Lela Rochon, Robin Givens and Halle Berry, and is sexually harassed by both Eartha Kitt and Grace Jones. Jones (A VIEW TO A KILL) plays a pretty funny character called Strangé, a bizarro model Jacqueline hires as the new face of Lady Eloise. She's introduced into the movie and to most of the characters when a helicopter lowers her down to a party inside a crate – so it's kind of like when she gets mailed in a box in the Pee-wee's Playhouse Christmas special. In this case she's carried out of the box on a chariot by a legion of hunky centurions.
There's a scene where they go to dinner and Strangé exposes her crotch to him in the middle of a fancy restaurant. I like this scene because when Marcus makes a big commotion arguing with Jacqueline there are so many extras in the background and their looks seem pretty authentic. It's very uncomfortable.
There are also some funny scenes with Chris Rock (between NEW JACK CITY and CB4) as mail room worker Bony T, who talks shit to Marcus in the lobby all the time; Tisha Campbell (also in HOUSE PARTY) as next door neighbor Yvonne, who was one of Marcus's victims and now likes to yell and hold up signs when he has women over; and John Witherspoon (another HOUSE PARTY alumni) as Gerard's dad. Oh, and Melvin Van Peebles has a cameo.
BOOMERANG has fewer poorly-aged aspects than I expected. A modern movie might not expect you to relate as much with a sexist and a liar like Marcus, but the point of it is for him to learn not to act that way, so it doesn't seem too outrageous. There's a part where the friends discuss a commercial they describe as "976-DICK, chicks with dicks," but at least Gerard seems semi-accepting of it? Maybe I misunderstood. I think the worst part is where they're saying phrases in different languages and Angela does what I believe is gibberish and claims it's Korean.
I enjoyed some instances of era-appropriate slang: fly, wack, mack daddy. There's a reference to "Hammer Time," and to Michael Jordan. There's a joke about one of Angela's art students being very Afrocentric and calling her "my Nubian princess." There's a mention of the ozone layer. The music on a ridiculous commercial seems to mimic C+C Music Factory.
Timeless pop culture references: Tyler has a box of Mr. T Cereal in his apartment. Marcus and Angela watch and discuss Star Trek. (As you may or may not know, Murphy is such a fan of Star Trek that the Catherine Hicks character in STAR TREK IV: THE VOYAGE HOME was originally written for him.)
I think it was around the time of THE NUTTY PROFESSOR that I realized Murphy was really into R&B and that's why he slathers his soundtracks in R&B songs even in his fat suit movies. Here it's a more natural fit, though it's still funny that the end credits fade out clips of five or six songs like a sampler CD. The score is by jazz bassist Marcus Miller, a carryover from HOUSE PARTY, with the soundtrack produced by L.A. Reid and Babyface. It features Aaron Hall, P.M. Dawn, Johnny Gill, two songs by then-unknown Toni Braxton – who gets an "introducing" on the album cover! There's also a new (or previously unreleased?) track by A Tribe Called Quest called "Hot Sex," and "Man's Final Frontier" by Arrested Development plays in Tyler's apartment.
The movie's biggest impact was Boyz II Men's "End of the Road," which was on this soundtrack before it was added to their album later. Note that LETHAL WEAPON 3 used "It's So Hard To Say Goodbye To Yesterday," but BOOMERANG had the new shit. It was #1 on the Billboard charts for 13 weeks straight, breaking a record held by Elvis Presley for "Hound Dog."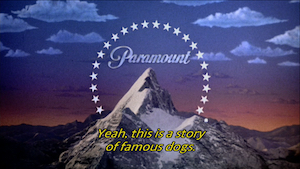 A song that's not on the soundtrack album but is a motif throughout the movie is George Clinton's classic "Atomic Dog." Part of it plays over the Paramount logo at the beginning and there are little stings of bass singer Ray Davis's "DOG!" throughout to remind you that Marcus is being what the characters term a "dog." Why must he feel like that, why must he chase the cat? Nothing but the dog in him. Also in the movie, and also on the album, is a cheesy reworking of the song called "Reversal of a Dog" by "The LaFace Cartel" (Damian Dame, Highland Place Mobsters, TLC and Toni Braxton).
Although Murphy was recently announced as the star of a supposedly-in-development George Clinton biopic, he seems like more of an R&B guy than a funk guy. Hudlin and his producer/brother Warrington, however, are vocal Parliament-Funkadelic fans. They put Clinton in HOUSE PARTY, playing a DJ at a fancy rich people party. In 1993 Warrington directed the video for Clinton's "Paint the White House Black." In 1994 they had Clinton's floating head host their Twilight Zone type HBO anthology pilot-turned-TV-movie, named after the Funkadelic song and album COSMIC SLOP. In 2004 he directed an episode of The Bernie Mac Show where Bernie imagines George, Bootsy and other P-Funk All-Stars performing "Flashlight" in his living room.
And most intriguing of all, back then Hudlin and his brother/producer Warrington were developing their dream project of a movie based on Parliament's arguable masterpiece, Mothership Connection. I can't really picture what the hell it would've been, and Hudlin wouldn't have been my top choice to direct it, but for sure it would've been an interesting document of a time when most of the principal members of the band were still alive and, if not creating their best works, at least evolving interestingly with the times. What a loss that it never happened.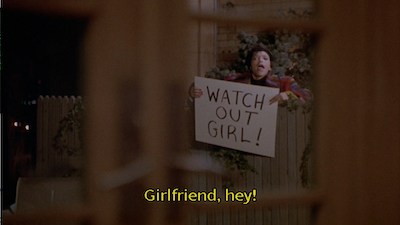 But BOOMERANG did, and though it opened at #3 it went on to be very profitable, and I believe is still well-liked after years of playing on cable. It helped launch Halle Berry into stardom and gave Martin Lawrence the idea to cast Tisha Campbell as the co-lead of his sitcom. I enjoyed watching the movie, but can't claim to love it. Hudlin said his goal was for Murphy to "have an arc like most characters in movies do, where he's not just the Br'er Rabbit character starting trouble," but I think making him into "most characters" was dulling his edges and turning into him something less special and more predictable. Still, it's a pretty solid version of a normal type of movie, it's an incredible cast and it's a good snapshot of a specific time when Black culture was starting to be more integrated into the wider pop culture.
And I think there's something to be said for Murphy using his stardom to bring a different type of character to the screen. This was his followup to ANOTHER 48 HRS., and outside of COMING TO AMERICA his success had come from working class characters. In the case of BEVERLY HILLS COP it was from contrasting that type of character with cartoonishly uptight upper class ones. So it was a new development in his filmography (as well as the BOYZ N THE HOOD/NEW JACK CITY/JUICE/SOUTH CENTRAL/DEEP COVER era of Black filmmaking) to have him playing a guy who lives in a lavish penthouse, without that being the gimmick.
According to Hudlin, the innovation was in making him cool: "Typically when it comes to Black characters, either you have to be a successful, smart business person, or you're hip, but you're never both." I think maybe an example of the unhip business person would be Jamie Overstreet in SHE'S GOTTA HAVE IT – a movie Hudlin is actually in (as one of the "dogs" looking into the camera and hitting on Nola).
For evidence that there hadn't been enough movies about characters like this, I turn to the review by Lawrence Cohn in Variety. I can't tell if he means it as an observation or a complain when he writes, "Redressing the traditional Hollywood formula, the white characters (instead of the blacks) are in menial positions for comic relief, e.g., a silly waitress, a bigoted clothing store clerk and muscular slaves pulling supermodel Grace Jones' chariot." Either way, he describes it as "a fantasy world almost on the level of Philip Wylie's The Disappearance," which (I looked it up) is a book about what would happen if all the women on earth suddenly disappeared. He goes on to praise the costumes (hip suits and dresses?) as "wish-fulfillment" and "escapist par excellence." He really doesn't seem to know there are successful Black business people in the real world.
Let that be a reminder of why it's important to have a diversity of perspectives and backgrounds in criticism, and of what was special about this otherwise pretty generic romantic comedy: movies about Black people (that didn't come from crime) were so novel this fucker thought it was science fiction.
where are they now postscripts:
Blaustein & Sheffield later reteamed with Murphy for THE NUTTY PROFESSOR I & II and COMING 2 AMERICA. Blaustein gets my respect for directing the wrestling documentary BEYOND THE MAT.
None of Reginald Hudlin's subsequent feature films (which include THE GREAT WHITE HYPE, THE LADIES MAN and MARSHALL starring Chadwick Boseman) made as big of a splash as BOOMERANG or HOUSE PARTY, but he made a mark in other mediums. From 2005-2008 he was the President of Entertainment for BET, where he created The BET Honors and the BET Hip Hop Awards. More interestingly, during that same period he was the writer of Marvel's Black Panther comics. His first arc was turned into a BET animated series starring Djimon Hounsou (UNLAWFUL ENTRY), but unfortunately it was more of a motion comic than a cartoon. I've learned that some people consider Hudlin's run the bad years of Black Panther, but I found them enjoyable. There are fun stories about T'Challa balancing his responsibilities as the leader of his country with those of being an international super hero, which would have been fun to explore in the movies had things turned out differently. Most famously, Hudlin's T'Challa marries Storm (you know, the character played by Halle Berry [BOOMERANG] in X-MEN) and Wolverine and the Thing are at his bachelor party and there's a big wedding with all the Marvel Universe there, plus Prince and Oprah.
Hudlin is credited as executive producer of The Boondocks, but he was actually only involved in an earlier pilot rejected by Fox. Creator Aaron McGruder's opinion of Hudlin seems pretty clear from the show's savage portrayal of BET and its simpering president Wedgie Rudlin. Hudlin fared better producing DJANGO UNCHAINED, which he says was sparked by a run-in he had with Tarantino at a party years earlier. "We were having a long conversation about slave movies and I stated my opinion that most of them don't work because they're more focused on victimology," he told The Wall Street Journal.  "I wanted to see people who fought back; the equivalent of SPARTACUS in an Antebellum context."
Hudlin later adapted the script to comics, and was also involved in putting together the Django/Zorro mini-series.
Warrington Hudlin seems to be semi-retired – his only credits since 2008 are "consulting producer" on a 2021 documentary about chocolate and executive producer on an upcoming remake of HOUSE PARTY.
In 2019, BOOMERANG was adapted into a TV series for BET, with executive producers including Berry and Lena Waithe. I've never seen it but it sounds like it was a legacy sequel! As far as I can tell none of the original characters appear, but the leads were supposed to be the estranged son of Jacqueline and the daughter of Marcus and Angela. It lasted for 2 seasons.
This entry was posted on Monday, July 25th, 2022 at 9:01 am and is filed under
Comedy/Laffs
,
Reviews
,
Romance
. You can follow any responses to this entry through the
RSS 2.0
feed. You can skip to the end and leave a response. Pinging is currently not allowed.