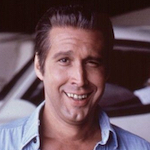 May 31, 1985
I hadn't seen FLETCH since the VHS days, and remembered nothing about it. Back then I didn't know it was based on a book, but this time I had the book, having picked it up from a laundry room book exchange shelf two moves ago. Our building manager had pretty good taste – lots of Elmore Leonard.
The novel is from 1975 and written by Gregory Mcdonald, whose books also inspired the 1972 movie RUNNING SCARED and Johnny Depp's never-released-in-the-U.S. directorial debut THE BRAVE. It was followed by ten more Fletch novels, if you include the two about his son. It's a mystery about newspaper reporter I.M. Fletcher, who's been undercover hanging out with junkies on a beach, working on a story about the drug problem there, when he's approached by a rich guy named Alan Stanwyk, who offers to pay him $50,000 to come to his house on a certain day and shoot him. Says he has cancer, wants to die before it gets painful, but doesn't want to commit suicide so his wife can get the life insurance money. He's got this whole plan for a drifter like Fletch to kill him and get away. Even has a plane booked to fly him out of the country.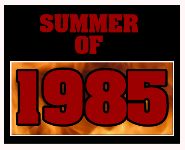 Fletch continues with his drug investigation while also investigating Stanwyk's story. Through various trickery he manufactures reasons to speak on the phone or in person with Stanwyk's wife, doctor, business associates, etc. He'll do anything from call his parents pretending to be an insurance investigator to walking right up to his wife claiming to be an old Air Force friend who met her at their wedding. He does that while pretending to be a guest at her dad's tennis club, picking a name off of a locker and ordering screwdrivers on their tab. The more he digs in the more questions he has and the less he understands what this guy is up to. Until, of course, he figures it out.
As I read it I assumed the movie – which I knew mainly as the one where Chevy Chase wears an afro wig – wouldn't have much basis in the book. So I was surprised by how much it actually does follow the story. Fletch in the book doesn't wear funny disguises as far as we know, but he is a smartass. Chase (hot from the success of NATIONAL LAMPOON'S VACATION in 1983) makes up his own smartass lines – they would let him do one take on script, one ad-libbing – but they're in the same spirit.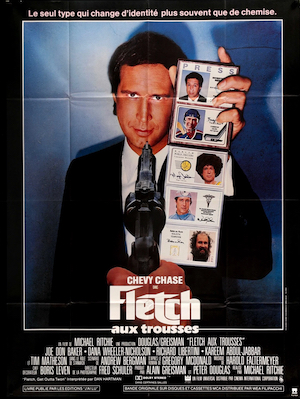 I wouldn't quite call this an action comedy, but it's part of that odd trend in the '80s of movies that are ostensibly comedies but have serious criminal villains like a normal action movie or cop thriller: RUNNING SCARED, JUMPIN' JACK FLASH, STAKEOUT, FATAL BEAUTY, TWINS, COLLISION COURSE, CROCODILE DUNDEE II, even THREE MEN AND A BABY. But the one it reminds me of most is BEVERLY HILLS COP. Both have a guy from Saturday Night Live riffing through the role of an investigator who likes insinuating himself into places by pretending to be different characters. Axel Foley pretends to be a guy looking for "the illegal chop shop," a flower deliveryman or a Rolling Stone reporter, Fletch pretends to be a doctor, an airplane mechanic, a "friend of the Underhills." I like his mechanic disguise, including a hairpiece that makes him look traditionally handsome, and fake teeth that do not. And I like his ploy of escaping police officers by crashing a ceremony at a VFW hall and making a speech that encourages everyone to stand up and hug the law enforcement officers to show appreciation.
FLETCH and BEVERLY HILLS COP even share a similar class theme, with scuzzy Fletch infiltrating the ritzy tennis club (though for some reason he knows alot about tennis) sort of like Axel does the country club and Beverly Hills in general. This must be coincidence, since it came out only about seven months after BEVERLY HILLS COP. What's probly not is the score by German record producer Harold Faltermeyer, a protege of Giorgio Moroder who arranged and played keyboards on the soundtracks for MIDNIGHT EXPRESS, AMERICAN GIGOLO and FOXES before going solo with THIEF OF HEARTS which, like his mentor's soundtracks, consisted of a synth score and a collection of pop songs.
FLETCH's score obviously didn't become as iconic as "Axel F," but it consists of a couple different catchy themes that definitely elevate the movie. The pop songs include opening theme "Bit By Bit" by Stephanie Mills and songs by Dan Hartman (co-writer of "Living in America" from ROCKY IV), former Australian teen idol John Farnham, The Fixx and Kim Wilde (singer of "Kids in America").
It's very much a vehicle for Chase to joke around, but the supporting cast is great. Joe Don Baker (soon to join the 007 series) is the asshole chief of police, Richard Libertini (SHARKY'S MACHINE) is Fletch's editor, Geena Davis (who had only been in TOOTSIE) assists him at the newspaper, George Wendt (a few years into Cheers, soon to be in HOUSE) plays drug dealer Fat Sam, M. Emmet Walsh (a year after BLOOD SIMPLE) plays a doctor who, in a great moment, is seen through a window joking and laughing with a guy doing an autopsy.
I guess more famously it has Kareem Abdul-Jabbar (GAME OF DEATH) in an out-of-place-feeling scene where Fletch falls asleep and imagines himself with an afro joining the basketball game on TV. His Lakers fandom is a theme throughout the movie (wearing a jersey, having posters all over his apartment) but if there's a reason for that I didn't pick up on it. The only joke that's arguably stupider is when he distracts an attacking doberman by claiming there are babies to eat nearby and it barks "WHUT?" like it's Scooby-Doo.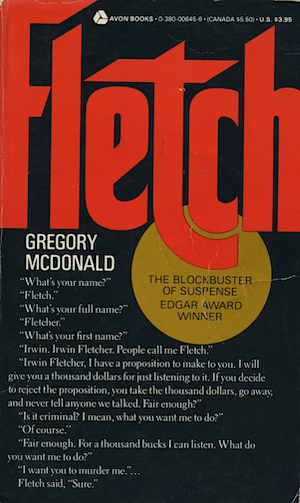 For the most part, the jokes are built on top of the story from the book, with lots of insignificant shifting around and changing of names and locations. The last act is when it starts diverging from the book in what I consider a bad way. In the book he doesn't reveal anything until the end, when he puts everything together and writes it as a news story. In the movie he suddenly admits to Gail that he's a reporter, and then they work together to bust her husband. This really changes the dynamic of the story and isn't true to the literary characters. The other drastic change is tying Stanwyk to the drug plot. It works much better in the book when they're two separate threads that collide because of Fletch. In the movie it feels like convenient Hollywood bullshit. I don't even understand how it works.
(Also, I definitely wouldn't have understood the drug operation if I hadn't read the book. Or was it even supposed to be the same? In the book the reason they only arrest Gummy [played by Larry "Flash" Jenkins in the movie] and not Fletch is because they give him the drugs to deliver to Fat Sam.)
The other thing is that book Fletch is way more of a scumbag. I'm not surprised they cut out the conversations about him throwing his wife's cat out a window (which would've been the exact opposite of  what that one screenwriting book says to do.) But the audacity of his prickishness is part of the character. He has two ex-wives, both of whom he's fighting with over alimony, and also who he's still sleeping with. Gail, played by Dana Wheeler-Nicholson (TOMBSTONE) in the movie, is likable in the book, but not the bland sweetheart of the movie. She immediately makes advances at Fletch and actually does sleep with him. So when Fletch says to Stanwyk, "The thing that tipped me off was something your wife said the other night when we were in bed together," it's funnier in my opinion because it's true and not really relevant but he casually throws it in there.
A less negative aspect about the book character that makes him interesting is that he was in the Marines and seems to have conflicted feelings about it. There's a subplot about how his boss is forcing him to accept a medal he hasn't bothered to pick up, and he keeps trying to get out of it. In the end he flees the country just in time to miss the ceremony, and a hearing, and both of his ex-wives bringing their belongings to his apartment believing they're going to move back in with him. He exposes a corrupt police chief and foils a murder/fraud scheme and still goes out as a world class asshole.
It's a good mystery with lots of laughs, but the part of the book that really got me – and that I was correct in assuming wouldn't be in the movie – is Fletch's relationship with a young addict named Bobbi. The movie does capture a tiny slice of it by portraying Fletch's friends on the beach sympathetically. In the book it's so sad, and kind of sweet how non-judgmental they are about each other. Bobbi believes Fletch gets his money from shoplifting, and that he's too known at his regular spots to do it anymore, and she tries to give him supportive advice about prostituting himself.
When he gets beat unconscious by cops she takes care of him, until he tells her to "go get busy," meaning turn tricks so she'll have money to be the drugs she needs. "I'll be all right," he tells her.
"Are you sure? I mean, it is Saturday night."
"I'll be all right."
"It's going to be a long night," Sando said. "Fat Sam is fresh out."
Pain, anxiety twinged Bobbi's face. She had built a big need.
"Are you sure?" Fletch said.
"Not even aspirin."
Fletch said, "Christ."
"I'll go work up a couple of tricks anyway." Bobbi's voice shook. "It's Saturday night, and there's always tomorrow."
"Yeah," Sando said. "Sunday."
I found something heartbreaking about that, this young girl going through so much for this sickness, and trying to keep a positive attitude. You don't often see drug addicts portrayed with such humanity unless the story's from their point of view. Another really upsetting thing is that (BOOK SPOILER) she dies of an overdose, and Fletch hides the body. Picture ol' Clark Griswold doing that.
That, of course, would be a different type of movie. I guess we can't be surprised that a Chevy Chase movie doesn't go there. But there is some sense of reality to it. Cinematographer Fred Schuler (THE KING OF COMEDY) gives a pretty gritty look to the littered beach and all that. It's not all wigs and giggles. It's pretty well done.
The director is Michael Ritchie, an old TV director who got into movies starting with DOWNHILL RACER (1969) and then a movie I love, PRIME CUT (1972). He's probly best known for THE BAD NEWS BEARS. After this he did middling comedies like WILDCATS, THE GOLDEN CHILD and THE COUCH TRIP, plus the well-regarded DIGGSTOWN.
The script is by Andrew Bergman (BLAZING SADDLES, OH, GOD! YOU DEVIL), reportedly with some uncredited rewrites by Phil Alden Robinson (RHINESTONE, FIELD OF DREAMS, GHOST DAD, SNEAKERS). Mcdonald initially hated the changes in the script, but visited the set and was convinced it was okay. Years later he said he thought Chase and Ritchie did a good job.
Like BREWSTER'S MILLIONS for Richard Pryor, FLETCH was Chase doing a movie while newly sober. But it was a much better vehicle for him. He got the role after a long list of possibilities during the nine years it was in development. Mcdonald rejected Mick Jagger and Burt Reynolds. Reportedly they also considered Michael Douglas, Jeff Bridges, Charles Grodin, Barry Bostwick, Richard Dreyfuss and George Segal. In later years Kevin Smith tried to make a part 3, and then a prequel with Jason Lee, and more recently Jason Sudeikis almost played the character.
Variety said that Chase and Ritchie's "teamwork turns an otherwise hair-pinned, anecdotal plot into a breezy, peppy frolic and a tour de force for Chase." But Roger Ebert called the performance "an anthology of Chevy Chase mannerisms in search of a character." He does allow that though it's "not the first movie that Chase has undercut with his mannerisms… it is the best one since FOUL PLAY anyway."
FLETCH opened at #2 at the box office, well below the previous week's release RAMBO: FIRST BLOOD PART II, but above A VIEW TO A KILL and BREWSTER's MILLIONS. Fifth place went to its cinematic cousin BEVERLY HILLS COP, in its 26th week of release! FLETCH ultimately made about $60 million worthwhile and did well on video, leading to Ritchie directing the non-book-based sequel FLETCH LIVES in 1989.
SUMMER OF 1985 NOTES

Pop culture:
• When Stanwyk asks Fletch his name he says that it's Ted Nugent. At that time people knew Nugent for his music, and he was generally thought of more as a lovable nut than a deplorable one. His most recent album, 1984's Penetrator, had not been hugely popular, but he was enough of a pop culture figure that he got to play a villain on Miami Vice the following year.
• Fletch quotes the less-than-two-years-old SUDDEN IMPACT line "Go ahead, make my day." In the script, Bergman had it as "Go ahead, make my evening." You'll remember that the original line was already used in GOTCHA! this summer.
• Fletch jokes about going to "catch the last ten minutes of Dynasty." Dynasty was also referenced in the James Cameron script of RAMBO: FIRST BLOOD PART II ( but not the finished movie). Similarly, Dallas was referenced in GOTCHA!
• Fletch has a record in his apartment that I believe to be Olivia Newton-John's 1972 sophomore album Olivia.
• A Mr. Potato Head ad plays on TV.
• The most mysterious reference is that at the end Fletch puts on a Nostromo hat just like Harry Dean Stanton wore in ALIEN. I have searched and asked around and found no story behind this. The biggest Chevy Chase fan I know, Horror Movie a Day author Brian Collins, pointed out that Chase co-starred with Sigourney Weaver in his previous movie, DEAL OF THE CENTURY, but admits that connection is "flimsy af." An IMDb advance search finds no shared credits between the two movies.
My strongest theory is that it was just a military-looking hat they found in a wardrobe, didn't realize was leftover from ALIEN and thought would reflect Fletch's veteran status from the book. (Unless someone a little older than me tells me Nostromo hats were sold as a novelty back then.)
Changed attitudes:
As Fletch is brought to the police chief he says "Yeah, I heard he's mellowed out alot since he came out of the closet." I would characterize this as mildly homophobic, since the implication is that the chief should be insulted by that. But we've all seen much worse.
Other connections:
Irene Olga Lopez, who played the maid Rosario in GOTCHA! (and Pilar in THE BIG LEBOWSKI) is seen briefly as Stanwyk's unnamed maid at the beginning. I propose that she's playing the same character as part of a Lopezverse that connects these movies with WAXWORK, LOVERBOY, BASIC INSTINCT, ONLY YOU, INDECENT PROPOSAL, EIGHT HEADS IN A DUFFEL BAG and the TV shows Cover Up, Private Eyes, Knots Landing and Martial Law, all of which have her as an unnamed Maid, Domestic, Housekeeper, etc. If we were to take the leap that Rosario also works as a nurse or could be various unnamed Hispanic Woman, Bus Rider or Mother type characters the universe would be even larger.
This entry was posted on Monday, June 1st, 2020 at 10:28 am and is filed under
Comedy/Laffs
,
Crime
,
Reviews
. You can follow any responses to this entry through the
RSS 2.0
feed. You can skip to the end and leave a response. Pinging is currently not allowed.