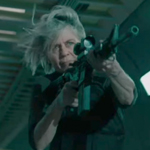 I love THE TERMINATOR, but I love TERMINATOR 2: JUDGMENT DAY. To me it's one of the all time greats of sequels, summer event movies, action movies, movies in general. It came into the world at the right time to knock me on my ass, and has only grown with me. We'd never seen a movie like it; the technology had not existed for a character to do the things that the liquid metal T-1000 did, and no woman, not even Ripley in James Cameron's own ALIENS, had returned to the screen as thoroughly transformed into an indelible badass as Sarah Connor.
At the time it seemed like the biggest, loudest, most over-the-top and technologically advanced action spectacle we'd ever seen. Now there's a certain quaintness and groundedness to it. The then-show-stopping computer effects are only for a little bit of morphing – now we notice the huge amount of real stunts involving a semi-truck, motorcycles, a helicopter and various pyrotechnics that would never be so real in a modern movie. And the story is built on characters and emotions in a way that's much more resonant to me than most subsequent movies of this type. (read the rest of this shit…)
VERN has a new action-horror novel out called WORM ON A HOOK! He has been reviewing movies since 1999 and is the author of the film criticism books Seagalogy: A Study of the Ass-Kicking Films of Steven Seagal and Yippee Ki-Yay Moviegoer!: Writings on Bruce Willis, Badass Cinema and Other Important Topics as well as the crime novel Niketown.