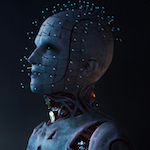 HELLRAISER (2022) is the new straight-to-Hulu HELLRAISER movie. It's a genuine, bonafide reboot, by the original definition of the term – it doesn't seem to work as a sequel, but it's certainly not a remake, it's just starting over, I guess. And it's certainly a new start in that it's getting more attention and being treated more like a real, existing movie than the DTV sequels that came out in 2018, 2011, 2005, 2002 and 2000. That's partly because it's a polished, well-directed movie with plenty of production value, and it was intentionally written to be the new HELLRAISER. Much of the series, as you may know, was just a perpetual rights retention machine – the Weinsteins ramming Pinhead into an unrelated horror script and dumping one out so they could retain the rights to dump another one out to retain the rights further down the road. Now, at last, the rights have escaped Miramax Hell and are sheltering at Spyglass Media Group (who also got SCREAM and SPY KIDS. There must've been a sale).
Sort of in the tradition of the excellent EVIL DEAD remake, the heroine of this HELLRAISER, Riley (Odessa A'zion, LET'S SCARE JULIE), is an addict in recovery. So this supernatural business is some unnecessary stress on her at a bad time, and also she's not somebody people believe when she tells them she saw some weird shit. Maybe this is starting to become more standard in modern horror, but I like that the heroines are allowed to be a mess and still very likable and easy to root for. She's trying to kick drugs but she's not totally successful yet, and she's funny and relatably stubborn and I immediately liked her. It used to be if somebody used drugs in a horror movie they were definitely gonna die, likely in a funny way, at best in a tragic way (like Taryn in A NIGHTMARE ON ELM STREET 3: DREAM WARRIORS). These days the genre's not as judgmental.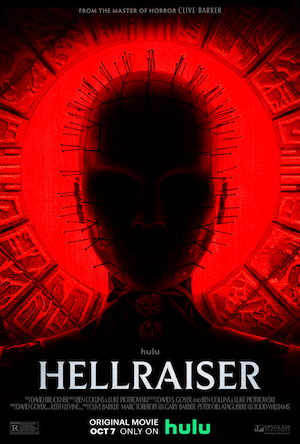 Riley has a vaguely weasely new boyfriend named Trevor (Drew Starkey, THE HATE U GIVE – never stopped reminding me of Sam Rockwell) who her brother Matt (Brandon Flynn, LOOKS THAT KILL) disapproves of because a good boyfriend would know not to risk someone's sobriety by dating them while they're still in a 12 step program. For now she's staying with Matt and his boyfriend Colin (Adam Faison, DAPHNE & VELMA) and their other roommate Nora (Aoife Hinds, THE COMMUTER).
Also there's a famous billionaire pervert guy called Roland Voight (Goran Visnjic, ELEKTRA) trying to get a hold of the famous HELLRAISER puzzle box formerly known as the Lament Configuration or the Lamarchand Cube. I'm pretty sure Voight is supposed to be kind of a Jeffrey Epstein type, though the movie seems to have more sympathy for his lawyer/accomplice Menaker (Hiam Abbass, MUNICH, THE LIMITS OF CONTROL, BLADE RUNNER 2049) than most people do for Ghislaine Maxwell. Voight's thing seems to be luring in young men to sacrifice to the box in trade for the Cenobites (a term he uses in a journal) giving him what he thinks will be ultimate pleasure.
That was six years ago. The estate is now locked up, Voight is presumed dead, and Riley doesn't know about any of that shit. But Trevor convinces her they should steal this mysterious shipment he once made for some rich guy that seems to have been abandoned in a warehouse. It is, of course, the box, and she starts playing with it.
Of the eleven HELLRAISER movies this is definitely the one with the most puzzle action. They do a great job of making every weird little click and whirr sound appealing. If you didn't know you were in a horror movie you would definitely want to mess around with this thing. More than previous versions, the box folds out and expands into different shapes, surely impossible but seeming to make sense. Rather than having a simple solution that summons the Cenobites or shoots hooks and chains at you, it has several different "configurations" – "lament configuration" being only one of them – with different names and meanings. And also it has blades that can pop out and if they draw your blood then you've made a contract with Hell.
This time Hell is represented by "The Priest" according to the credits – the character called "Lead Cenobite" on the original credits, but "Pinhead" to the layman – played by Jamie Clayton (Sense8, THE NEON DEMON). She is the fourth actor to play the character and the first since Doug Bradley to look cool. She doesn't mimic Bradley, she has her own take, and though I personally prefer his dispassionate version (this Priest betrays more enjoyment of tormenting people) this is the first time I've accepted a new variation on Pinhead. She's very effective.
The cinematography (by Eli Born, WILD INDIAN) is the kind that's controversial right now, because it's very dark. For me it works – this is the best set of Cenobites since the first batch, and it's creepy as fuck to glimpse them emerging from darkness as your eyes refocus on them. For the most part I don't know which is which, but Jason Liles (DEATH NOTE) is the new version of The Chatterer and others are played by Yinka Olorunnife (one episode of the Transporter TV show), Selina Lo (THE DEBT COLLECTOR, BOSS LEVEL), Zachary Hing (one episode of the Halo TV show), and Vukasin Jovanovic. They have various ornate skin mutilations, some make creepy wheezing noises like human iron lungs, one has hands that split open like scissors.
The credits and some articles claim this is a re-adaptation of Clive Barker's novella The Hellbound Heart, but that's just not true, it's not that story at all. After Riley and Matt have a fight, Matt ends up finding her passed out on a playground with the box, and it cuts him. He goes into a public restroom to clean his wound, and does not come out. So the story is about Riley searching for her brother, figuring out what's up, and trying to make a deal with Pinhead. They all end up at the abandoned Voight estate, which seems to be built as a sort of puzzle itself, with lots of buttons that open and close secret gates and doors.
I didn't review director David Bruckner's last movie THE NIGHT HOUSE, but I liked it – Rebecca Hall is great in the lead, it's so organically a horror movie "about grief" that it makes other ones on the topic seem like a joke, and it has an obsession with architecture that seems very much in line with the world of HELLRAISER. In fact, Bruckner says the idea partly came out of his rejected pitch for a previous attempt at a new HELLRAISER.
Now that he's finally made one it unfortunately seems a little more of a standard genre template than THE NIGHT HOUSE. Not at first, but then it turns into some young people in a scary mansion trying to keep the monsters out. The script is credited to Ben Collins & Luke Piotrowski (SUPER DARK TIMES) with the screen story credited to those two plus David S. Goyer (DEATH WARRANT).
(I still think it's funny that people get mad any time Goyer's name came up even though the man has credits on DARK CITY, BLADE, and the DARK KNIGHT trilogy, plus two Van Damme movies and a bunch of other pretty good stuff. But he did some that weren't so hot so people decided they hated him and that he couldn't have possibly done the good part of the ones he only co-wrote. Shit, who cares, if the man only wrote BLADE and nothing else you should fucking salute him when he enters the room.)
Bruckner handles the Cenobites a little differently than the previous movies. Instead of just appearing inside your house surrounded by hanging chains and shit they actually show up outside of the mansion and stand out there threateningly. There is one part where a Cenobite runs. I don't know about that part. Also, I'm a little iffy on Riley stabbing the Chatterer and having it count as one of the souls she owes Pinhead. One Weird Trick to Defeat the Cenobites. But at least it didn't work the second time, and the first time Pinhead gave a look that I sort of read as "I'll allow it." Like, she knew it was a cheat but she thought it would be more interesting to watch it play out than just shut it down. (Also maybe Chatterer is terrible company and she was happy to be rid of him.)
At any rate, the Cenobites are certainly given more of an aura and more dignity than they were in, for example, the chapter that introduced us to CD Head, Camera Head and Kool Aid Man Cenobite. OH YEAH!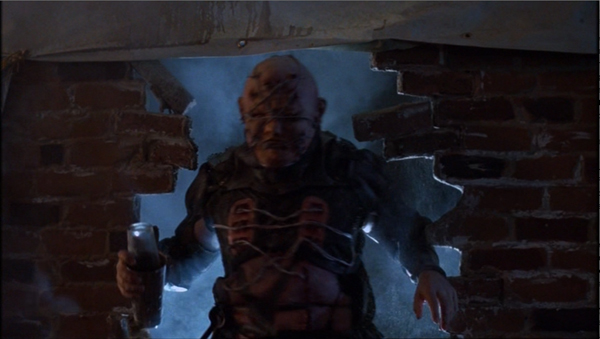 It definitely helps that composer Ben Lovett (MY SUPER PSYCHO SWEET 16) recognizes the importance of bringing back the original theme by Christopher Young. That goes a long way.
It's not a Clive Barker movie without some weird shit in it, and there is some weird shit in here. The most inspired, I think, is when (weirdness spoiler?) Voight has a strange metal device going all the way through his body that seems to run some of his innards through it like a film strip. And my favorite bodily mutilation bit is when a needle pierces a throat and we see it from inside the throat. I was also happy to see an appearance by Leviathan, the geometric god of the Cenobites who originally appeared in HELLBOUND: HELLRAISER II. On the other hand my boys the Engineer (weird hallway monster) and the Derelict (guy who eats crickets, distributes the puzzle box and turns into a skeletal demon at the end) are missing in action. I get it, I'm the only one who cares about that stuff, and it's not a remake anyway. But modern special effects seem like a good reason to go hog wild with the weirder mythological shit they didn't get to do much with. Seems like a waste not to.
Calling this just "HELLRAISER" is yes, trendy, but also risky. Looking at it as a sequel I'd say it's easily the third best HELLRAISER. But if you're looking at it as an alternative to HELLRAISER it doesn't remotely cut it. And it's weird to me that some people do accept it as a remake. In the tradition of Leatherface in THE TEXAS CHAIN SAW MASSACRE, Pinhead and the other Cenobites are such a captivating image that people get hung up on them and forget that they're only one element of what made the original great. Barker's HELLRAISER is really not their story, it's the story of Frank and Julia, the scumbag who escapes from Hell and his sister-in-law who he convinces to lure in men and bludgeon them with a hammer so he can suck up their blood and reconstitute himself from the inside out and once he has skin they can fuck again. And then it's about Julia's stepdaughter Kirsty, who gets caught up in it and makes a deal with Pinhead to bring Frank to him rather than go to Hell herself.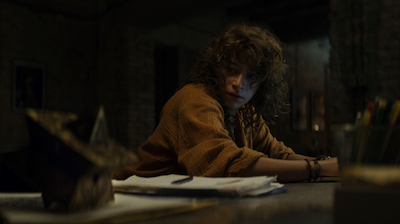 Voight is an okay villain, but he's not Frank, and he's definitely not Julia. So this is something different. What does really work is Riley, especially that (ENDING SPOILER THIS SENTENCE ONLY) she survives by facing that she can't just magically change what has happened, she has to accept her massive fuck up and go on living anyway.
I watched this with two friends and we all liked it, but later we talked about what we thought was missing. We agreed that though this is gory and weird and graphic compared to many horror movies, it doesn't have the full-on Clive Barker vibe where everything and everyone is perverted and gross in ways that you can't even always put your finger on. As we talked I started to think that having most of the characters be likable – something that's generally a good idea in horror – might actually be working against capturing that true Barker feeling. I mean, Kirsty in the original is an innocent, we root for her, but also we have Julia, so unhappy with her marriage, so horny for Frank, that she starts murdering dudes. The dudes she's murdering (strangers who come to her house supposedly to fuck her), also gross. Frank is scary-gross before he even does anything. The filthy mattress he sleeps on, the sweaty shirtless candles and puzzle box ritual – you know this guy smells fucking musky well before wearing his brother's skin. He's such an asshole that it seems dishonorable when he tries to sneak out of Hell.
Barker portrays most humans as evil or weak. In part II Dr. Channard tricks a mental patient into slashing himself on the mattress so he can resurrect Julia, and she has no skin, so he wraps bandages around her and then makes out with her. In both RAWHEAD REX and NIGHTBREED people see monsters and immediately start worshipping them. In NIGHTBREED, a cop is seduced by a porcupine lady while on duty. etc. A HELLRAISER movie with mostly nice normal people (and one rich creep) feels a little off.
But that's okay. Still a huge step up however you look at it. I just hope if they do another one they try to go even wilder than the original part II did. We want you to show us some motherfuckin sights, buddy.

P.S. How did I not guess that Odessa A'zion is Pamela Adlon's daughter? The clues were all there.
P.P.S. My reviews of every HELLRAISER movie:
HELLRAISER
HELLBOUND: HELLRAISER II
HELLRAISER III: HELL ON EARTH
HELLRAISER: BLOODLINE
HELLRAISER: INFERNO
HELLRAISER: HELLSEEKER
HELLRAISER: DEADER
HELLRAISER: HELLWORLD
HELLRAISER: REVELATIONS
HELLRAISER: JUDGMENT