CRYING FREEMAN (1995) is a pretty cool movie that I went back to hoping it would be better than I realized before. I did a brief write-up of it in a column years ago, but I'm not gonna link to it right now because most of the column is angry rants about what was going on in the news at the time and it makes me cringe. Based on a Japanese comic book (or "Japomic Book") by Kazuo Koike, the same writer as Lone Wolf and Cub, CRYING FREEMAN is a moody, serious assassin movie with Yakuza, mind control, a witch, romance and tragedy. It takes place in 4 different countries (U.S., Canada, China, Japan) with the most convincing, of course, being the part that takes place in Vancouver, B.C.

The good part is the content and the obvious stylistic influence it takes from John Woo's THE KILLER. This was back in the '90s when we white people (in this case the Frenchman Christophe Gans of BROTHERHOOD OF THE WOLF and SILENT HILL fame) had a big crush on Hong Kong crime cinema but didn't know that if we love something we have to set it free and see if it returns to us. We held onto it tight through the Curse of Van Damme, BROKEN ARROW and THE REPLACEMENT KILLERS. This one seems more authentic than some of those, because the emphasis is more on melodrama and themes of honor than on cool poses with two guns. (Also, there's a whole lot of slow motion. No doves, though.)
So there's a style and a tone that I like, but there's definitely a low budget Canadian vibe to it too. THE KILLER meets SCANNER COP.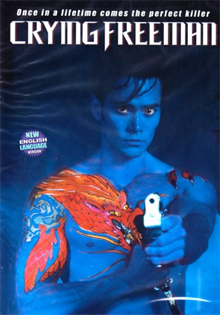 Mark Dacascos plays Yo, who is the crying freeman of the title. I know what you're thinking – I don't know what the hell a freeman is but if he's gonna be a total baby about it and cry all the time I'm not interested. Well, hear me out. He's a crier because he got abducted by a weird Chinese cult who put a giant dragon tattoo on him and mind control him to kill their enemies. He has no power over it, so every time he kills, tears come out. That's pretty fuckin cool.
That's not the only badass juxtaposition, he's also into ceramics. His dad was "a famous Japanese potter," and he himself was experiencing "15 minutes of fame" at a big gallery show when a stranger fleeing with evidence pulled him into this hassle with the Sons of the Dragon gang/cult. I don't know if there really are famous potters and I don't see anything different enough about his pottery to make people pay attention to him for 15 minutes, but he seems to enjoy it. Must be a good way to relax after a long day of assassination. Just… taking this stuff out of the earth, smoothing it out with your bare hands, trying to make it into something beautiful or useful. Lance Henriksen does pottery too. Unfortunately we've sort of moved beyond being a pot-based society, container-wise. I can relate to this guy 'cause he hangs on to the old technologies.
I'm not sure if he's supposed to be making the creepy masks that he sometimes wears during assassinations, but I'll go ahead and assume yes. He also uses ceramics to get guns through security at the airport, hiding them in a suitcase filled with clay. I'm pretty sure this wouldn't actually work, especially after 9-11, but why don't one of you guys give it a try and let me know how it goes.
Well, Yo meets a fellow artist, Emu O'Hara (Julia Condra, young Pat Nixon from NIXON), while on business in San Francisco. She's painting a picture next to a cliff, he's killing some gangsters in the woods. He comes over and instead of killing her he tells her his name. There's an Edward Scissorhands kind of shyness to this killer. Since she's a witness she assumes he'll come after her, so she paints his portrait at home, sprays champagne on it (making it cry) and waits for him. I think she wants to die, especially at the hands of this pretty man. But somehow he overcomes his programming and makes sweet Cinemax love to her instead. But burns the painting.
Of course loves leads to him trying to conquer his brainwashing, but also being-in-an-action-movie leads to him getting to kill some people. There's a war going on between Yakuzas and the Triads that Freeman works for, power struggles within the organizations, and there are police (Rae Dawn Chong, Tcheky Karyo) getting mixed up in it. Karyo's Interpol agent Netah ends up fucking the Yakuza's wife in a closet, so things get complicated.
Seagal regular Byron Mann plays Yo's partner Koh, who tries to keep his eye on the ball. He can't do it on his own, because the Freeman is the number one killer of the organization, created through magic. We found out through flashbacks that he was captured and either hallucinated or experienced a ritual where cultists chanted and a witch lady tattooed him.
Also Mako is in it as one of the guys Yo has to assassinate.
There are some cool details to their procedure. My favorite is that their guns contain time bombs for disposing of the evidence, and therefore they can also be used to explode things. Also he wears a fake mustache.
This is a really good role for Dacascos because his male model looks fit the character, he's quiet and emotionally blank, and also he gets to go around shirtless and do martial arts. After the love scene there are intruders, so while still in his underwear he ambushes them in a pretty impressive way: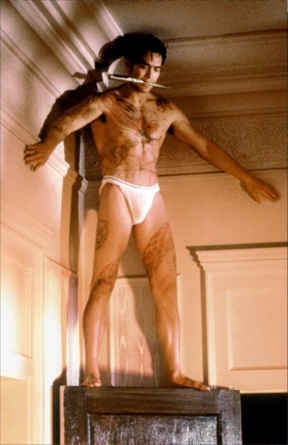 But I never understand why movie characters do a big spectacular flip just to land behind a guy. Isn't it always better to land on top of them?
Condra unfortunately is kinda bland. This might be the way she's directed, to make her kind of a passive romance character standing vulnerably in the middle of a mystical gang war, needing her angelic cursed muscle man to protect her. But I think it holds the movie back. Somebody with more presence and chemistry with Dacascos might've been what kicked the movie into really working. Or maybe it just needs more action. What's there is good, but I think more could balance out the gloomy tone and make it more effective.
But I kinda like this movie, and just as it seems like it's gonna peter out at the end it brings in some more interesting themes of honor and shit. I like that shit.
Weirdly, Variety's review of the movie seemed to think it was gonna be a hit, saying, "Crying Freeman has the potential to ring up the type of big numbers that would warrant a franchise. It's hoped that those involved with the first will still be aboard." But whoever owned the rights must not have agreed, because it was never released in the U.S., even on video. You gotta find an import, like I did.
Gans became a bigger deal several years later when BROTHERHOOD OF THE WOLF came out, but he's still directed only 4 movies total in a nearly 20 year career, and that's including the Lovecraft anthology NECRONOMICON which he did one segment for before CRYING FREEMAN. SILENT HILL was actually a big hit and has a non-Gans sequel coming out soon, but I'm in the minority on liking that one. So the guy still struggles to get his projects off the ground.
The connection to the slew of reviews I've been doing lately is that the script (credited to Gans and Thierry Cazals) allegedly got a rewrite by Roger Avary. This seems believable because producer Samuel Hadida hired Avary to rewrite TRUE ROMANCE, because Avary executive produced BOOGIE BOY starring Dacascos, because he later wrote SILENT HILL for Gans. Anyway, whoever wrote it, it's a respectable attempt. I would've totally watched that second movie with those involved in the first still on board.
This entry was posted on Monday, August 27th, 2012 at 12:59 am and is filed under
Action
,
Comic strips/Super heroes
,
Reviews
. You can follow any responses to this entry through the
RSS 2.0
feed. You can skip to the end and leave a response. Pinging is currently not allowed.