"They've got a sound that the world is gonna love. The world."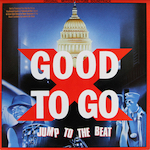 For many years I was aware that there was an old '80s movie released on VHS called SHORT FUSE starring Art Garfunkel. Because of that tough sounding title I figured it was some kind of WALKING TALL or DEATH WISH type shit where Art Garfunkel had a short fuse and some motherfucker made the mistake of lighting it. And then Art Garfunkel went off faster than expected on account of his fuse's shortness.
Then Mr. Subtlety told me I should check out this movie called GOOD TO GO "a deliberate attempt to make a Go-Go version of THE HARDER THEY COME, with a bunch of local artists playing themselves," which he noted was called SHORT FUSE on video and had Garfunkel in it. He knew I was into funk, and go-go is a related subgenre I could theoretically be into.
I was intrigued, but then kinda forgot about it until I was record shopping and bought the GOOD TO GO soundtrack because it was cheap and had Trouble Funk and Chuck Brown and the Soul Searchers on it. And then I saw Art Garfunkel on the back and could tell from the picture that this was a guy with a really short fuse. (read the rest of this shit…)